General Motors, months ago, announced Cadillac as its designated leader in their plan for electrification. The LYRIQ is its halo car, and of course the messaging subtext, a Tesla competitor. Last night we were shown the vehicle which we now need to evaluate to see what the soon-to-come Hummer might offer.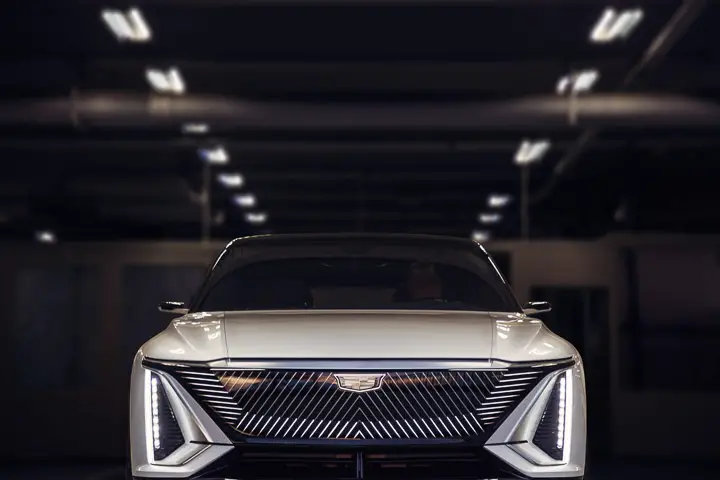 Design is clean, with an all-new face—the "black crystal" grille that's part of an amazing owner's greeting, as well as using lighting in the signature Cadillac vertical style to double as running lights.
What struck us most is LYRIQ's interior. It appears that every touch point is bespoke. As do many vehicles, LYRIQ will "greet" its driver with lighting and personalized adjustment of the driver's space and environmental choices including entertainment. The center of attention is a 33-inch (diagonal) LED that spans the cockpit and HVAC space and includes driver information, infotainment system controls and camera views. Cadillac says it can display over one billion colors and is the most pixel-dense system available to the automotive industry.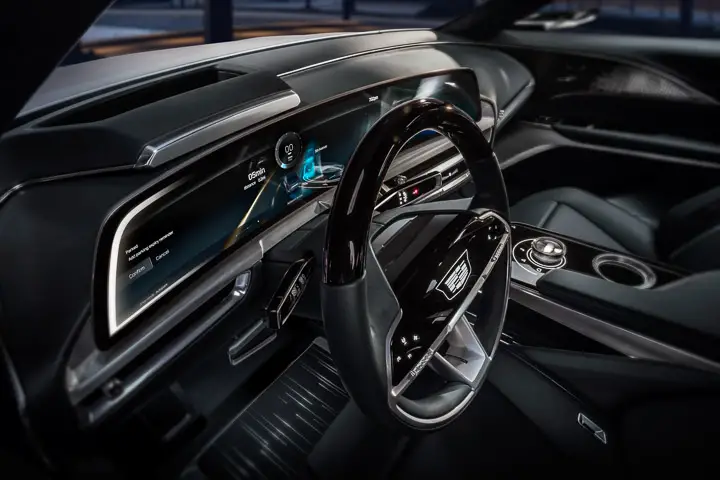 The screen (we assume it will have touch capability) will display battery and charging information, control the latest generation of Super Cruise hands-free ADAS (advanced driver assistance system including lane changing) and the vehicle will park itself in either parallel or perpendicular spaces, regardless the driver being inside. A new HUD display system is now dual-plane and is augmented reality-enhanced, displaying speed and direction near, navigation and other alerts further.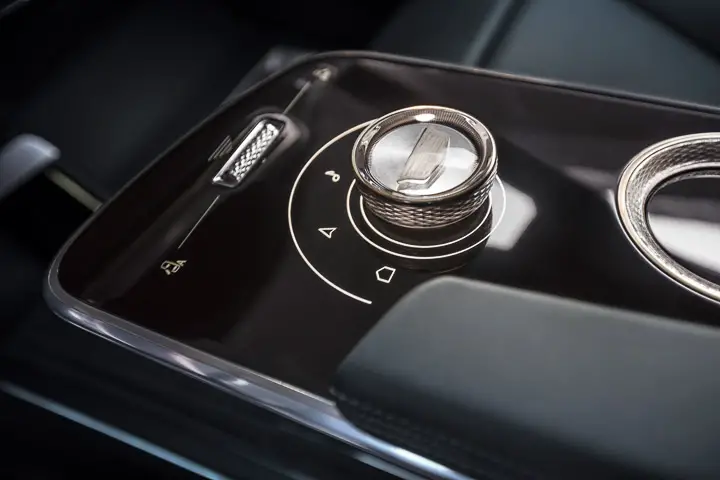 From what we see, designers and engineers have incorporated roller-selectors on the steering wheel and above the PRNDL controller for adjustment, rather than buttons, which remain embedded in the steering wheel to select basic systems (we'll guess that most controls are echoed on the LED screen).
A bug-a-boo of every EV is that, with no engine noise, road-tire-wind becomes noticeable. LYRIQ includes both active noise cancellation to counteract annoyances while building on the AKG sound system. A 19-speaker AKG Studio audio system will be fitted to all LYRIQs at launch.
Based on GM's modular EV platform, a.k.a. skateboard, and powered by the recently badged Ultium battery system (pouch-style, cobalt-reduced and far more energy dense than nickel-magnesium batteries). LYRIQ launches with a 300-mile range from its 100 kW battery pack.
Here are a few of Cadillac's bullet points:
Charging options that fit a variety of preferences for home, the workplace and on the road — including DC fast charging rates over 150 kilowatts and Level 2 charging rates up to 19 kW2
Rear-wheel drive and performance all-wheel drive configurations
The latest version of Super Cruise3, the industry's first truly hands-free driver assistance 
feature, available on more than 200,000 miles of compatible highways and recently 
enhanced to include automated lane change
New technologies such as dual-plane augmented reality-enhanced head-up display and 
remote self-parking
The brand's most seamless and adaptive technology interaction with the driver and 
passengers, including the latest Cadillac user experience, which is showcased in a 33- inch-diagonal advanced LED screen the spans the entire viewing area of the driver
Like other skateboard-based architectures, the CG or center of gravity is low, weight distribution set to near 50/50 which may produce ride and handling to match the excellence of Cadillac V-series sedans. LYRIQ will be primarily RWD with an AWD option, which places a second e-motor at the front.
To reiterate, the Ultium battery system, produced with partner LG Chem, is significantly advanced and incorporates aluminum in the battery cathode, reducing the need for rare earths and uses far less cobalt (GM says more than 70-percent less) when compared to their current battery packs. What's cool is embedding battery electronics into the battery modules, which they say eliminates nearly 90-percent of the battery pack wiring, again compared to current EVs like the Bolt.
We think these later plans set the plan for Hummer, that is a RWD base truck and AWD premium vehicle at launch, each with more than 100kW in the battery pack (likely some options in battery packs) for prowess and bragging rights and handling characteristics that are a balance of power, ride and handling and weight distribution that is far better than current trucks or SUVs.
Bullet point notes from presentation:
A "no excuses" performance Cadillac
"Luxury is what takes care of you when you least expect it"
Super Cruise: driver can request a lane change (by voice?) and the vehicle will execute the change without driver's hands on wheel
The first Ultium vehicle, a shift in Cadillac's portfolio to EVs in the next decade
The architecture was engineered specifically for an EV SUV
Design does not reflect a traditional SUV, its sharp profile and long dash-to-axle indicates luxury
LYRIQ is more than the sum of Super Cruise, 33-inch LED screen, bi-planar HUD and design
LYRIQ name chosen for the IQ association with intelligence
Customers want a full portfolio of vehicles: sedan, SUV/CUV, pickup; cost parity with internal combustion powertrains, minimum of 300 mile range
(Mark Ruess) "It's tailorable, there's more to come on dynamics, the bones and basics to do anything are there; with Over The Air adaptability the vehicle you drive today may not be what you want tomorrow; Personal