2021 will be, if current announcements are accurate, "The year of the electric pickup." A shocking number of electric trucks have already been announced. No less than seven different models are expected to start production and hit the streets.
General Motors remains confident the GMC Hummer is on track for introduction this year and Ford promises its electric F-150 in 2021. Apart from them, Lordstown Motors Endurance, Rivian's R1-T, Nikola's Badger, Bollinger Motors' B2 are all-new pickups from startups and a challenge to Tesla's Cybertruck.
EVs are comparatively expensive, and industry analysts say price and targeting the correct buyers are keys to success for each of these new products. Bollinger may appeal to the G-Wagon crowd and Rivian also may attract lifestyle buyers while GM(C) and Ford have a century of experience appealing to dedicated pickup buyers. Tesla' Cybertruck has already amassed considerable interest from new-to-pickup buyers—and Tesla devotees—who are deeply into tech acquisitions. Lordstown's platform is designed to appeal first to fleets, despite an initially high price, as they promise a low TCO or Total Cost of Ownership, which appeals to fleet buyers.
We'll begin our continuing coverage of electrification with manufacturers you've likely heard of with Rivian as they published specifications and displayed vehicles at the LA Auto Show in 2019.
Rivian
Rivian will launch the R1T and sibling R1S with a promising "up to 400+ miles of range". Deliveries are expected yet this year. Based on the company's flexible skateboard platform, they'll be built at Rivian's manufacturing plant in Normal, Ill., a former Mitsubishi facility.
Rivian's skateboard platform packages everything: battery pack, drive units, suspension, braking and thermal systems below wheel height. This delivers a low center of gravity. Suspension uses unequal length double wishbones in the front and a multi-link suspension in the rear with dynamic roll control, adaptive dampers and air-suspension.
Rivian battery packs deliver: 105 kWh, 135 kWh and 180 kWh which relates to individual power at the wheel of 300 /562 /522kW and torque of 7,000Nm at the wheel for the smaller pack, 14,000 Nm for both larger packs. Rivian predicts mileage of 230+, 300+ and 400+ miles on a charge, depending on pack. 0-60 acceleration varies between 4.9 and 3.2 seconds to 60 mph, again related to the battery with 0-100 sprints similarly battery-dependent at 12.5-to sub 8-seconds. Faster means bigger battery and more money.
Rivian claims up to 750 horsepower from its four at-the-wheel motors, an 11,000 pound tow capacity, a maximum 14 inches of ground clearance, regenerative braking, a built-in air compressor, and a fording depth of three feet.
GMC HUMMER / General Motors
GM and GMC promise that the GMC Hummer, GM's third-generation EV, is on track for delivery in 2021. Built on GM's proprietary skateboard and powered by its Ultium-branded lithium-ion batteries, Hummer is said to have four doors and two-row seating. By extending the wheelbase, both a pickup and SUV will arrive in swift succession.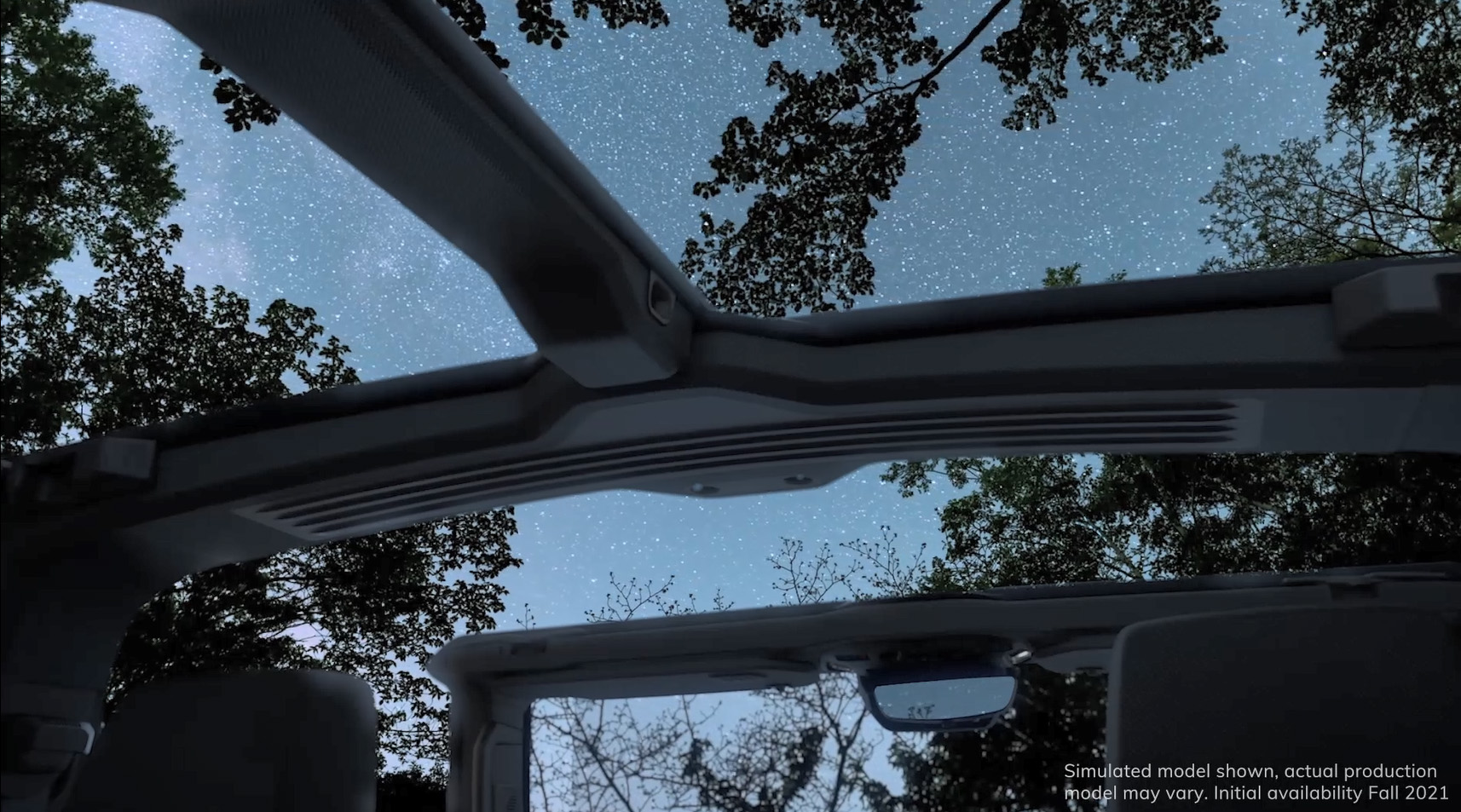 With GMC teasing its T-top Hummer configuration, Cadillac grabbed attention with a photo of the Lyriq and Chevrolet showed off an "eCOPO Camaro Concept" drag car (sorry Ford, you were not first!) at SEMA. Equipped with the 800-volt Ultium battery pack eCOPO delivered 9-second quarter-mile acceleration.
GM has promised its skateboard will provide "up to" 1,000 horsepower, which equates for four 250-horsepower e-motors, 0-60 times approximately 3.0 seconds (supercar speeds) if using the largest 800 kWh battery pack, plus 11,500 lb.-ft. of torque maximum and a 350 kW fast-charging capability. All GM e-motors were designed in-house "to support every conceivable drive configuration, from FWD to high-performance AWD models."
General Motors revealed the Cruise Origin self-driving shared EV earlier in 2020. Right now the timeline for other products suggest Cadillac's Lyriq "soon", GMC's Hummer likely sooner, and Chevrolet and Buick also launching—but delayed because of the pandemic. In recent news, Chevrolet's updated Bolt is now expected as a 2022 model.
The batteries used by GM products are produced by Ultium Cells LLC, a cooperative effort between GM and LG Chem. Battery cells and packs will be built in an all-new facility in Lordstown, Ohio. Recently Ultium announced that their batteries are future-proofed to accept significant changes in battery chemistry and composition, particularly the substitution of aluminum for a portion of the cobalt used in most, if not all, lithium-ion batteries.
Bollinger
Bollinger says their B1 SUV, B2 pickup and chassis cab will be available this year. And their E-Chassis claims to be the "first and only Class 3 electric platform." While B1 and B2 are driveable the e-Chassis is a blank canvas for others to build whatever they wish.
The militarily styled B2 pickup will surely remind you of an elder Land Rover 110, right down to the all-aluminum body and right-angle shapes. Every model has solid specifications: 614 horsepower from two motors, 668 ft-lb of torque, and 72 (expandable to 96-inches) bed lengths. Towing capacity is listed at 7,500 pounds with a 5,000-pound payload and 200-mile (est.) range and e-MPG of 70.2 (also estimated) from its 120 kW battery pack. Suspension is adjustable from between 10 and 20 inches of ground clearance. Interestingly, Bollinger says the glass doors, roof panels and windshield are removable.
All chassis have independently lockable front and rear differentials, all models are all-wheel drive with six gearboxes (one transaxle at each axle, one portal gearhub gearbox per wheel), Level 2 and Level 3 fast charging, electronically disconnectable sway bars and 10 AC outlets per truck. With its e-motors and two-speed gearbox located between and below its frame rails, there's the typical low CG and Bollinger uses an 8.6 cubic foot "Frunk" or front trunk that can be opened (and rear cabin wall removed) to fit 16-foot payloads; the Passthrough and Frunkgate combination are patented.
Ford and Lincoln and Rivian
Ford, other than the sold-out Mustang Mach-e First Edition, hasn't shared much about their electrification program. Well, there was the F-150 prototype pulling demonstration earlier this year where a prototype pulled 1,000,000 pounds of railway cars. It's abundantly clear Ford is focused, now, on launching the new F-150. Read more about the new F-150 and it's hybrid EcoBoost powertrain at our story here. 
That said, Ford COO Jim Farley recently announced "Electric versions of the F-150 pickup and Ford Transit van will make it to market by mid-2022. The all-electric Transit, which will be American-built, is part of Ford's more than $11.5 billion investment in electrification through 2022." Farley also informed CNBC that Ford was forced to close prototype production facilities, but that the launches would occur on schedule, with new product expected in the third and fourth quarter. That's F-150 and Bronco.
Lincoln's first fully electric vehicle "Will join the Aviator and Corsair Grand Touring plug-in hybrid vehicles; further solidifying Lincoln's commitment to electrification. The zero-emissions vehicle will feature connected and intuitive technologies designed to create an effortless experience for Lincoln clients." Which is deliriously grandiose after the highly touted Lincoln-Rivian hookup got shelved.
In January, Lincoln announced it was "working together with Rivian to develop an all-new electric vehicle previously announced as part of Ford Motor Company's original investment in Rivian." However, the company reversed course late in April saying, "Given the current environment, Lincoln and Rivian have decided not to pursue the development of a fully electric vehicle based on Rivian's skateboard platform. Ford Motor Company's strategic commitment to Lincoln, Rivian and electrification remains unchanged and Lincoln's future plans will include an all-electric vehicle consistent with its Quiet Flight DNA."
In other news Ford and Volkswagen agreed to collaborate on commercial vehicles, first a city van created and built by Volkswagen Commercial Vehicles and later a 1-ton cargo van engineered by Ford, plus a Volkswagen medium pickup (Amarok replacement) built on Ford Ranger platform – after 2022.
These are the result of an agreement in 2015, and leverages VW's massive investment in electrification. "Volkswagen and Ford plan to explore additional ways to cooperate on electric vehicles." According to Volkswagen, from 2023 onward Ford could deliver 600,000 electric vehicles atop VW's MEB architecture.
Ford's vehicle design and engineering will occur at their Cologne-Merkenich facility, adding "another compelling nameplate to its own all-electric Mustang Mach-E."
Tesla Cybertruck
Leave it to Tesla to disrupt an entire industry, again. Their Cybertruck, introduced in November of 2019 raised expectations for electric pickups, every eyebrow and expanded our use of the vocabulary our mothers despised.
While nothing says a new pickup needs to look the same as a century would seem to mandate, nothing prepared us for the crisply folded Origami shape of Cybertruck. We will go in-depth in our next story, but here's the bones:
One, two, or three motors
0-60 acceleration of <6.5 seconds, <4.5 seconds, or <2.9 seconds
Range up to 500 miles
Maximum towing capacity of 14,000+ pounds.
Tesla is different, and we will explore those differences very soon.
————
As the overused saying goes, "Stay Tuned To This Channel."
This is the beginning of our extensive and in-depth coverage of every aspect of the monumental change to electrified vehicles that seems inevitable. We'll show you why delivery vehicles will arrive soon and in large numbers, why electrification is not as environmentally sustainable as fan-boys would have it, plus every scrap of relevant technology we can discover.