If you're looking for something a little sportier than your pickup but don't want to spend supercar levels of cash and are not comfortable riding a motorcycle- we've got what could be the perfect option for you.
What is the Polaris Slingshot?
The Polaris Slingshot is a three-wheeled vehicle that is classified as an autocycle or motorcycle in many states. Most states do not require a special license or endorsement to drive a Slingshot, so the barrier to entry is low. If you know how to drive a car, you can drive a Slingshot.
Unlike a car, the Slingshot doesn't have a roof, doors, or any safety systems like airbags. It's better to compare the Slingshot to a motorcycle in terms of how safe it is to drive. The Slingshot has three-point belts but no safety crumple zone. Some states require motorcycle helmets to be worn.
The Slingshot uses a typical steering wheel and comes in both manual and hydraulically actuated automated manual transmission options. For 2021, the automatic transmission has a new paddle shifter feature.
Polaris has been producing the Slingshot since 2015 and had a major update in 2020. We first drove the Slingshot last year and recently had a chance to drive a slightly updated Slingshot R Limited Edition this summer.
Powered by a 2.0L ProStar four-cylinder engine, the Slingshot comes in two power levels. Depending on trim levels, the output is either 178-horsepower or 200-horsepower. Power is routed through a 5-speed manual or 5-speed electronically shifted manumatic transmission to the rear wheel.
How Much Does the Slingshot Cost?
The Polaris Slingshot comes in four trim levels for 2021. The S, SL, R, and R Limited Edition. Each trim level adds features like windscreens, unique colors, and interior creature comforts like a radio, navigation system.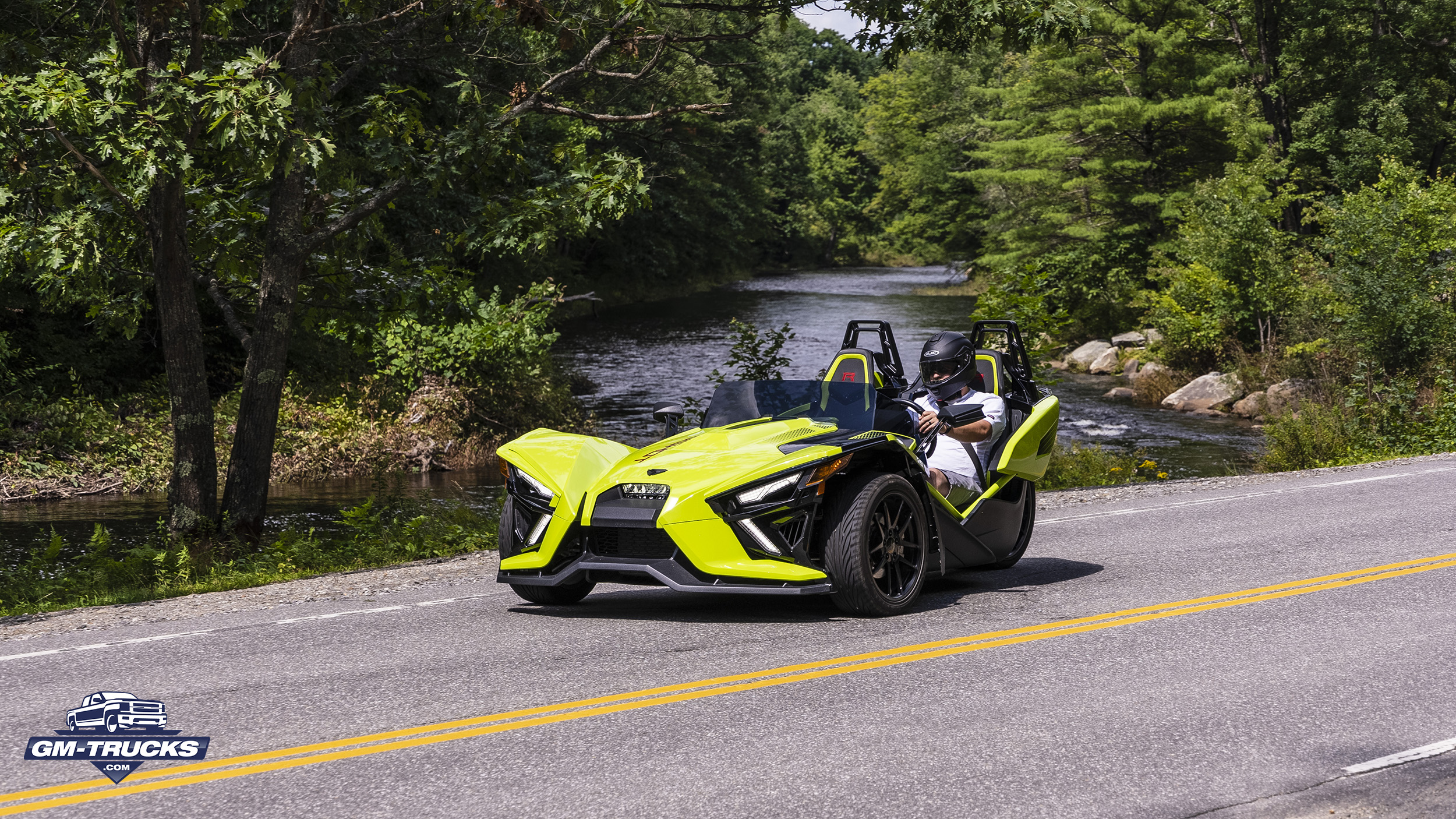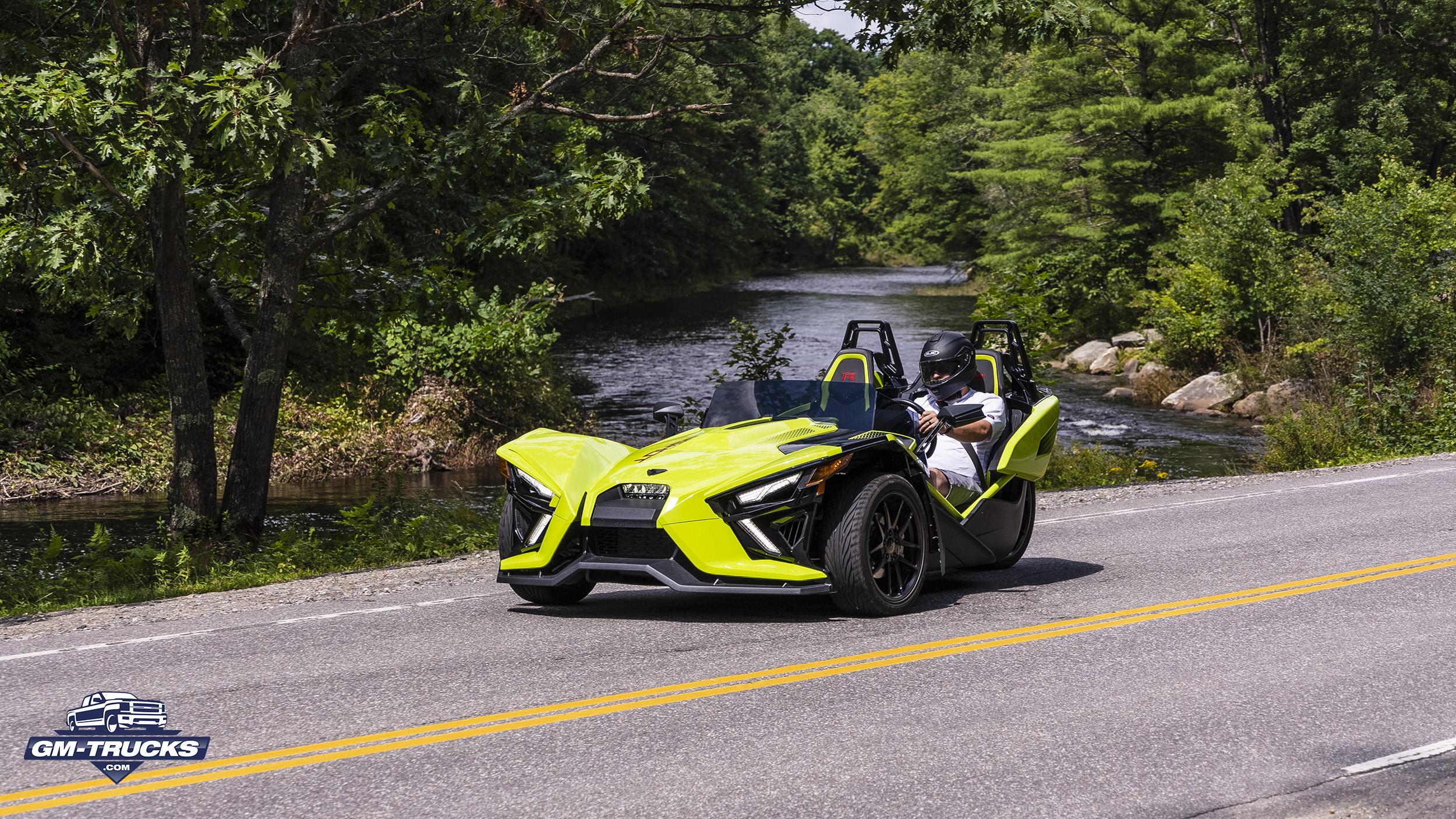 Features like the 7-inch RideCommand Infotainment Center the Rockford Fosgate Speaker System are top-of-the-line additions to the Slingshot and come standard on the R and R Limited Edition Trim lineups.
The Slingshot S starts at $19,999, the SL $24,999, the R at $31,299 and the R Limited Edition at $32,799. That's a huge range from top to bottom, especially considering there's no significant difference between the functionality of any trim.
What Is The Polaris Slingshot Like To Drive?
Driving the Slingshot is unique. It's best described as a combination between a car and a motorcycle. In fact, Polaris calls it a "Three-wheeled Motorcycle". And the description is apt. You have the open top and side experience, like a motorcycle, but with the ease of driving like a car.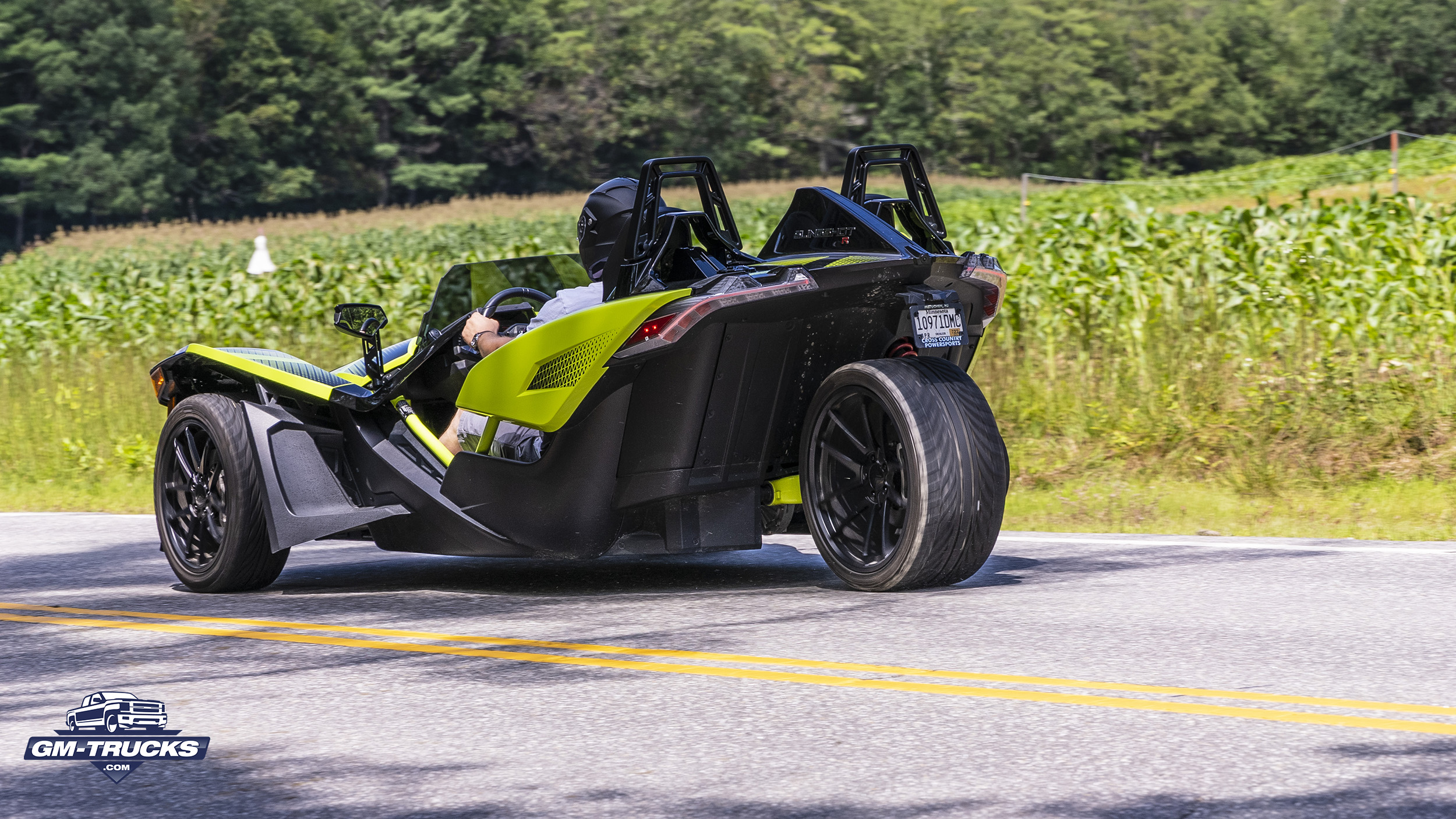 Our Slingshot R Limited Edition example came with the new AutoDrive Transmission with Paddle Shifters. This is the first year the paddle shifters are available and they are a great option. When we drove the 2020 Polaris Slingshot we found the lack of control over the AutoDrive transmission to be frustrating. It was slow, didn't hold the gear we wanted, and never quite settled down into one gear over another.
For 2021, the paddle shifters, along with totally new programming for the AutoDrive system have made a big difference. Shifts are now crisp and when using the paddles to select a gear- your choices are respected. Both downshifts and upshifts are quick and met with rev-matching for smooth execution. The new AutoDrive calibration and the paddle shifters bring the Polaris Slingshot up to a new level of performance.
That's not to say the manual transmission is un-needed. We'd like to sample that option someday and think a Slingshot with a row-your-own option could be even more fun.
On the road, the Slingshot is fun to drive on twisty roads and bearable on the highway.
We drove our R Limited edition two hours from New Hampshire to the mountain of Vermont. The river and mountain roads were exhilarating. Just like a high-powered sports car- the Slingshot devoured each and every turn, begging for more and leaving a smile on your face all along the way.
But on the highway the Slingshot is noisy. You better be wearing a helmet because wind noise is very loud. Even the upgraded Rockford-Fostgage stereo was almost un-listenable at 65mph and above. While the Slingshot had enough power to keep up to any traffic at highway speeds and even well above, the four-cylinder engine never calms down to a lower rev-range and buzzes away, droning out any ability to talk to a passenger or listen to music.
But our 2 hour trip on the highway and backroads was still fun and we'd do it again. And perhaps, that's one of Slingshot's strong points. Where-as a motorcycle would be a chore to ride on the highway for multiple hours- the Slingshot was happy as ever chugging along at speed and allowing you to sit in a real seat along the way.
The three-wheel configuration does take some getting used to, however. While a regular car has four contact patches on either side of a lane, and a motorcycle has two contact patches that can move around a lane- the Polaris Slingshot has three contact patches spread evenly over a lane.
That means there's almost no avoiding rough road patches, potholes, or other objects in the road. If you miss something with the front two tires, the rear will hit it- and vice versa. That's easy enough to get used to but not an obvious downside of the three-wheeled configuration many people think of.
What Did We Think?
We're big fans of the Polaris Slingshot for two reasons. It's fun and it gets a lot of attention. Not only does the vehicle handle like a Corvette, but it also gets the attention of a supercar.
It's a level of attention you have to pay big bucks to get otherwise. Anywhere you stop people ask what it is and how you like it. Passers-by hoot and holler at you, give you thumbs-up, and always have a big smile on their faces.
But the Slingshot isn't just about looks. It's also about performance. The three-wheeler slices up any corner you throw at it. With 200-horsepower on Slingshot R, it also pins you back in your seat. And the all-new AutoDrive with Paddle Shifters increases the fun quotient considerably for 2021.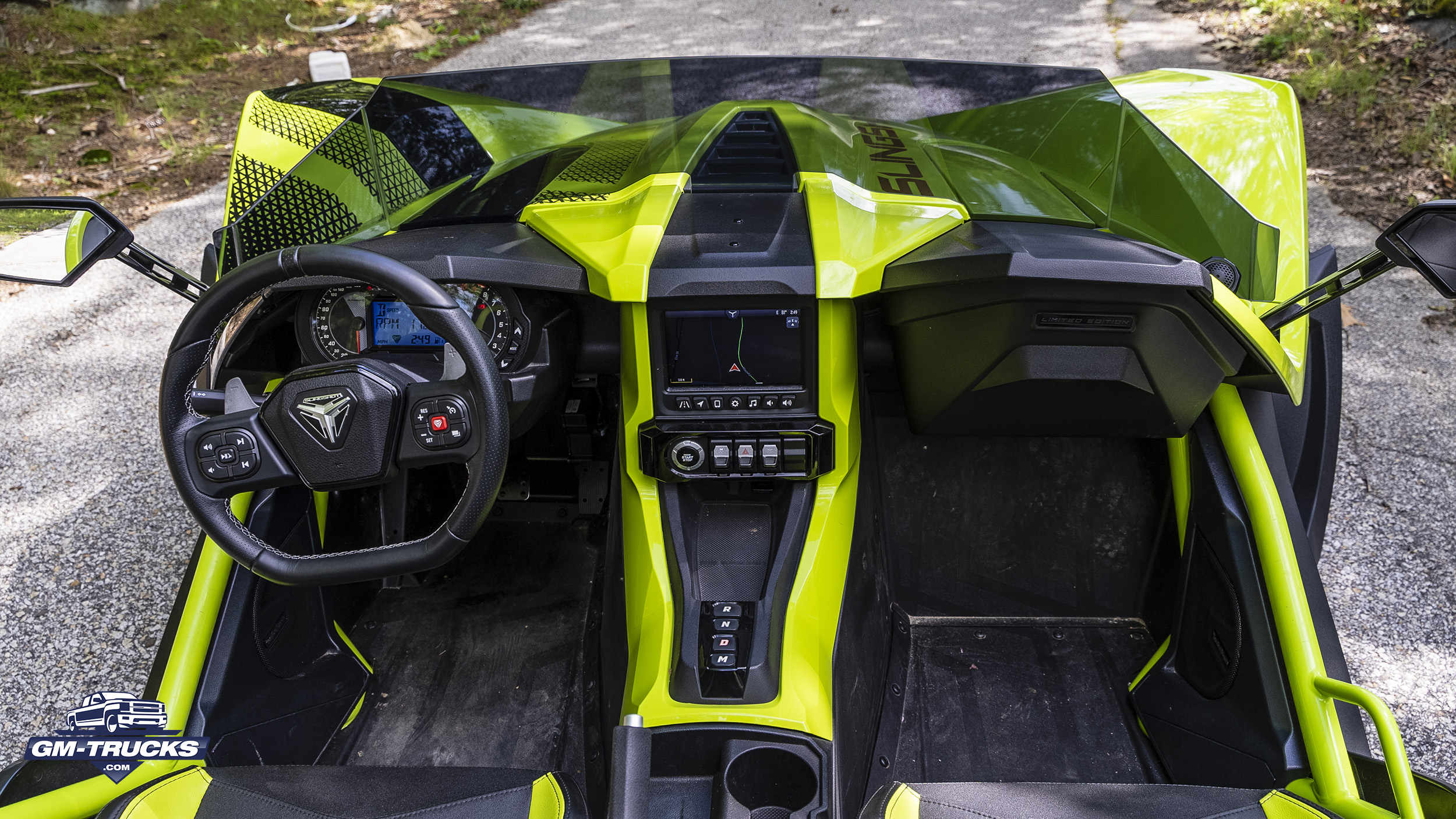 Our biggest gripe is the price. While the base model Slingshot S starts at a reasonable $19,999 – asking over $32k for the top-of-the-line R Limited Edition is a bit much. There are a lot of convertible options and even more motorcycle options for that kind of money.
But, neither a convertible nor motorcycle will get the attention a Slingshot will bring- and if that's worth it to you- we'd highly recommend you take one for a test drive ASAP.
Check out the Polaris Slingshot at Polaris.com and reserve your test drive soon.