If you enjoy customizing your truck even a little bit and love finding new and innovative ways to upgrade your ride, we have a new project for you. Upgrading the base or mid-level gauge cluster in your 2019+ Silverado or Sierra to a large format digital gauge cluster from the High Country or Denali is a simple and significant interior upgrade that anyone can do.
Unless you purchased a High Country or Denali you most likely have a gauge cluster that features either a 3.5-inch monochromatic display or 4.2-inch color display. GMC and Chevy use these displays to show drivers various vehicle and trip information… as you well know.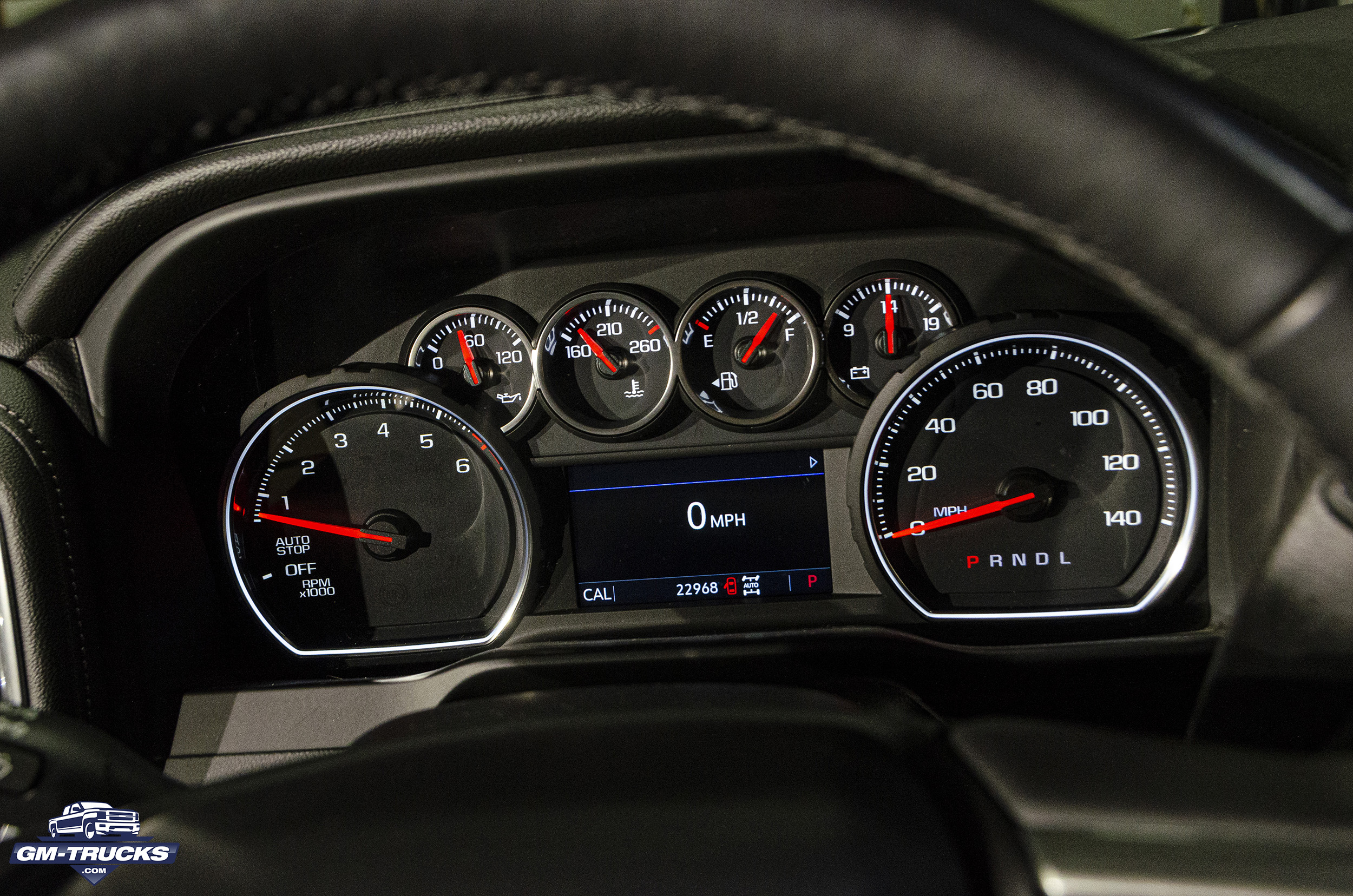 But Chevy and GMC offer a third option. A high definition 8-inch color display that is standard on the High Country and Denali. It turns out that if you didn't get the larger 8-inch display and want to upgrade your truck to include it, you're actually in luck. The upgrade is not only possible but also uses factory parts and is plug and play. The trifecta of aftermarket upgrades. You can do it, you can get the parts from your dealer, and you won't have to modify a thing in the process.
But, this is only possible thanks to White Automotive who offers the reprogramming service that allows these upgraded gauge clusters to work.
Step One: Order The Cluster & Have White Automotive Program It
Unfortunately, new gauge clusters will not automatically work directly out of the box. They are VIN locked and designed to be programmed for compatibility with a vehicle before installation. That's where White Automotive comes in. They offer a service to reprogram a gauge cluster so it will work with your specific truck. 
Obtaining the cluster can be as easy as heading over to your local dealership or looking online. Two variations of the digital gauge cluster are available, one that's Chevy themed and another that's GMC themed. You can choose the one that matches your brand or the one you like best. Aside from how they look, both clusters are identical.  This upgrade is an option for 1500 and HD trucks. The part numbers for gauge clusters that work with this upgrade can be found at the bottom of this article. They range in cost from $200 used to $600 new, so be a smart shopper when planning this project out.
After you get your hands on the digital gauge cluster of your choice, you'll have to ship it to White Automotive to be programmed for your specific truck and VIN. This service costs $199.99. Turn around is quick and the cluster will be ready for plug and play action when it returns.
Conversely, you can order the cluster directly from White Automotive for exactly $475. We highly recommend this option as you won't have to ship your gauges to them for programming. Since they only use new gauge clusters, it also insures that White Automotive can test that your cluster is fully functioning and working as intended. This is the route we took.
This is also a good time to consider upgrading your IOS infotainment system to the IOT Navigation based software as the digital cluster can show speed limit signs in the display. If you truck does not have steering wheel controls, you'll have to add them before the new gauge cluster can be controlled.
Step Two: Install The New Cluster
Removing the old cluster and installing the new one is a surprisingly detailed job. It's also not intuitive because of the way GM designed and assembled the interior on the Silverado and Sierra. Overlapping trim pieces and parts mean starting disassembly near the driver's peddle and working your way up.
That said, it's not hard if you have the right tools, attitude, a drink, and an afternoon to waste. When I started our cluster install I had no guide and had to poke my way around to figure things out. You won't have to do this because….
We've created a step by step guide in the GM-Trucks.com forum to help you through this process. From the tools you need to the trim pieces you need to remove- every step of accessing behind the gauge cluster and infotainment is covered in this guide. We've made it really easy.
Read the GM-Trucks.com Guide
How To: Remove Infotainment / Climate Unit & Access Gauge Cluster
Step Three: Enjoy Your Higher-Tech Truck
After you reassemble your console there are a few things to be aware of of before taking a spin. Mainly, you'll note that engine hours do not carry over. These are the singular metric that is stored in the cluster assembly and will reset to zero when you install your new gauge cluster. The odometer is stored in the truck and will carry over without adjustment.
You'll also note that any settings that you had customized on your old cluster will need to be reset to your liking on the new one. Preferences like what information shows up on the home screen, whether or not to display speed limit signs and what information to show will not carry over.
You'll also notice your fuel range will be wonked for a bit. It may read high or low to start but will eventually return to normal and accurate- usually after you go through an entire tank of gas.
While a digital gauge cluster swap may seem like a complex and frustrating experience, White Automotive has taken all of the guesswork out of the process. That's something we can heavily endorse.
Our new digital gauge cluster is an integral part of our Silverado and makes a difference every single time we drive. Numbers are bigger, text is clearer, and large format screen gives the interior of our Silverado a boost of cool.
If you're looking for an easy, no risk, plug and play upgrade for your truck that you won't be able to take your eyes off every single time you get behind the wheel – give White Automotive and Media Services a try.
Compatible Gauge Cluster Part Numbers For This Upgrade
2019 Denali Style – US Spec GAS
84509162
84569415
84592860
84528907
2019 Denali Style – Export (Canadian/KMH) Spec GAS
84655445
2019 High Country Style – US Spec GAS
84509158
84569411
84528903
84592856
2019 High Country Style – Export (Canadian/KMH) Spec GAS
84059159
84569412
84528904
84592857
2020 Denali Style – US Spec GAS
84756502
2020 Denali Style – US Spec DIESEL
84756504
2020 Denali Style – Export (Canadian/KMH) Spec GAS
84756503
2020 Denali Style – Export (Canadian/KMH) Spec DIESEL
84756505
2020 High Country Style – US Spec GAS
84756498
2020 High Country Style – US Spec DIESEL
84756500
2020 High Country Style – Export (Canadian/KMH) Spec GAS
84756499
2020 High Country Style – Export (Canadian/KMH) Spec DIESEL
84756501