The 2023 GMC Canyon is up for a big refresh/update. Here's your first look at a prototype of the new model and some insight into what you can expect.
We had our first look at a prototype 2023 Chevrolet Colorado just a last month. Along with a more aggressive design, the photographs of the Colorado prototype showed us that its overall size may grow just a bit.  Today, our spy photographer captured a GMC variant of GM's all-new mid-size pickup.
We reviewed the current Canyon AT4 this last winter. Take a look. 
Ford recently unveiled the Maverick compact pickup, which will be much smaller than the Colorado or Canyon. However, the larger Ranger is due for a big update just before the 2023 Colorado and Canyon make their debut. We'll have to wait and see how the pair stack up to Ford's competition and whether or not GM will also wade into the super small compact pickup market once again.
After capturing what appears to be a 2023 GMC Canyon Prototype, our spy photographer reports:
We just got the first look at the 2023 GMC Canyon, caught testing in its Crew Cab configuration. Last month we got the first look at its next-gen Chevy Colorado sidekick, but this prototype shows different features consistent with the GMC brand.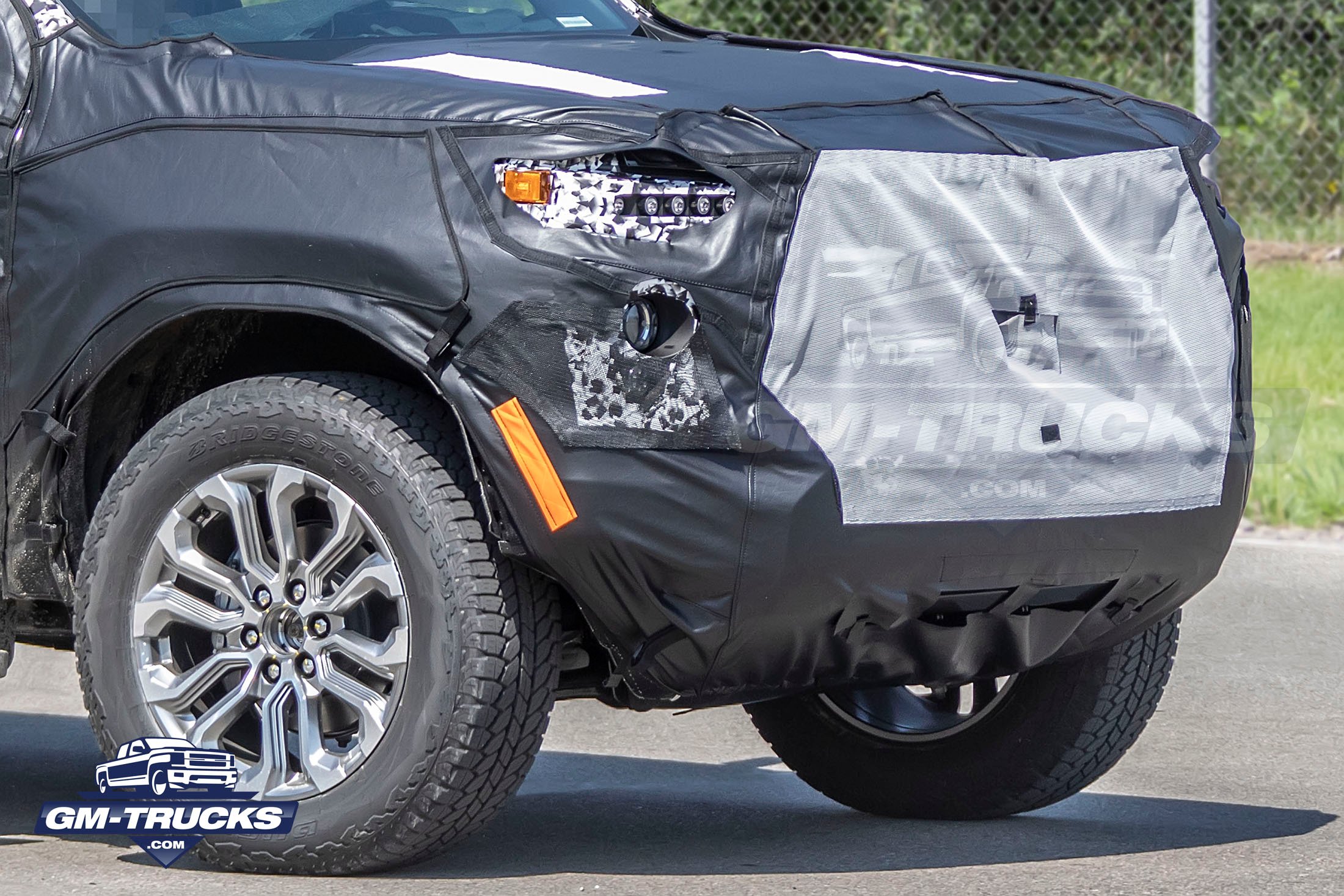 Different Headlight Arrangement
Compared to the Colorado pickup prototype, this new test truck has a different placeholder headlight signature. Instead of the Colorado's high-mounted, horizontally-oriented lights (consistent with the Silverado's general arrangement), the Canyon prototype displays an LED signature at the top, with vertically-oriented light sources running down the front-fascia (similar to what we're seeing on facelifted prototypes for the 2023 GMC Sierra HD prototypes).
20-Inch Chrome Wheels Suggests GMC Brand and Possible Denali Trim
This new prototype has a great stance, aided by the large chrome wheels. A close look reveals Bridgestone Dueller A/T RH-S tires, and while the full scope of the tire specs are hard to read, it does appear that the size description ends in "R20" denoting 20-inch wheels. No variants of the Chevy Colorado are currently available with 20-inch wheels, and the GMC Canyon gets 20s in its Denali trim. Bridgestone Dueller tires are also consistent with the Denali brand, but usually in the guise of the less terrain-oriented Dueller H/L Alenza rubber. The Dueller A/T tire designation on this prototype suggests something a bit more rugged.
Aggressively-Sculpted Body Hiding Under That Camo
Although this prototype is heavily shrouded in vinyl camouflage, we see clear signs of more aggressive surface development than the current Canyon. Bold fender flares, and an aggressive front-fascia look like a promising update to today's model. The styling suggested here also differs from what was seen on the earlier Chevy Colorado prototype.
AT4-Style Front-Fascia or Missing Trim?
This prototype's front bumper looks like its equipped for off-road-friendly approach angles, with minimal bumper covering the front tires. This design looks quite consistent with today's Canyon AT4, but it's possible that a lower trim piece is not yet installed on this early prototype. The Canyon AT4 is not currently equipped with 20-inch wheels, and generally gets more aggressive rubber than the Bridgestone Dueller A/T's that are installed on the prototype captured here. This prototype's generous chromed running boards also suggest something more in line with a Denali than an AT4-spec truck.
Interested in the current GMC Canyon? Head over to GMC and take a look.