Chevrolet has taken it to the next level with their ZR2 Bison lineup. This isn't just a trio of trucks; it's a statement of off-road prowess and on-road comfort. We're talking about the Colorado ZR2 Bison, the Silverado ZR2 Bison, and the all-new 2024 Silverado HD ZR2 Bison. I had the privilege of taking these beasts for a spin, and let me tell you, they're as exciting as they sound. Buckle up as we dive into the nitty-gritty of what makes these trucks the ultimate off-road machines.
What Is A ZR2 Bison?
The ZR2 badge isn't just for show; it's a symbol of Chevrolet's commitment to high-performance, off-road trucks. Each ZR2 model is intended as the ultimate off-road version of that model. You can't get any more serious about off-roading if you've picked a ZR2 trim-level Silverado or Colorado. By adding on the Bison level, you're taking it even further- with American Expedition Vehicles aftermarket accessories installed standard from the factory. Steel bumpers, extra skidplates, and specialty details enhance the ability already baked into each ZR2 model.
Chevrolet isn't just producing the ZR2 for fun, either. It turns out that the ZR2 brand is a magnet for younger buyers, with 19% of LD ZR2 buyers under age 35. It's also a brand switcher; nearly half of Colorado ZR2 buyers came from competing brands. The ZR2 lineup is designed to serve an avid customer base that loves outdoor recreation and hitting the trails.
Chevrolet didn't just slap on some off-road tires and call it a day. They partnered with Chad Hall Racing to rigorously test these trucks. The Colorado ZR2 race truck has 12,000 racing miles and has finished every off-road race entered since 2017. The Silverado ZR2 isn't far behind with over 6,000 racing miles and 22 race wins. This is real-world, battle-tested performance we're talking about. Both the Colorado and Silverado ZR2 share numerous components with their Hall Race truck counterparts, including frame, suspension, steering, brakes, and more. This isn't just marketing fluff; it's technology transfer at its finest.
Colorado ZR2 Bison
On Road
The Colorado ZR2 Bison is a head-turner, thanks to its aggressive 35-inch tires. But it's not just about the looks; this truck offers a composed ride with DSSV dampers that adapt to a wide range of surfaces. Whether you're dodging potholes or overtaking on the highway, the Colorado ZR2 Bison has got you covered. The steering is precise, and the brakes offer plenty of bite, making it a joy to drive in urban settings.
The interior is equally impressive, offering a level of comfort and styling that is in sync with its bigger brothers. The infotainment system is intuitive, and the cabin is well-insulated from road noise, making long drives a breeze. The seats are supportive, and there's ample room for both the driver and passengers, making it a practical choice for daily commuting.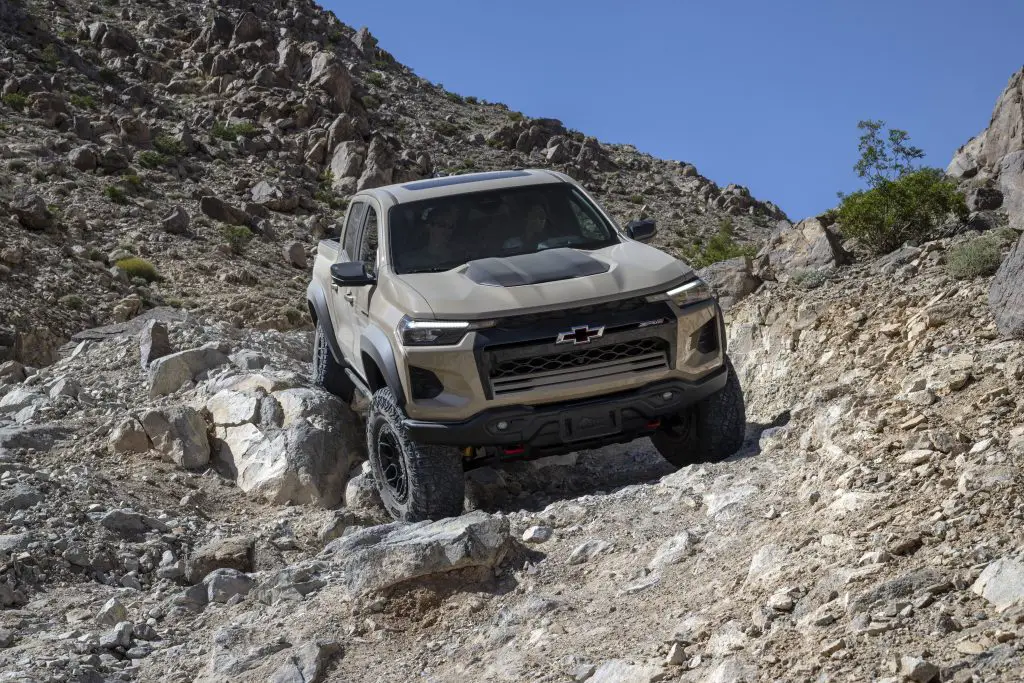 Off Road
This is where the Colorado ZR2 Bison truly shines. It's the "sports car" of the desert, absorbing whatever you throw at it—rocky accents, undulating trails, you name it. The jounce control dampers might be a bit noisy, but they provide a soft landing every time. The truck's low center of gravity and wide track make it stable on steep inclines and declines.
The extra skid plate protection is a boon, allowing you to push the boundaries without worrying about damaging vital components. The Baja mode is the cherry on top, allowing you to slide around corners and whip the tail out with ease. The front and rear locking differentials give you extra traction when you need it, making it a formidable off-road machine.
Silverado ZR2 Bison
On Road
The Silverado ZR2 Bison sets a new standard for comfort among Silverados. The DSSV dampers offer a superior level of control, making it a joy to drive on any surface. The truck comes with two engine options: a 3.0L Duramax Diesel for low-speed crawling and a 6.2L V8 for high-speed thrills. The diesel option is particularly impressive, offering excellent fuel efficiency without sacrificing torque.
The cabin is spacious and luxurious, with high-quality materials and an advanced infotainment system. The driver assistance features, such as adaptive cruise control and lane-keeping assist, make long drives less taxing. The truck also offers multiple storage options, making it practical for both work and leisure.
Off Road
The Silverado ZR2 Bison takes all the good stuff from the Colorado and scales it up. It's heavier but equally respectable in its off-road capabilities. It devours rocky and uneven terrain with ease, thanks to its robust suspension system. The truck's high ground clearance allows it to wade through water obstacles without breaking a sweat.
The Multi-Flex tailgate is a handy feature when you're out in the wilderness, doubling as a workbench or a seat. The truck also offers excellent towing capabilities, making it perfect for those who want to bring along ATVs or dirt bikes for an adventurous weekend. The front and rear locking differentials ensure that you're never stuck, no matter how challenging the terrain.
Silverado HD ZR2 Bison
On Road
The Silverado HD ZR2 Bison is a beast, offering up to 18,500lbs of towing capacity. The diesel exhaust alone will get your adrenaline pumping. Despite being an HD, the DSSV dampers do a decent job of smoothing out the ride. The Allison 10-speed automatic transmission shifts smoothly, ensuring that you always have the right amount of power at your disposal.
The interior is equally impressive, with a focus on functionality and comfort. The seats are plush, and the infotainment system is top-notch, offering features like Apple CarPlay and Android Auto. The truck also comes with multiple USB ports and a 120V outlet, making it a mobile office for those who need to stay connected on the go.
Off Road
The Silverado HD ZR2 Bison is the biggest vehicle you'd still want to take off-road. It's more composed and capable than you'd imagine, but it's not as nimble as its smaller siblings. The truck's sheer size can be a challenge in narrow trails, but its off-road capabilities are still commendable. The DSSV dampers and robust suspension system ensure a smooth ride, even on the roughest terrains.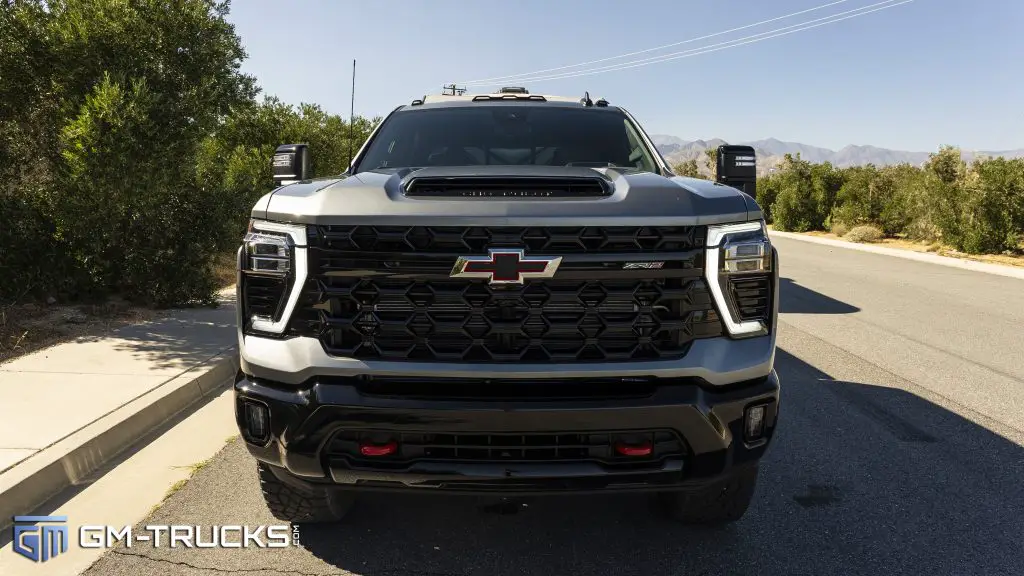 One downside is the lack of rock sliders, which Chevrolet should consider adding in future models. However, the truck makes up for it with its incredible towing capacity, allowing you to bring along a trailer or even a small boat for your off-road adventures. The integrated trailer brake controller and trailer sway control make towing a breeze, ensuring that you're always in control.
Should You Buy A Chevrolet ZR2 Bison?
Chevrolet's ZR2 Bison lineup is a game-changer in the off-road truck market. These trucks offer an incredibly wide range of capabilities without any apparent compromises. Whether you're a hardcore off-road enthusiast or a weekend warrior, there's a ZR2 Bison for you. They may not be the most powerful off-road trucks out there (Yes, the Raptor and TRX have them beat in sheer horsepower), but they are demonstrably the most capable and daily drivable—a killer combo that no other brand can match. From narrow trails to wide-open deserts, the Chevrolet ZR2 lineup will meet and exceed any obstacle you throw at it.
Chevrolet Colorado ZR2 and ZR2 Bison Specifications, Capacities, & Statistics
EPA-EST. MPG
FUEL TANK CAPACITY (approx.)
ENGINE
| | |
| --- | --- |
| Type: | 2.7L I-4 Turbo High-Output DOHC VVT DI with Active Fuel Management and Stop/Start |
| Bore & Stroke (in. / mm): | 3.63 x 4.01 / 92.25 x 102 |
| Block Material: | Cast aluminum |
| Cylinder Head Material:  | Cast aluminum |
| Valvetrain:  | Dual-overhead camshafts, four valves per cylinder, Tripower valvetrain with continuously variable valve timing, variable valve lift and Active Fuel Management |
| Fuel Delivery:  | Direct high-pressure fuel injection with Active Fuel Management |
| Horsepower (hp / kW @ rpm): | 310 / 231 @ 5600  |
| Torque (lb.-ft. / Nm @ rpm): | 430 / 569 @ 3000 (GM est.)  |
TRANSMISSION & AXLE
| | |
| --- | --- |
| Type: | Hydra-Matic 8L90 eight-speed automatic  |
| Gear Ratios (:1) | |
|     First: | 4.56 |
|     Second: | 2.97 |
|     Third: | 2.08 |
|     Fourth: | 1.69 |
|     Fifth: | 1.27 |
|     Sixth: | 1.00 |
|     Seventh: | 0.85 |
|     Eighth: | 0.65 |
|     Reverse: | 4.56 |
| Final Drive Ratio: | 3.42  |
CHASSIS & SUSPENSION
Front Suspension:

Independent coil-over-shock with Multimatic DSSV dampers; Multimatic Jounce Control Dampers on Bison

Rear Suspension:

Solid axle with semi-elliptic two-stage multi-leaf springs and Multimatic DSSV dampers; Multimatic Jounce Control Dampers on Bison

Rear axle: 

Power-locking front and rear differentials 

Steering Type:

Electric power-assisted rack-and-pinion

Brake Type:

Power-assisted four-wheel discs with Duralife™ long-life brake rotors; standard ABS; hill descent control 

Wheel Size:

17 x 8-in. aluminum (ZR2)

17 x 8.5-in. aluminum (ZR2 Bison)

Tire Size:

LT285/70R17 MT – 33-in. OD (ZR2) 

LT315/70R17 MT – 35-in. OD (ZR2 Bison) 
EXTERIOR DIMENSIONS
Wheelbase (in. / mm):

131 / 3338

Overall Length (in. / mm):

212.7 / 5402 – ZR2 

214.1 / 5437 – ZR2 Bison 

Overall Width (in. / mm):

84.4 / 2144 (with mirrors)

80.2 / 1938 (without mirrors)

Overall Height (in. / mm):

81.8 / 2078 

Track (in. / mm):

66.3 / 1684 (front)

66.3 / 1684 (rear)

Ground Clearance (in. / mm):

10.7 / 272 – ZR2 

12.2 / 311 – ZR2 Bison 

Approach Angle (deg.):

38.6 – ZR2

38.2 – ZR2 Bison

Departure Angle (deg.):

25.2 – ZR2

26.0 – ZR2 Bison

Breakover Angle (deg.):

24.8 – ZR2

26.9 – ZR2 Bison
INTERIOR DIMENSIONS    
Headroom (in. / mm):

40.3 / 1024 (front)

38.3 / 973 (rear)

Legroom (in. / mm):

45.2 / 1148 (front)

34.7 / 881 (rear)

Shoulder Room (in. / mm):

57.4 / 1458 (front)

56.3 / 1430 (rear)

Hip Room (in. / mm):

54.7 / 1389 (front)

53.1 / 1349 (rear)
CURB WEIGHT, CAPACITIES & TRAILERING 
Curb Weight (lb. / kg): 

4940 / 2241 – ZR2 

5265 / 2388 – ZR2 Bison

GVWR (lb. / kg)

1

:

6250 / 2835 – ZR2 

6350 / 2880 – ZR2 Bison

Max Payload (lb. / kg)

2

:

1280 / 581 – ZR2 

1050 / 476– ZR2 Bison

Max Trailering (lb. / kg)

3

:

6000 / 2722 – ZR2 

5500 / 2495 – ZR2 Bison
Chevrolet Silverado ZR2 and ZR2 Bison Specifications, Capacities, & Statistics
EPA-EST. MPG
| | |
| --- | --- |
| 6.2L:  | 14 city / 17 hwy  |
| 3.0L Diesel:  | 20 city / 22 hwy |
FUEL TANK CAPACITY (APPROX.)
ENGINES
Type:

3.0L DOHC I-6 Turbo-Diesel

Bore & Stroke (in. / mm):

3.30 x 3.54 / 84 x 90

Block Material:

Cast aluminum

Cylinder Head Material: 

Cast aluminum

Valvetrain: 

Dual-overhead camshafts, four-valves per cylinder

Fuel Delivery: 

High-pressure, common-rail direct injection; electronic throttle valve

Horsepower 

(hp / kW @ rpm):

305 / 227 @ 3750 (GM est.)

Torque




(lb.-ft. / Nm @ rpm):

495 / 671 @ 2750 (GM est.)
Type:

6.2L V-8 VVT DI with Dynamic Fuel Management 

Bore & Stroke (in. / mm):

4.06 x 3.62 / 103.25 x 92

Block Material:

Cast aluminum

Cylinder Head Material: 

Cast aluminum

Valvetrain: 

Overhead valve, two valves per cylinder, variable valve timing

Fuel Delivery: 

Direct high-pressure fuel injection with Dynamic Fuel Management

Horsepower




(hp / kW @ rpm):

420 / 313 @ 5600 

(tested per SAE J1349 rev. SEP2011)

Torque 

(lb.-ft. / Nm @ rpm):

460 / 624 @ 4100 

(tested per SAE J1349 rev. SEP2011)
TRANSMISSION & AXLE
| | |
| --- | --- |
| Type: | 10L80 10-speed automatic  |
| Gear Ratios (:1): | |
|     First | 4.696 |
|     Second | 2.985 |
|     Third | 2.156 |
|     Fourth | 1.779 |
|     Fifth | 1.526 |
|     Sixth | 1.278 |
|     Seventh | 1.000 |
|     Eighth | 0.854 |
|     Ninth | 0.689 |
|     Tenth | 0.636 |
|       Reverse | 4.866 |
| Axle Ratio: | 3.23 (3.0L & 6.2L) |
CHASSIS & SUSPENSION
Front Suspension:

High-performance lifted suspension with independent coil-over-shock with Multimatic DSSV™ dampers 

Rear Suspension:

High-performance lifted suspension with solid axle and semi-elliptic, variable-rate, two-stage multileaf springs and Multimatic DSSV™ dampers 

Steering Type:

Electric power-assisted rack-and-pinion

Brake Type:

Four-wheel disc with electro-hydraulic power assist and ABS; vented front and rear Duralife

TM

rotors

Brake Rotor Size (in. / mm):

13 x 1.18 / 330 x 30 (front)




13.6 x 0.79 / 345 x 20 (rear)

Wheel Size:

18-in. x 8.5-in. aluminum machined face (std.)

18-in. x 8.5-in. aluminum gloss black (avail.)

18-in. x 8.5-in. aluminum AEV gloss black (Bison)

Tire Size:

LT275/70R18 Goodyear Wrangler Territory MT
EXTERIOR DIMENSIONS (CREW CAB / SHORT BOX)
Wheelbase (in. / mm):

147.8 / 3754 

Overall Length (in. / mm):

232.7 / 5912 (ZR2)

233.9 / 5943 (ZR2 Bison) 

Overall Width (in. / mm):

97.2 / 2478 (with mirrors)

84.9 / 2157 (mirrors folded)

Overall Height (in. / mm):

78.2 / 1998

Track Width (in. / mm):

68.5 / 1740 (front)

68.2 / 1732 (rear)
 OFF ROAD DIMENSIONS
Ground Clearance 

(in. / mm):

11.2 / 285 (ZR2)

11.3 / 289 (ZR2 Bison)

Approach Angle (deg.):

33.5 (ZR2)

34 (ZR2 Bison) 

Departure Angle (deg.):

24.4 (ZR2)

24.4 (ZR2 Bison) 

Breakover Angle (deg.):

24.9 (ZR2)

24.4 (ZR2 Bison) 
INTERIOR DIMENSIONS (CREW CAB)
Headroom (in. / mm):

43.0 / 1093 (front)




40.1 / 1019 (rear)

Legroom (in. / mm):

44.5 / 1131 (front)




43.4 / 1102 (rear)

Shoulder Room (in. / mm):

64.5 / 1639 (front)




64.0 / 1626 (rear)

Hip Room (in. / mm):

61.2 / 1554 (front)




59.2 / 1505 (rear)
WEIGHTS AND CAPACITIES 
Base Curb Weight (lb. / kg): 

5709 / 2589 (3.0L ZR2)

6121 / 2776 (3.0L ZR2 Bison)     

5540 / 2513 (6.2L ZR2)

5952 / 2699 (6.2L ZR2 Bison)     

Max GVWR

1

(lb. / kg): 

7300 / 3311 (3.0L ZR2)

7300 / 3311  (3.0L ZR2 Bison)     

7100 / 3221 (6.2L ZR2)      

7100 / 3221  (6.2L ZR2 Bison)        

Max Payload

2

(lb. / kg):

1550 / 703 (3.0L ZR2)

1140 / 517 (3.0L ZR2 Bison)

1520 / 689 (6.2L ZR2)   

1110 / 503 (6.2L ZR2 Bison)     
MAX TRAILERING1,2   
Max Trailering (lb. / kg):         

8700 / 3946 (3.0L)

8800 / 3991 (6.2L)         
Chevrolet Silverado HD ZR2 and ZR2 Bison Specifications, Capacities, & Statistics
| | |
| --- | --- |
| 2500HD  | Crew Cab Standard Bed (4WD) |
ENGINES
Type:

6.6L V-8 gasoline or E85 FlexFuel

Bore & Stroke (in. / mm):

4.06 x 3.86 / 103.25 x 98

Block Material:

Cast iron with nodular iron main caps

Cylinder Head Material:

Cast aluminum

Compression Ratio:

10.8:1

Valvetrain: 

Overhead-valve, two valves per cylinder, variable valve timing

Fuel Delivery: 

Direct fuel injection

Horsepower




(hp / kW @ rpm):

401 / 299 @ 5200 (SAE certified – gasoline)

Torque




(lb.-ft. / Nm @ rpm):

464 / 629 @ 4000 (SAE certified – gasoline)
Type:

Duramax 6.6L V-8 Turbo-Diesel

Bore & Stroke (in. / mm):

4.05 x 3.89 / 103 x 99

Block Material:

Cast iron

Cylinder Head Material:

Cast aluminum

Compression Ratio:

16.0:1

Valvetrain: 

Overhead-valve, four valves per cylinder

Fuel Delivery: 

Common-rail direct fuel injection 

Horsepower 

(hp / kW @ rpm):

470 / 350 @ 2800 (per SAE J1349)

Torque




(lb.-ft. / Nm @ rpm):

975 / 1322 @ 1600 (per SAE J1349)
TRANSMISSION & AXLE
Type:

Allison

®

10L1000 10-speed automatic 

Gear Ratios (:1):

    First

4.54

    Second

2.87

    Third

2.06

    Fourth

1.72

    Fifth

1.48

    Sixth

1.26

    Seventh

1.00

    Eighth

0.85

    Ninth

0.69

    Tenth

0.63

    Reverse

4.54

Final Drive Ratio:

3.73 (6.6L gas)

3.42 (6.6L diesel)
CHASSIS & SUSPENSION
Front Suspension:

Short long arms independent front suspension with torsion bars

Rear Suspension:

Semi-elliptic, two-stage multi-leaf springs

Steering Type:

Hydraulic power-assisted recirculating ball

Brake Type:

Hydraulic power-assisted Hydroboost brake booster, four-wheel disc brakes with ABS and Stabilitrak electronic stability assist

Brake Rotor Size (in. / mm):

Front: 14 x 1.6 / 355 x 40




Rear: 14.1 x 1.3 / 360 x 34 

Wheel Size:

18 x 9-in. aluminum

Tire Size:

LT305/70R18 MT
FUEL TANK CAPACITY (approx.)
| | |
| --- | --- |
| Fuel Tank (gal. / L):  | 36 / 136 (gas and diesel) |
EXTERIOR DIMENSIONS
Wheelbase (in. / mm):

159.1 / 4042

Overall Length (in. / mm):

250 / 6351 (ZR2)




252 / 6401 (ZR2 Bison)

Overall Width (in. / mm):

81.9 / 2079 (without mirrors)




105.1 / 2670 (with mirrors extended)

Overall Height (in. / mm):

82.6 / 2100

Front Track (in. / mm):

69.3 / 1762

Rear Track (in. / mm):

70.0 / 1760

Ground Clearance (in. / mm):

11.6 / 295 (ZR2)




11.8 / 299 (ZR2 Bison)

Approach Angle (deg.):

32.5 (ZR2)




29.8 (ZR2 Bison)

Departure Angle (deg.):

25.7 (ZR2 & ZR2 Bison)

Breakover Angle (deg.):

21.2 (ZR2)




22.6 (ZR2 Bison)
INTERIOR DIMENSIONS 
Headroom (in. / mm):

43.03 / 1093 (front)




40.12 / 1019 (rear)

Legroom (in. / mm):

44.53 / 1131 (front)




43.4 / 1102 (rear)

Shoulder Room (in. / mm):

66.02 / 1677 (front)




65.3 / 1659 (rear)

Hip Room (in. / mm):

61.18 / 1554 (front)




60.24 / 1530 (rear)
CURB WEIGHT, GVWR & PAYLOAD1
Base Curb Weight (lb. / kg):

7409 / 3360 – ZR2 gas




8113 / 3680 – ZR2 diesel




7793 / 3535 – ZR2 Bison gas




8495 / 3853 – ZR2 Bison diesel

GVWR (lb. / kg):

10850 / 4921 – ZR2 / ZR2 Bison gas




11350 / 5148 – ZR2 / ZR2 Bison diesel

Payload

1

 (lb. / kg):

3397 / 1541 – ZR2 gas




3193 / 1448 – ZR2 diesel




3013 / 1367 – ZR2 Bison gas




2811 / 1275 – ZR2 Bison diesel
MAX TRAILERING1 
Conventional (lb. / kg):

16000 / 7257 – ZR2 gas




18500 / 8391 – ZR2 diesel




16000 / 7257 – ZR2 Bison gas




18500 / 8391 – ZR2 Bison diesel

Fifth-Wheel/Gooseneck  (lb. / kg):

18070 / 8210 – ZR2 gas




18100 / 8210 – ZR2 diesel




16900 / 7665 – ZR2 Bison gas




15570 / 7062 – ZR2 Bison diesel