Is Chevrolet testing a future Silverado ZR2 HD model? Speculation abounds after these recent photographs capture what seems to be an off-road-oriented 2024 Silverado HD prototype undergoing a shakedown.
Silverado ZR2 HD- Our spy photographer reports:
We got a long-lens-look at a new off-road-ready Chevy Silverado HD prototype—suggesting that an HD-level Silverado ZR2 is being developed to debut when the facelifted Silverado HD lineup debuts for the 2024 model year.
Chevrolet currently has a sizable hole in its Silverado HD lineup, as there is no available off-road-focused trim. Unlike GMC and its Sierra AT4 HD, Chevrolet has nothing in the HD space to counter the likes of the Ford Super Duty Tremor or the Ram 2500 Power Wagon. So the appearance of this rugged new Silverado HD prototype makes perfect market sense. We expect both a Silverado Trail Boss HD and this more extreme ZR2 HD to be added, fully rounding-out the Chevy's Heavy Duty truck lineup.
ZR2 Cues On HD Prototype's Front-Fascia
Though photographed from some distance, the Silverado HD prototype caught here shows similarities to the off-road-focused variants in the Silverado 1500 range. Elements of the grille show through front camouflage, and the design treatment is unlike anything we've seen on any prior prototypes for Chevy's facelifted HD. The grille treatment visible through the camouflage mesh looks similar to what's on the recently-released Silverado 1500 ZR2, as do the vertically-oriented, rectangular fog lights visible at the outer edges of the front bumper.
Chevrolet has a habit of disguising the high-clearance cut-outs on the bumpers of ZR2-spec prototypes, but it's clear that this Silverado HD prototype has off-road-friendly clearance in mind. We can also see a beefy front skid plate that looks like it's something beyond traditional Trail Boss specifications—at least as seen on the Silverado 1500's Trail Boss trim. This Silverado HD's front skid plate treatment also looks similar to a rugged GMC Sierra HD prototype spotted earlier, which had pointed to a new AT4X addition coming to GMC's HD truck lineup (photo included for context).
Diesel-Powered Prototype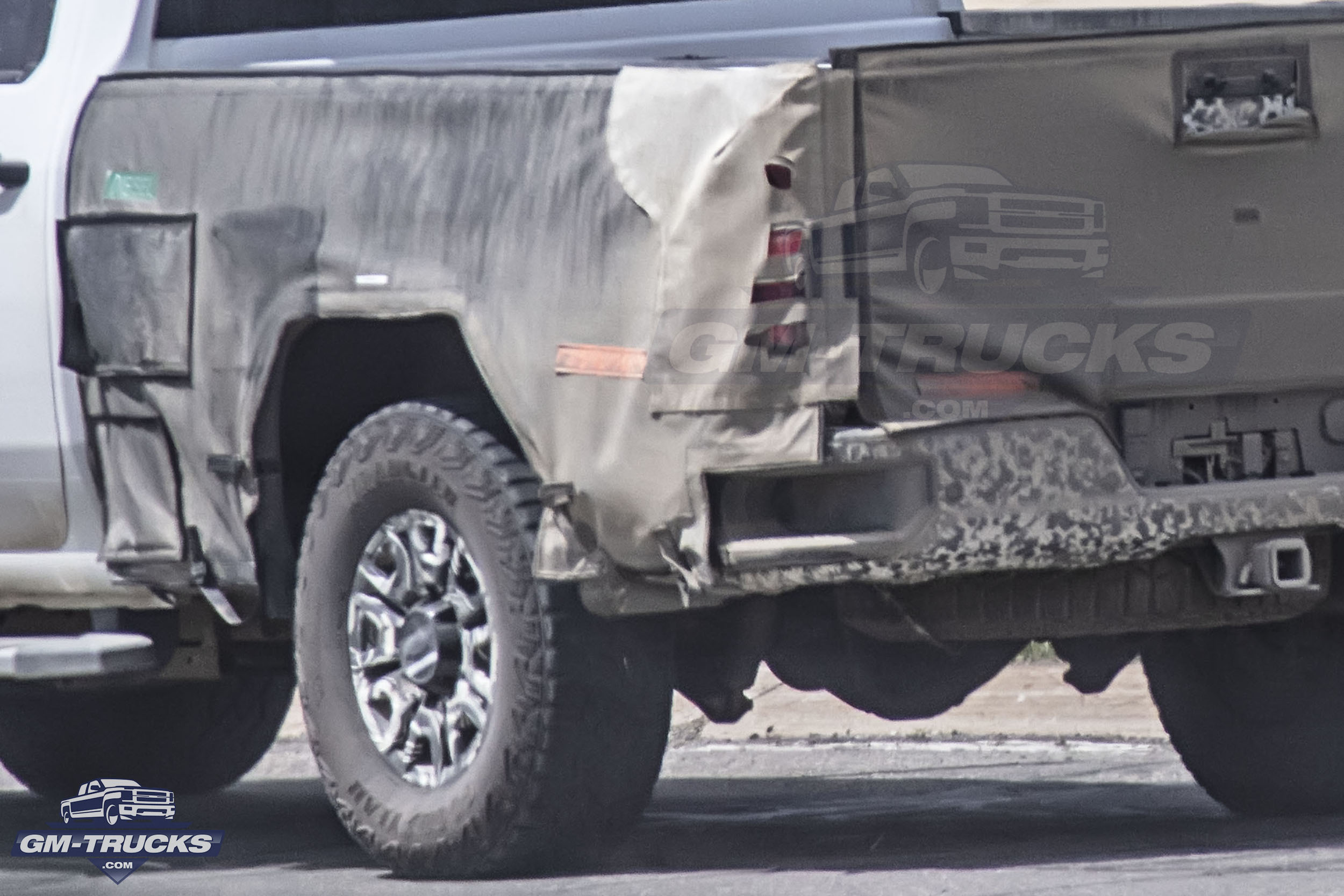 The Silverado 1500 ZR2 only comes with the 6.2-liter V8 engine, but this HD prototype has a large green sticker marked "Diesel" over its gas door.
Off-Road-Ready Rubber—Like The Silverado 1500 ZR2
We managed to catch the prototype close enough to reveal its rugged rubber, displaying the same distinctive sidewall tread blocks found on the Goodyear Wrangler Territory MT tires. The Territory MTs are found on the Silverado 1500 ZR2, and have also been seen repeatedly on next-generation Chevy Colorado ZR2 and GMC Canyon AT4X prototypes, along with the aforementioned GMC Sierra AT4X HD prototype. With that history, the Territory MTs on this latest HD prototype strongly suggests that this prototype represents the Silverado ZR2 HD. At the bare minimum, this prototype serves as proof that Chevrolet is readying an HD truck designed to tackle the same extreme terrain as its most accomplished off-road-ready trucks, which are spreading throughout GM's model mix.