The all-new 2023 Chevy Colorado and GMC Canyon pair have been spotted undergoing testing once again. This time, we captured a convoy of multiple trucks, all with less camo than in the past.
2023 Chevy Colorado & GMC Canyon: Our spy photographer reports:
We caught a four-truck convoy testing less-disguised prototypes for the next-gen Chevy Colorado and GMC Canyon. It's our first look at the new Colorado without its heavy camouflage, we learn some new design secrets on the new Canyon as well. The close-up encounter on public roads revealed the key design differences between Chevy's and GMC's midsize trucks. All told, we generated a large photo gallery, totaling a healthy 44 images. \
The new Colorado maintains a similar headlight orientation with the current model, as the primary lighting remains at the upper corners of the front-fascia. The LED signature should run along the top of the headlight cluster, for a lighted "eyebrow" effect. The turn indicators are found at the innermost portions of the headlights, over the corners of the grille. Fog lights are found just above the front bumper.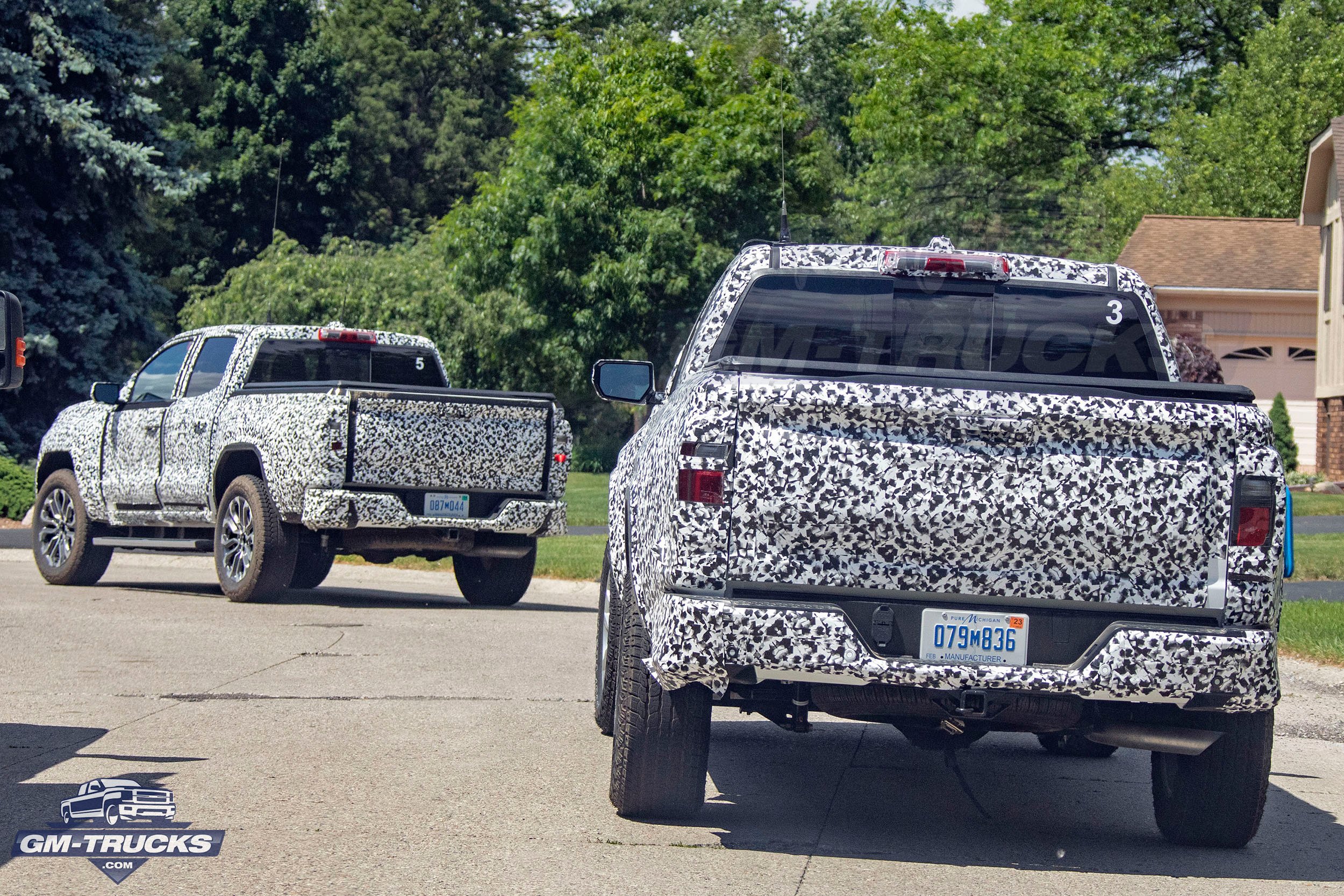 The Colorado's grille is made up of horizontal elements, with vertical elements at the outer edges of the grille opening. A thick band makes up the top of the grille design, and will likely contain either a Chevy bowtie, or "CHEVROLET" lettering, depending on the trim level. Both Colorado prototypes have prominent air-deflectors at the bottom of the front bumper.
The GMC Canyon prototypes caught here represent two different trim levels, with different grille designs. One appears to be the Canyon Denali, while the other appears to be a simpler Elevation or possible AT4 trim. All of the recent GMC Canyon prototypes have been fitted with a high-clearance bumper, suggesting that this off-road-friendly design will be a part of the GMC Canyon through most—or all—of the trim configurations.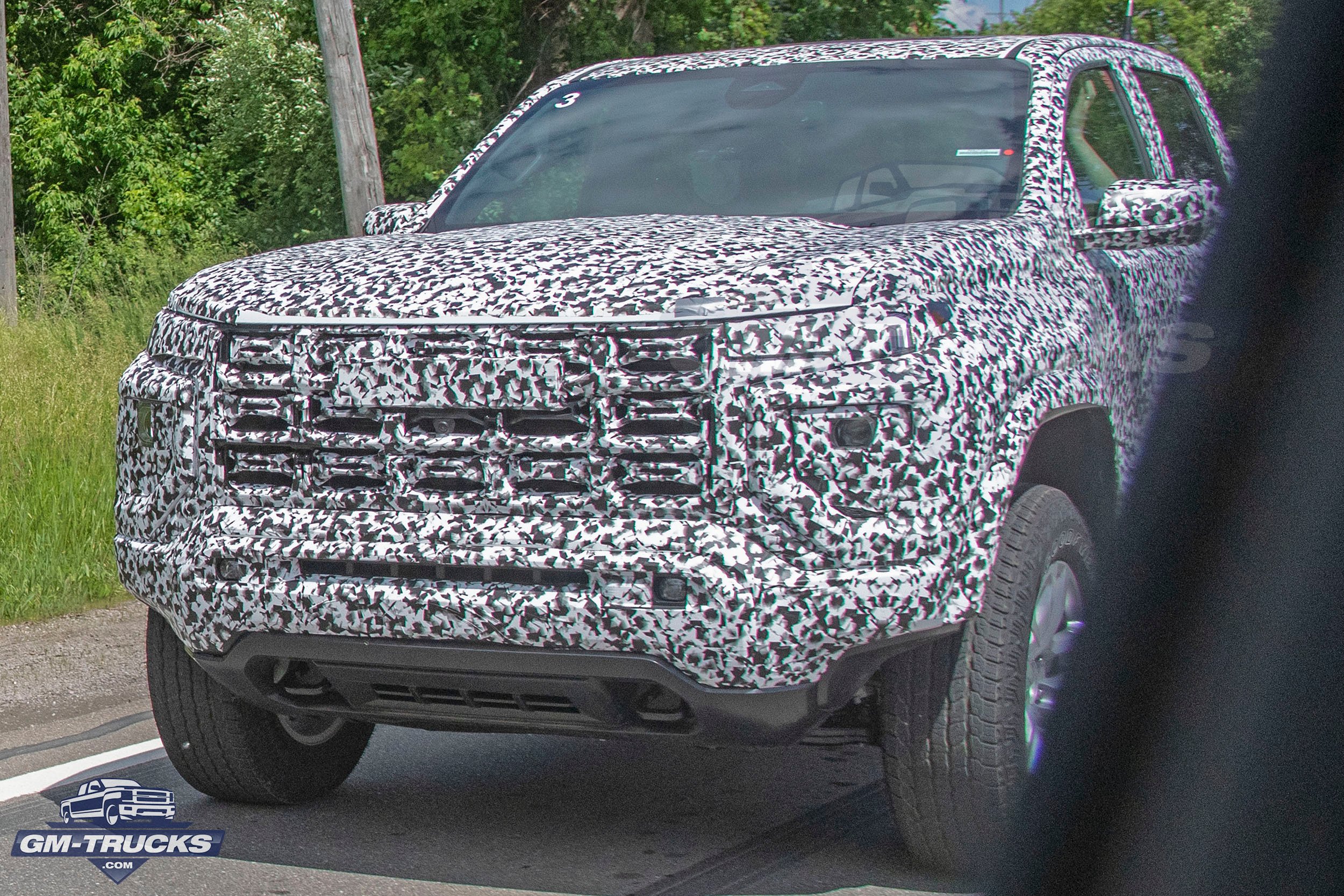 The new Canyon's front-fascia design is very different from the current model, and represents a big departure from its Colorado counterpart. The Canyon's new face falls more into line with the rest of the GMC truck lineup, getting an LED signature lamp at the top of the front-end, with its primary lighting units sitting lower down in a separate lighting cluster. The overall configuration of the Canyon's LED cluster will mimic those of on the Sierra and Sierra HD.
Here's a breakdown of the four prototypes in the convoy.
Chevy Colorado (Prototype #2)
Goodyear Wrangler Territory AT tires (265/65R18)
Placeholder Headlights Show General Outline Primary Light Cluster
Headlights Sit Horizontally At Top Of Front Fascia
Fog Lights Near Front Bumper
Bumper Has Prominent Air Deflector At Bottom Edge
Chevy Colorado (Prototype #6)
Goodyear Wrangler Fortitude HT tires (255/60R18 likely)
Production Headlights
Headlights Sit Horizontally At Top Of Front Fascia
Fog Lights Near Front bumper
Bumper Has Prominent Air Deflector At Bottom Edge
GMC Canyon (Prototype #3)
Goodyear Wrangler Territory AT tires (265/65R18)
Production Headlights
Two-Tiered Lighting Design
Primary Headlight Units Lower On Front-Fascia
High-Clearance Bumper Design
GMC Canyon (Prototype #5)
Bridgestone Dueller AT tires
Likely Denali Trim, Likely 20-inch wheels
Production Headlights
Two-Tiered Lighting Design
Primary Headlight Units Lower On Front-Fascia
Fog Lights In Middle Of Front Bumper
High-Clearance Bumper Design