The world-renowned EarthCruiser will offer a new upfit package designed for the GMC HUMMER EV. Here's what it will include.
Known for its aftermarket packages that outfit a vehicle with overlapping features, create comfort and off-road tricks – EarthCruiser is now setting its sights on the all-electric GMC HUMMER EV in a bid to create a zero-emissions overlanding monster.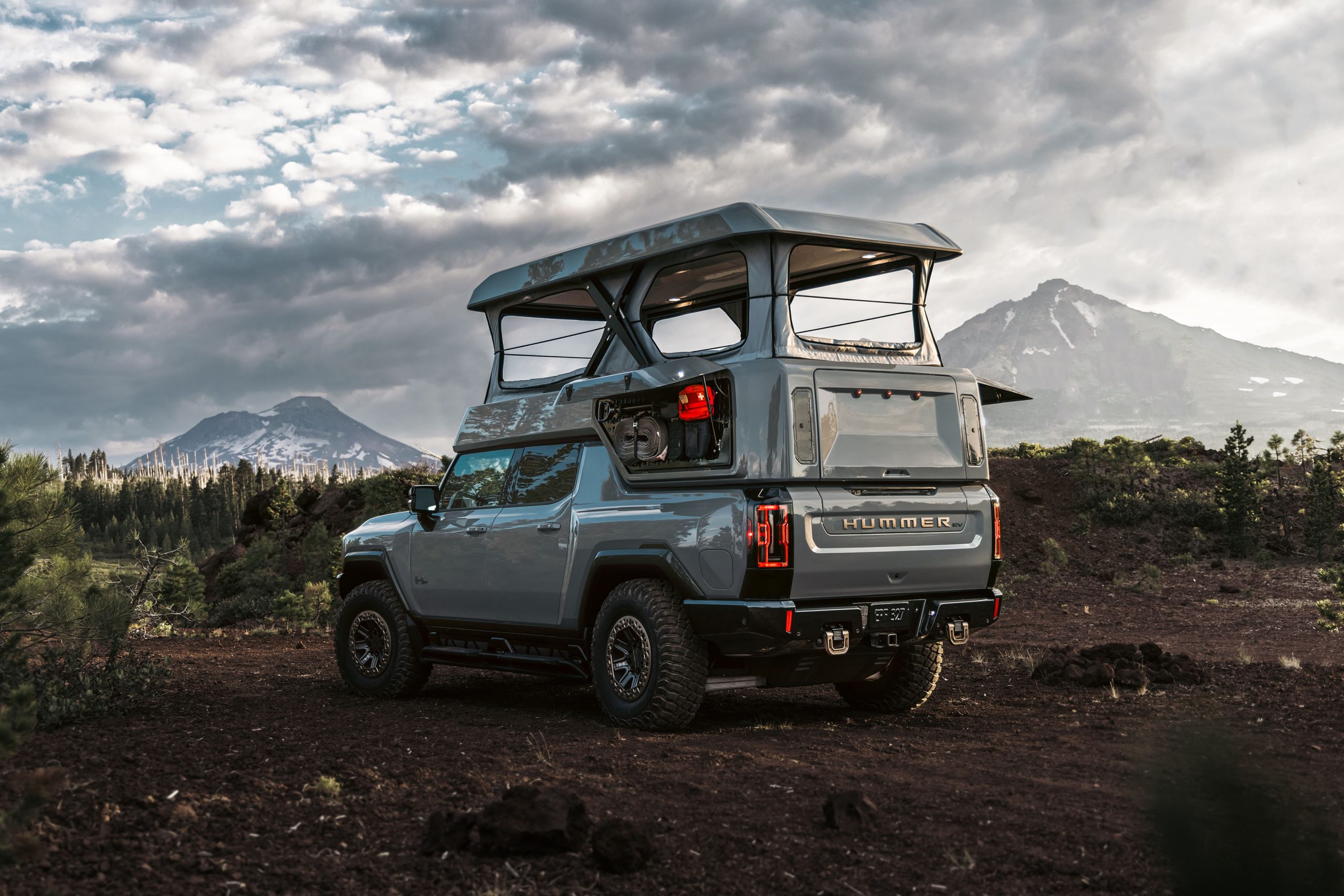 What Does The EarthCruiser GMC HUMMER EV Upfit Include?
Carbon fiber "EarthCruiser House" that is integrated into the chassis of the HUMMER EV
Onboard Solar – 605W of panels with an integrated 6KwH 12-Volt battery to provide up to 7 days of off-grid power
Insulated Pop-up roof system
Fully equipped with appliances that include an indoor and outdoor shower, 120v and 12v outlets, storage, and a flat-pack toilet.
A full-size RV style bed
7-inch touchscreen control panels
1500-watt 120V inverter
Filtered and unfiltered water access
7-gallon grey water tank
"We are proud to work with GMC on the design and manufacturing of such an exceptional
product. It feels right, it feels like it belongs," said EarthCruiser CEO and Founder Lance
Gillies. "Using our years of overlanding expertise, we have ensured nothing is out of place,
unnecessary or wasted in this vehicle. This collaboration with the GMC team has provided
the perfect opportunity to demonstrate the zero-tailpipe emission possibilities for overland
and recreational vehicle travelers. We have produced a comfortable, capable product, built
to a high caliber of excellence – one that our customers can take pride in."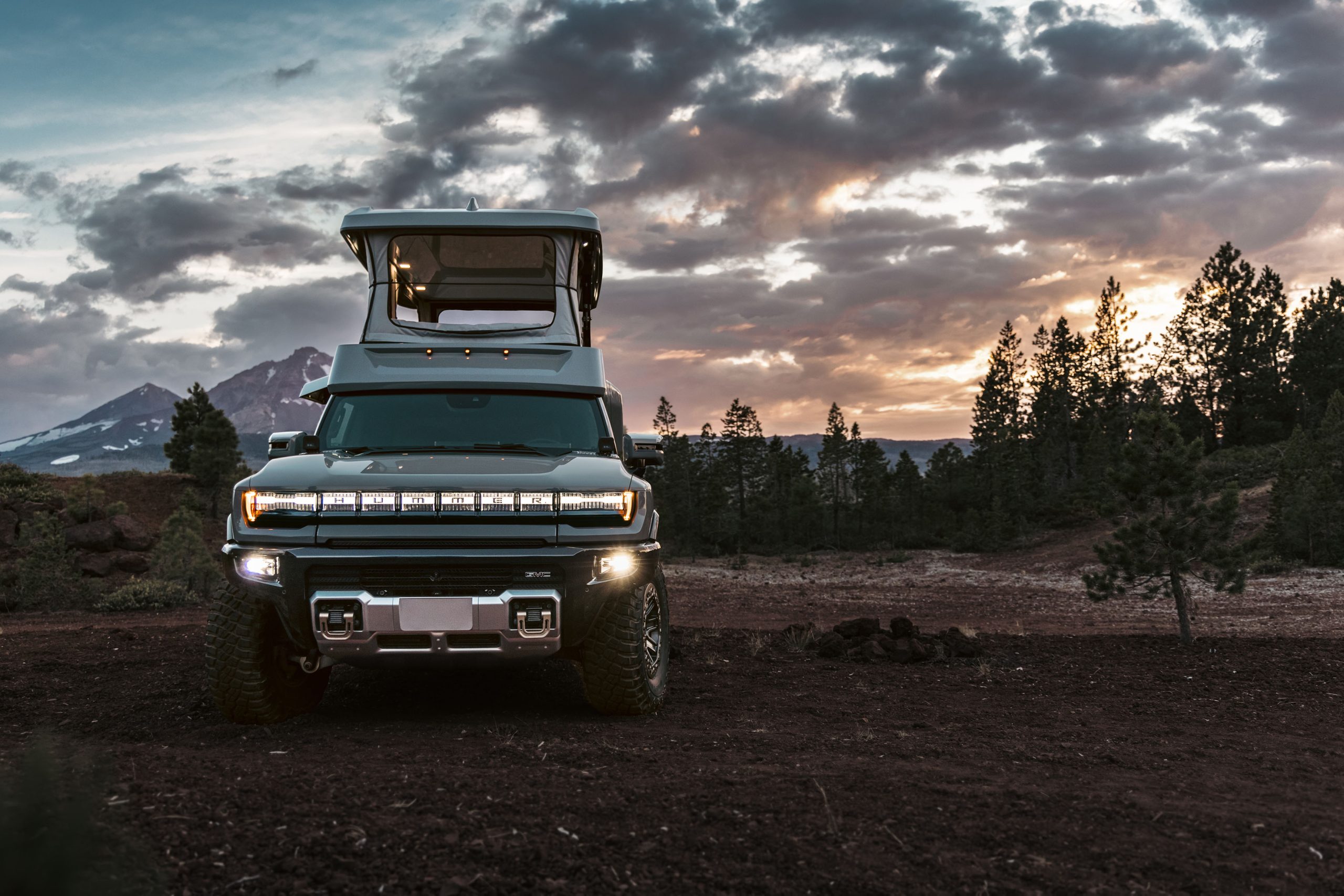 The EarthCruiser GMC HUMMER EV will debut publicly at the Overland Expo Mountain West in Colorado, August 25th through the 27th. The package will go on sale later in 2024 and be available directly through EarthCruiser. GMC makes a point to specify that any EarthCruiser alternations will not be covered under the HUMMER EV's factory warranty.
EarthCruiser GMC HUMMER EV – Detailed Specifications
 Height: 117 inches in "Camp Mode" with the roof up and 90 inches in "Drive Mode"
with the roof down
 Length: 217 inches
 Sleeping capacity: 2
Carbon-fiber house construction
Four-season, tri-layed pop top
Outdoor shower
Exterior recovery gear storage
Exterior filtered water access
Lockable utility hook-ups
Exterior keypad for lighting and system control
Exterior scene lights
Integrated rooftop solar
13.5-gallon freshwater capacity
7-gallon grey tank
80 inches of standing headroom at the entry, 76 inches on the step in the hallway
and 35 inches in the bed area
Sink
Induction cooktop
RV full bed
Underbed storage
Interior filtered and unfiltered water
7-inch-diagonal touchscreen control
Refrigerator / freezer
Dimmable interior lighting
460Ah lithium 12V battery
1500W inverter
Integrated storage drawers and cabinets
Onboard 12V water heater