The first 8 GMC HUMMER EV Accessories are here. When the HUMMER EV SUV debuted last month GMC promised that the SUV/Truck pair would launch with a slate of factory accessories. Now we're getting our first look at the HUMMER EV Accessories lineup.
Without much fan-fair, GMC emailed reservation holders this morning a first look at which accessories the brand would offer on the new HUMMER EV SUV and Truck. The list includes eight options, ranging from a roof rack to auxiliary lighting and even a spare tire cover.
Let's take a deeper look into these first eight HUMMER EV accessories to launch.
The First 8  Factory GMC HUMMER EV Accessories
Roof Cross Rails
We saw these roof cross rails when our spy photographer caught a HUMMER EV Pickup undergoing testing. Along with being a roof-mounted option, they also can be mounted in over the bed.
GMC Says: From bikes to kayaks, these Roof Cross Rails will offer a versatile solution to storing cargo and gear with the GMC HUMMER EV Pickup and SUV. The rails are even compatible with all configurations of the Infinity Roof. So whether the Sky Panels are in place or removed for fresh air and sun, you can still carry what the latest adventure calls for.
Off-Road Light Bar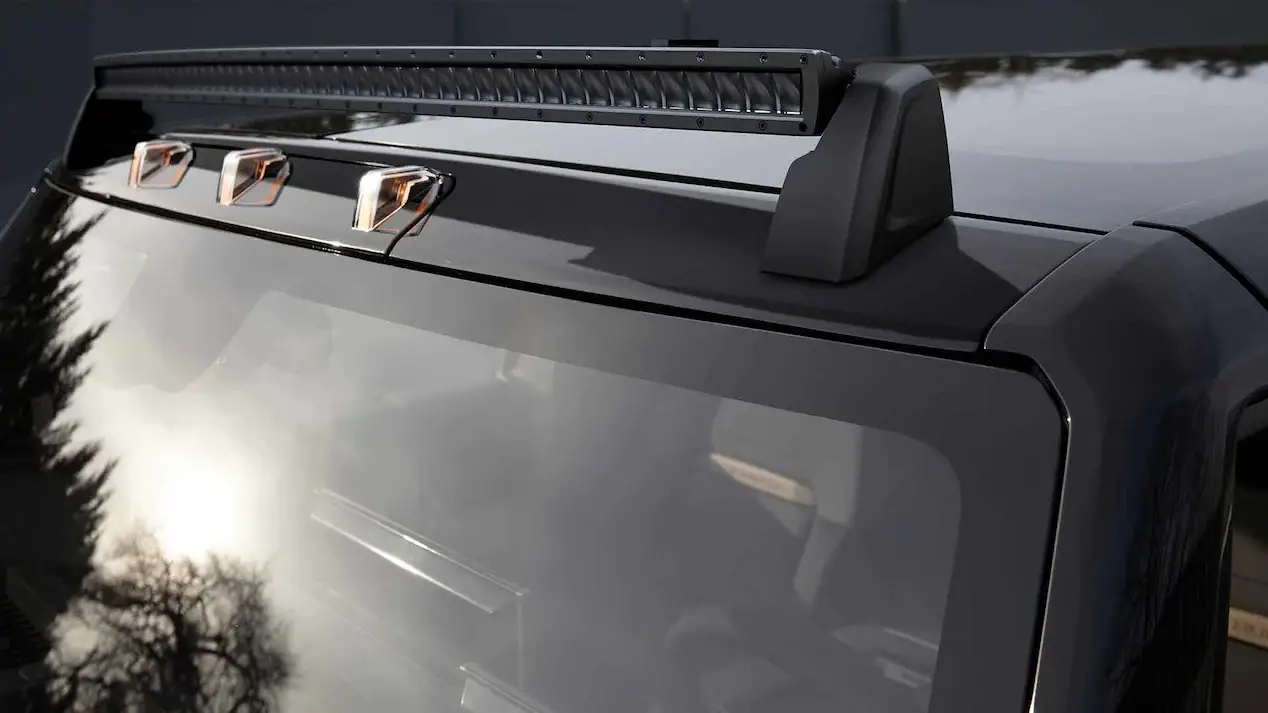 A powerful full-width light bar is on the menu. You'll be able to control it from within the infotainment/dash controls of your HUMMER EV, which makes it super slick.
GMC Says: Need some extra light for scouting trails at night or back at camp when the day is done? The 50-inch Off-Road Light Bar has it covered. The curvature of this dual light bar follows the profile of the GMC HUMMER EV Pickup and SUV for a seamless appearance. And the smoked projection face adds to the aesthetic without diminishing light output.
The light bar can be activated via the virtual auxiliary switches on the GMC HUMMER EV's driver information center rather than a hard button. The driver information center was designed to allow for the inclusion of accessories like light bars. The driver information center will be customizable, allowing drivers to personalize it to their needs.
There's also no need to alter the GMC HUMMER EV's exterior because the mounts and wiring are integrated. A HUMMER EV designed cover is included, as are provisions to mount small action cameras to capture all the fun.
Off-Road Mounted Pod Lights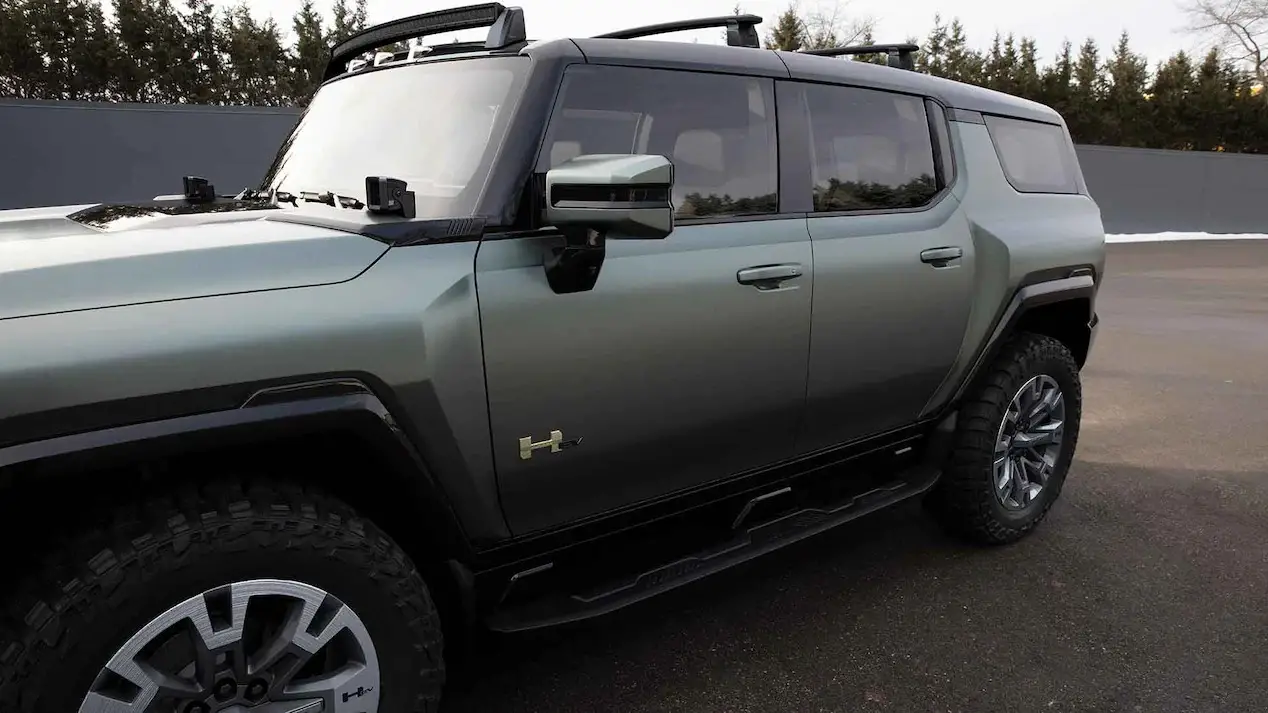 GMC Calls them "Off-Road Mounted Pod Lights" but you may know this type of accessory as a ditch light. Typically they are angled off to the side of the vehicle to provide extra visibility towards "the ditch", although GMC has them pointed straight ahead in this official photograph. Like the top-mounted light bar, these can be controlled from inside the vehicle with the aux switches integrated into the infotainment system.
GMC Says: The Off-Road Mounted Pod Lights will offer increased lighting when you're out on the trails in the HUMMER EV Pickup or SUV. The lights attach to the exterior front pillars and have integrated mounts and wiring for seamless installation.
The lights can be adjusted for additional light in the area surrounding the vehicle. The mounting equipment is also compatible with small adventure cameras.
D-Ring Recovery Hooks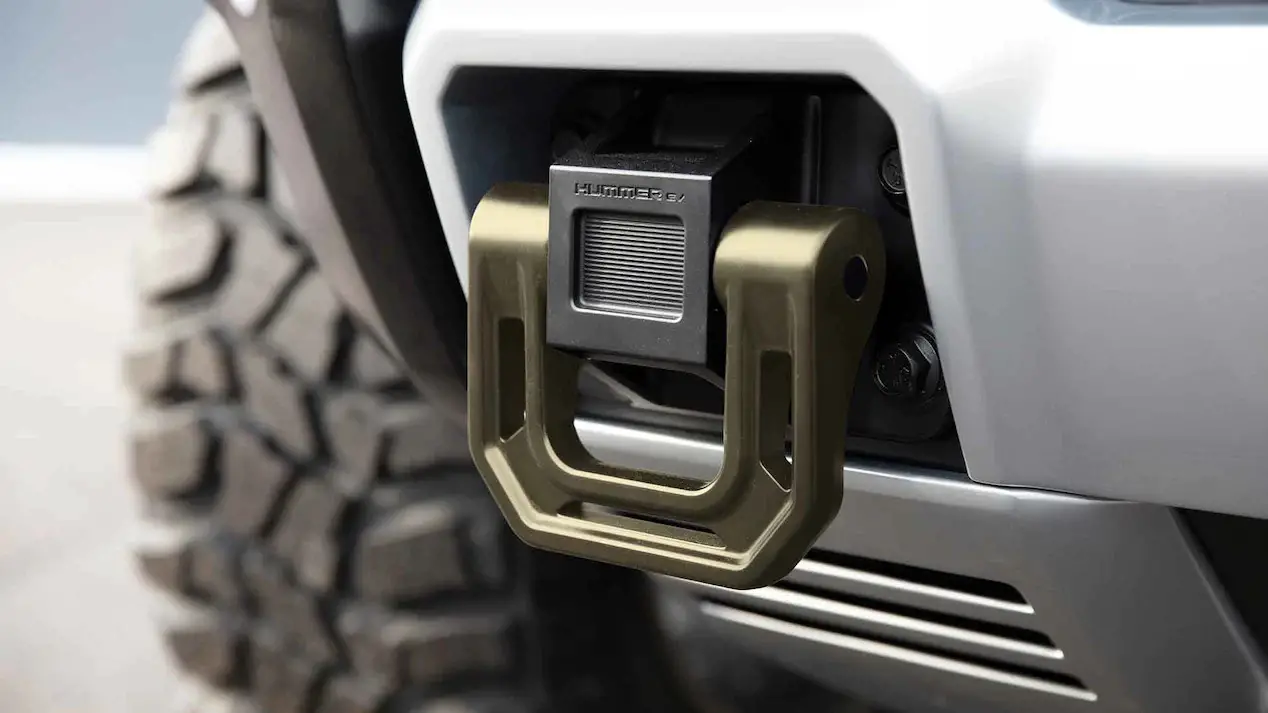 We're a little confused with this next HUMMER EV Accessory. D-Rings. They've been shown on every HUMMER EV promoted thus far, so we had (wrongly) assumed they were standard. Guess we were wrong, but we're glad they will be an option available. Off-road adventures need a good d-ring location to pull a vehicle out of a tough spot.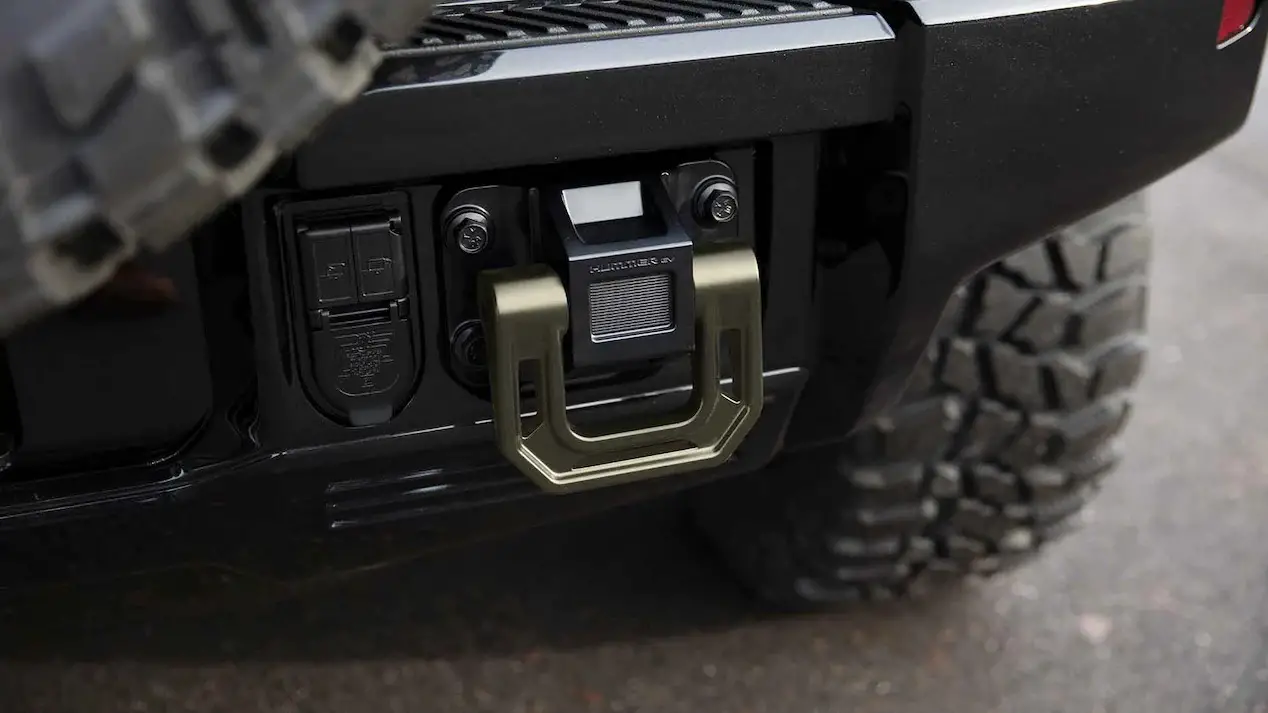 GMC Says: Signaling a true off-road performance vehicle, the available front and rear, articulating D-Ring Recovery Hooks for the GMC HUMMER EV Pickup and SUV are perfect for your adventure. The heavy-duty D-Rings are frame-mounted and designed to take the rigors of off-roading, overlanding or on-road use. Each one has a load capacity of up to 15,000 lbs.
The look of the D-Rings is specifically created to integrate with GMC HUMMER EV's appearance, balancing design and function. The D-Rings are available in black, red or Tech Bronze, allowing drivers to coordinate with their HUMMER EV's wheels, decals and nameplates.
Alternate Finish Badges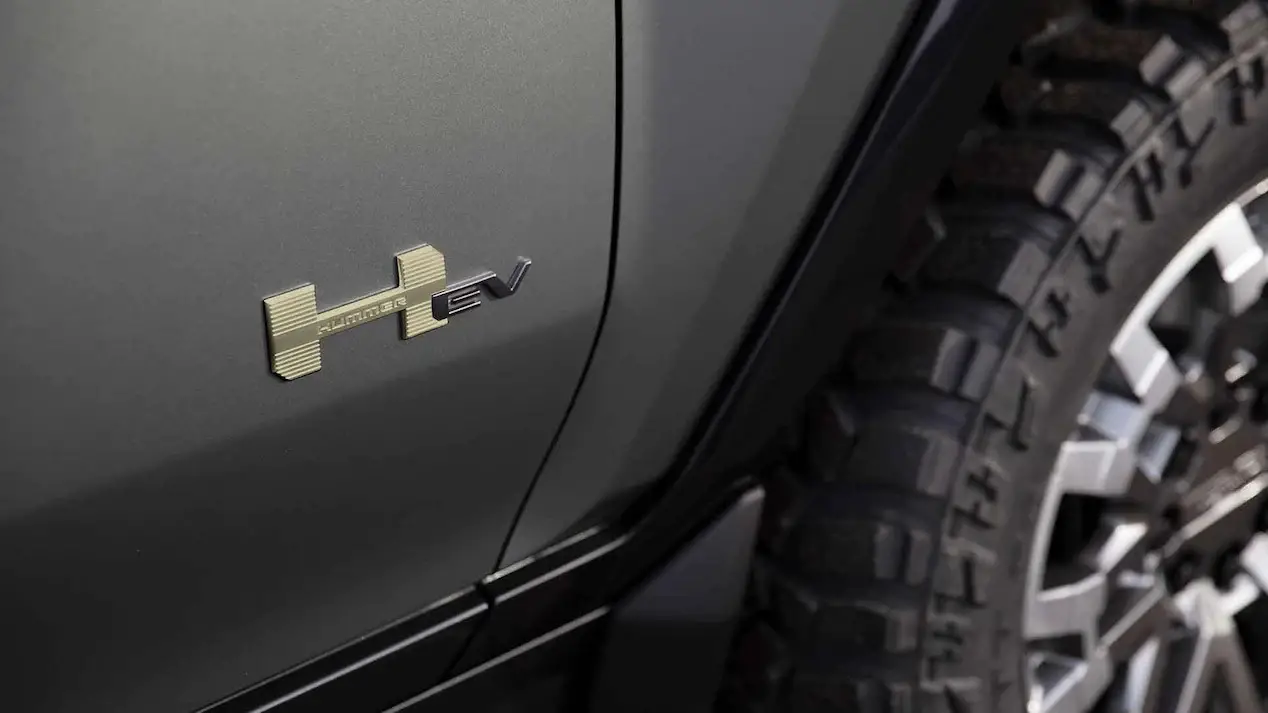 This option comes at no surprise. GM has been offering alternate badging for the past few years to allow customers the option to turn their vehicle into something more unique. It looks like GMC HUMMER EV will be no different.
GMC Says: The Alternate Finish Badges for the pickup and SUV offer a visual testament to GMC HUMMER EV's rugged spirit with an etched surface to match the vehicle's accents. The badge will also fill in the lettering on the HUMMER EV Pickup's tailgate for a bolder, 3D appearance. They are available in black, red and Tech Bronze.
Grazen Finished Wheels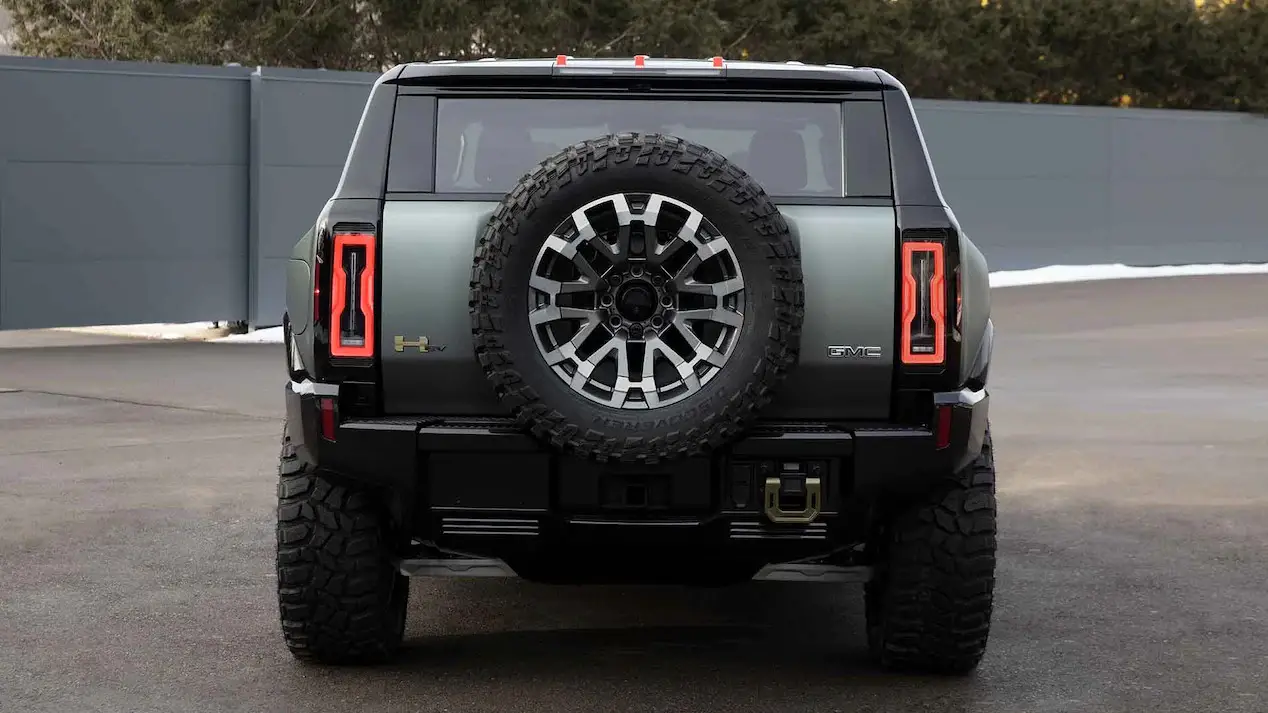 We're not entirely sure what to make of this one. Apparantly the 22-inch wheels that will launch with the HUMMER EV SUV will be an option on the HUMMER EV Pickup later on.
GMC Says: Launching with HUMMER EV SUV are these unique 22-inch Grazen Finished Wheels that complement the dominating size of the all-electric supertruck. Their bold design embodies the rugged DNA of the GMC HUMMER EV Pickup and SUV. The machine face helps retain the appearance from rugged off-road environments, while the Grazen color accents provide street appeal. The overall look reflects HUMMER EV's duality, a vehicle that is at home on or off-road.
Spare Tire Cover

What's a rear-mounted tire worth if you don't have the option to cover it up? GMC is offering this unique "lunar" themed spare tire cover for the HUMMER EV SUV. It comes in multiple colors and designs.
GMC Says: Protect the condition of GMC HUMMER EV SUV's spare wheel with an integrated soft spare tire cover with a hard-shell covering. The hard shell features laser etched lunar patterns that complement the vehicle's accents. The covers also come in alternative colors and designs for added personalization.
Rocker Protectors With Integrated Steps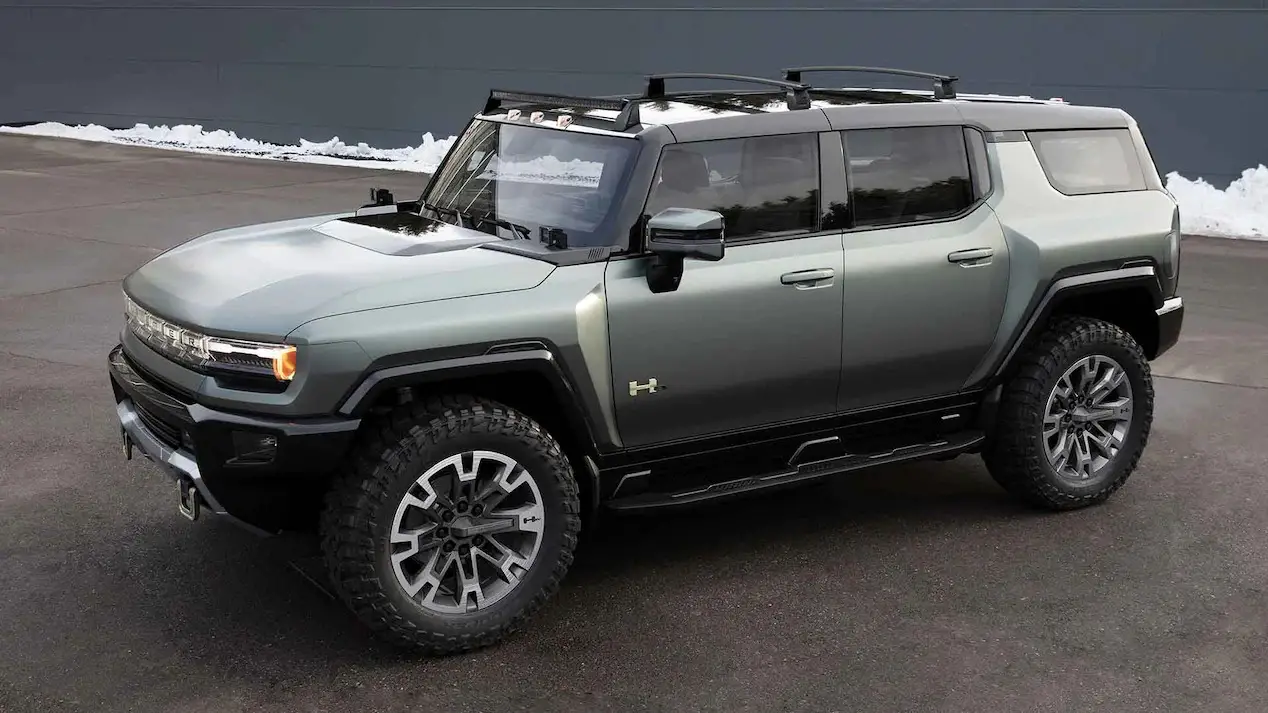 Last but not least is a very useful feature if you plan on taking your HUMMER EV off-road. A rocker protector with integrated steps. Not only can you bounce off some misplaced rocks without fearing damage but your step-in will be greatly improved. These come standard with the "Extreme Off-Road Package"
GMC Says: A standard feature for the GMC HUMMER SUV's Extreme Off-Road Package will be these Heavy-Duty Rocker Protectors with Integrated Steps.
Made from durable stainless steel, the rocker protector and single-piece assist step stretch from the front to the rear doors. They will help provide protection while going off road or as a step to get in or out of the cabin. The surface has been completely powder coated with a rugged texture. There are also textured pads that cover the steps for additional traction.
Not only are the Rocker Protectors with Integrated Steps durable, but they are strong too. Each one can support a vertical load of 50 percent of the vehicle's weight and a lateral load of 20 percent of the vehicle's weight. The step pads themselves can support up to 300 pounds.
Take a look at the GMC HUMMER EV Offical Accessory Webpage Here.