As a guy who writes about cars I get a lot of emails, some more interesting than offers to review beef jerky. For instance, "Introducing the ZR2-L, a Lingenfelter Edition high performance 4-Wheel drive Chevrolet Colorado. Built on the ZR2 V6 platform, the Lingenfelter Supercharged engine boasts 450HP…" Stop right there! Thoroughly hooked, I promptly called my friend Ken's office to learn more. Here's the straight scoop on how to DIY, or get the full Monte.
Check Out GM-Trucks.com's Colorado Forums and ZR2 Facebook Group
Basics: you can upgrade any Chevrolet Colorado or GMC Canyon MY2017 through 2020 with a Lingenfelter TVS supercharger package that ramps your 3.6-liter V-6 up from 308 horsepower to a massive 450 horsepower and improves torque output to 377 lb.-ft.
There are several ways to upgrade, there are three versions of the 450 horsepower upgrade package are available. The DIY version simply modifies the engine for about five grand or you can have LPE do it for about $7K. The full-on package with all work performed by Lingenfelter adds wheels, tires, ground clearance, sport bar and off-road lighting, custom head rests and badging for $15-grand.
Most impressive is that the package is 50-state emissions legal and "The 3.4 L HFV6 Supercharged engine delivers the extended maximum torque curve from 3500rpm through 5800rmp, providing improved towing performance, backed by a 3-year/36,000 mile power train warranty, 50,000 mile Supercharger warranty. This 50 state emissions legal supercharger is developed jointly with Edelbrock and does not adversely affect fuel mileage," according to LPE.
Wow! More power, no MPGs deleted, totally street legal and a warranty? So we talked to a guy we've worked with before at Lingenfelter Performance Engineering, Mark Rapson, the VP of Operations and Chief Operating Officer.
Here's a lightly edited Q&A with Mark to set the stage:
1.  What was the genesis of the program? Did customers or product engineers come to you, or was this part of your regular product development? A) It was part of our product development plan in 2019. We saw the mid-size truck market as an emerging segment with the Chevy Colorado/GMC Canyon leading the pack, in particular with the ZR-2. With the gas engine options limited to 4cyl or V6, with no plan from GM to offer any additional upgrades, we saw an opportunity to develop an affordable upgrade which perfectly integrated and offered great usable HP and TQ while maintaining excellent daily drivability and fuel mileage, and 50 state EPA legal.
2.  How long did it take to develop the full package? A) We worked with Edelbrock in the development of the package. The project took approximately eight months, which included vehicle testing for towing, elevation, drivability and fuel mileage along with EPA/CARB EO approval.  
3.  What involvement did Edelbrock and Eaton have, what did they bring to the table that other supercharger producers didn't? A) Eaton rotors are used in the supercharger, the same rotors Eaton developed for OEM. They are the highest quality available and not only met our engineering specification; they meet GM standards for quality, durability and longevity, which allows (us to) confidently offer warranty.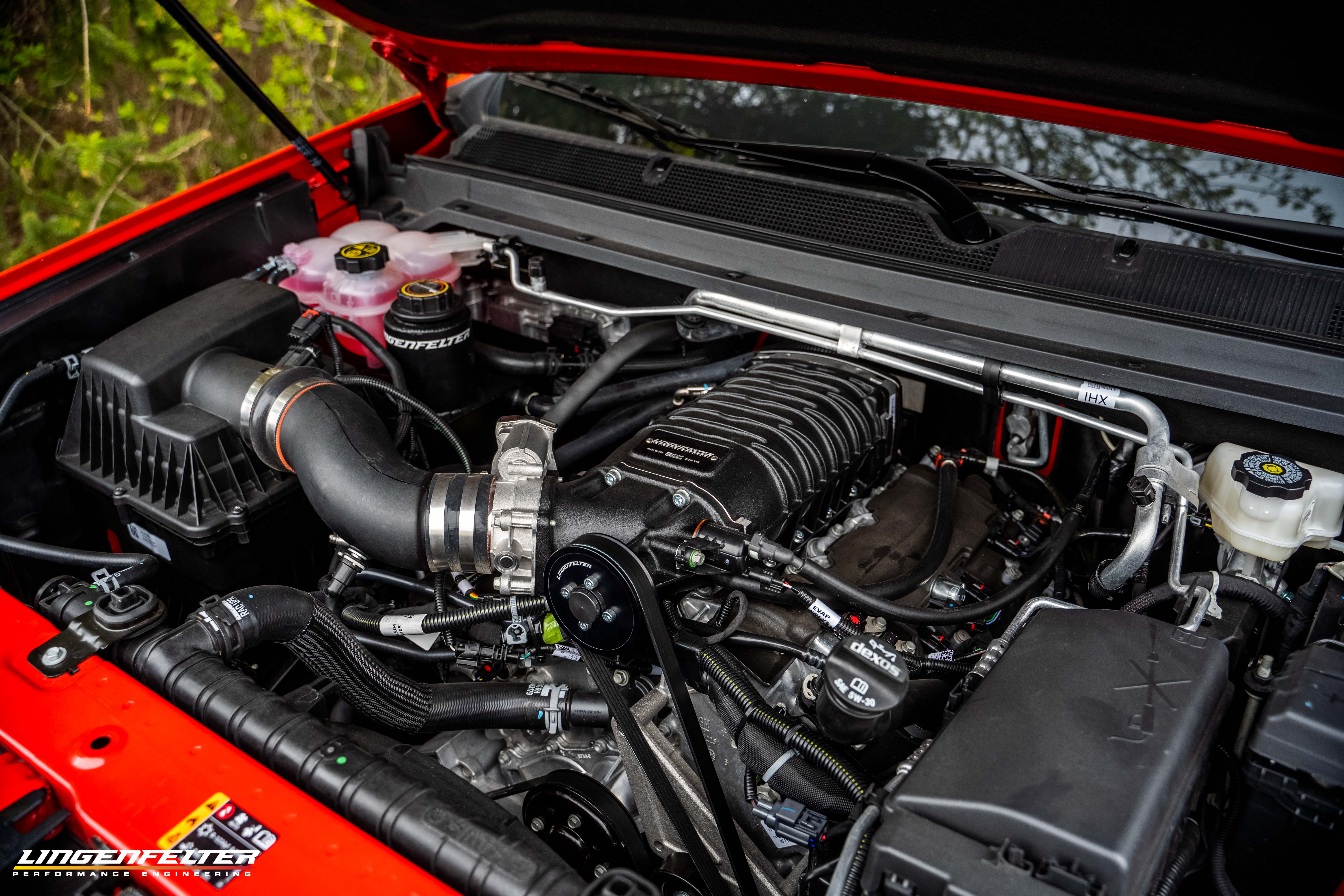 4. Describe the benefits of the major systems (supercharger, intercooler, exhaust, suspension upgrade)? A) The ZR2-L package offers a complete performance enhancement to the already very capable platform. The supercharger with the intercooler and exhaust offers a solid usable 45% increase in HP and 35% TQ at the TIRES… The modified suspension and tires give additional ground clearance and more aggressive appearance, especially when combined with the Lingenfelter graphics.
5. Typically, superchargers provide power just off idle and run out relatively early. Your chart starts at 2450 and goes to red line – why is this? A) The design and porting of the supercharger housing dictates the max power and RPM band where power is delivered. We wanted a broad usable power band vs. peak power. Its not a drag truck, but rather developed for towing, off-roading and everyday driving. Our focus was on a very broad TQ curve, which we successfully achieved.

6. You offer two DIY kits for Colorado/Canyon 3.6L motors, what's the difference? A) The actual supercharger kit is the same for both applications. For the ZR-2 there are suspension parts along with wheel and tire mods which don't apply to the Canyon.

7.  How long does the DIY install take, the full in-shop mod? A) Someone with good mechanical skills can complete the supercharger install in a weekend. If we do the full ZR2-L addition package it takes approximately a week at our facilities.
8.  Is this available on your website or from your dealers? A) The package and kits are available now and we have been doing installs and selling the kit since SEMA 2019.
 So, what's in the kit (remember, there are three, A—completely DIY, B—they do the engine modification work at LPE, or C—a complete package)? For the engine mod itself ($5,550) the bedrock is a TVS R1740 supercharger with its water-air charge air cooler (intercooler), a dual cat-back exhaust, hand held programmer, and everything needed to modify your engine.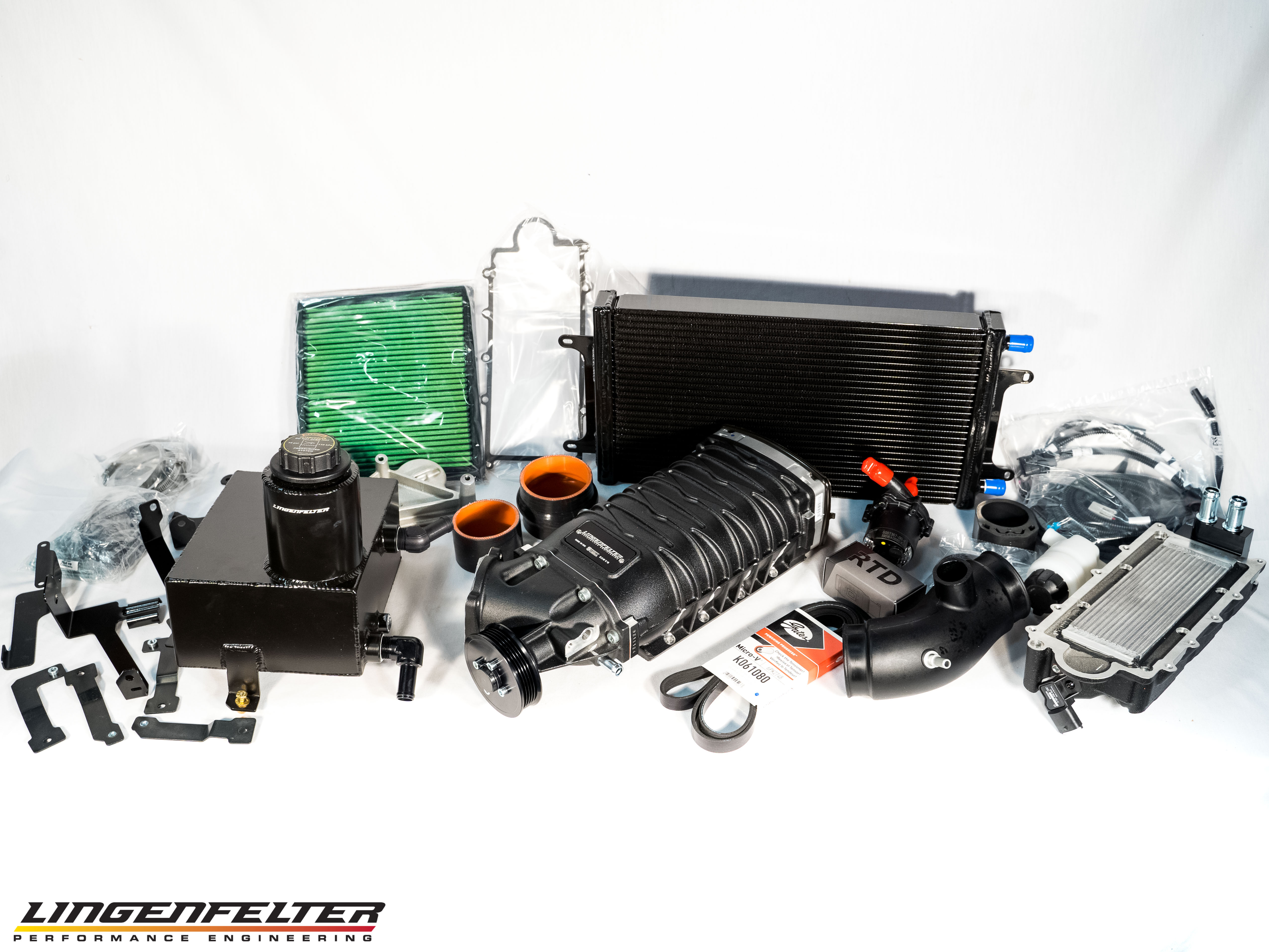 If you want Lingenfelter involved, the entire ZR-2L package ($15,499), they'll add 1.5-inch lifted suspension and 17x9" LPE wheels in a choice of black, bronze or dark silver with 275/70R General Grabber AT/X tires, LED bumper-mounted tail lights and improved front tow hooks. Other features include a tailgate spoiler, sport bar and lighting, embroidered headrests, a carbon fiber embossed leather-wrapped steering wheel, plus assorted graphics and badging in a choice of colors.
We'll have a test drive sometime Real Soon! as politicians say, and we'll check the power, off road capability and towing performance. After all, that's why you'd build a ZR-2L, other than simply opening the hood and setting the world ablaze with envy.
Visit The Lingenfelter Website For More Information
https://www.lingenfelter.com/category/Colorado_Hidden.html
Call them: 260-724-2552