The 2019 Chevrolet Silverado, revealed at the North American International Auto Show over a year ago, lacked something many of us not only want for our truck, but also need, a tonneau cover or a bed cap. After all, we expect our trucks to be secure from the weather inside, why not extend that security to the bed.
The first pickup caps designed specifically for the '19 Silverado were shown at SEMA 2018, and shortly after GM-Trucks.com visited their manufacturer—Ranch—in Elkhart, Indiana.
Ranch is part of a holding company, LTA, which also owns ATC and Jason truck tops, as well as LoadMaster cargo management systems. At Ranch's office in Elkhart we asked Matt Blais, Vice President of Sales and Marketing for LTA Manufacturing, how to choose the right truck cover.
Matt's advice was to concentrate on how you use your truck. "The first thing," Matt said, "is to decide on your use and lifestyle." That is, focus on your everyday life. Are you in the trades, carrying tools and equipment? Maybe you're a family carrying equipment for soccer practice, golf, baseball or hockey? Or you might be an avid hunter or fisherman with dogs, rods, duck blind decoys, and hunting stand equipment with a propane heater to protect?
Heavier users, for instance if you pull a horse trailer, racecar trailer, or a double-axle trailer for your antiques business, then fuel economy isn't your main objective. However, the correct pickup cap, one with a sloped surface and high top, will increase storage space while improving fuel economy by redirecting airflow over and around the trailer more smoothly.
For outdoors-oriented families and owners, a tall regular cap with lockable side-access doors makes storing rods and paddles easier to access. And, if bringing dogs, adding ventilation to side-access doors—win-doors—keeps your pets safer.
Another truck owner might focus on making the truck look sleek, with lockable access to expensive tools or golf clubs. "That's a job for Ranch's ICON cap, a very OEM factory-looking add-on that can be equipped with OEM-style keyless entry," Matt continued.
Tradesmen want—and need—safe storage and side access to frequently used tools and parts. They may want a LoadMaster rollout bed to hold compressors or other heavy-duty gear that needs frequent handling. LoadMaster sliding beds are duty-rated from 750-pounds and up. "With a Loadmaster, you'd never have to scramble into the bed on hands and knees, which is painful and time-consuming," Matt said.
Of course, for fuel economy, security and weatherproof storage, all that's needed is a tonneau cover. Tonneau covers also may be equipped with keyless entry.
Roof racks are an option for any pickup cap and Ranch uses Yakima, as well as other suppliers. That gives you the ability to order whatever anchor system you need for your kayak, racing bikes, storage containers, skis, and more. For tradesmen, ladder racks that hold up to 600 pounds are available. However, Matt says that's seldom necessary, as Ranch caps are capable of supporting "several hundred pounds, easily."
Today, pickup caps and tonneaus are built-to-order for each truck, unlike the '70s and 80s when trucks had standard bed sizes. Now, no two beds are alike. Very few dealers stock product, so plan ahead for your purchase and installation.
---
How Ranch builds tonneaus and caps
Every pickup cap or tonneau to starts with a mold. They're expensive to build and require maintenance after making a few dozen caps. The first step in production is to spray a release compound into the mold, followed by a spray of gel coat. Matt says the gel coat is sprayed in three layers to a thickness of 20-mils. It is the primer gel coat that, when out of the mold, is color-sprayed.
In the next, critical step, the mold is sprayed with chopped fiberglass, resin and catalyst. The spray is delivered by a special "chopper" gun, which is fed both liquid and a yarn of fiberglass.
After spraying the first lamination layer, it must be rolled out to eliminate any air bubbles and also compact the layer.
After the initial layer of chopped fiberglass and resins, a cardboard honeycomb is placed into the upside-down mold. The second layer of catalyzed resin permeates the honeycomb, becoming solid and preventing sags in the roof. "It's hard as a rock," according to Matt.
After the second layer is sprayed in, an oversized base rail is added, which is then trimmed to final dimensions.
As an option, Ranch offers a sound deadening headliner. If so, it's rolled in with a water-based adhesive. The headliner is a PET carpeting made from recycled water bottles.
To achieve a premium look and premium quality, the base rail is precisely trimmed where it wraps over the bed rails. Your eye easily detects variations as small as 10/1,000s.
There's a saying—it's true—that preparation is everything when painting. Ranch obsesses over paint prep, and then applies the base color coat. Next, the top or tonneau goes into a second spray booth where clear coat is applied.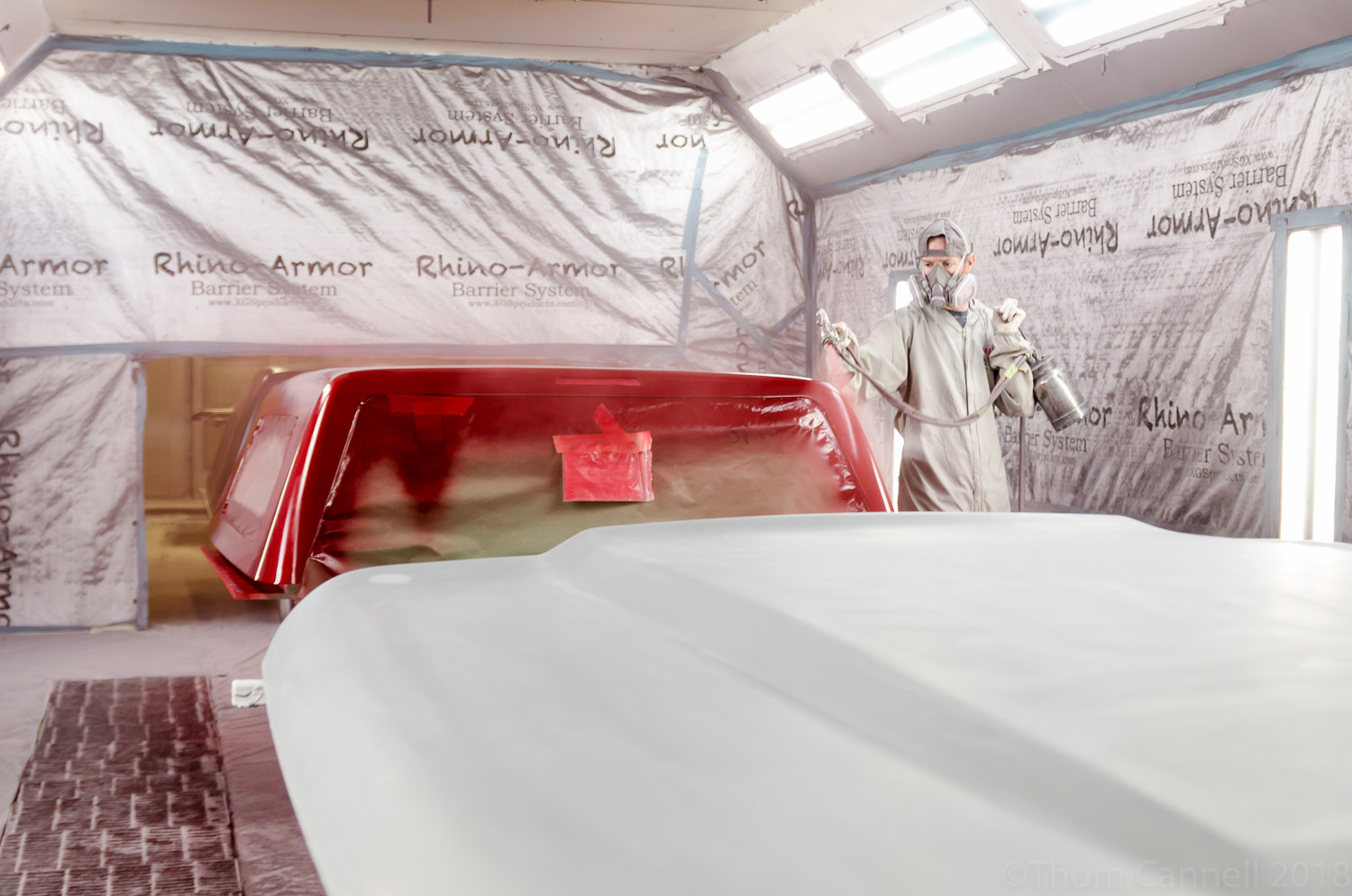 Paint and clear coat are then baked in a 140-150° bake oven. A good thing to know; although this is OEM-style paint, you can't head into a car wash of any kind for at least a month, according to Matt, who notes that their paint standards are the same as BMW or Toyota. That's why the color match that precisely matches your truck's surface.
After the bake is complete, your cap or tonneau heads to a final assembly area where any doors or windows are added. This is a hands-on process.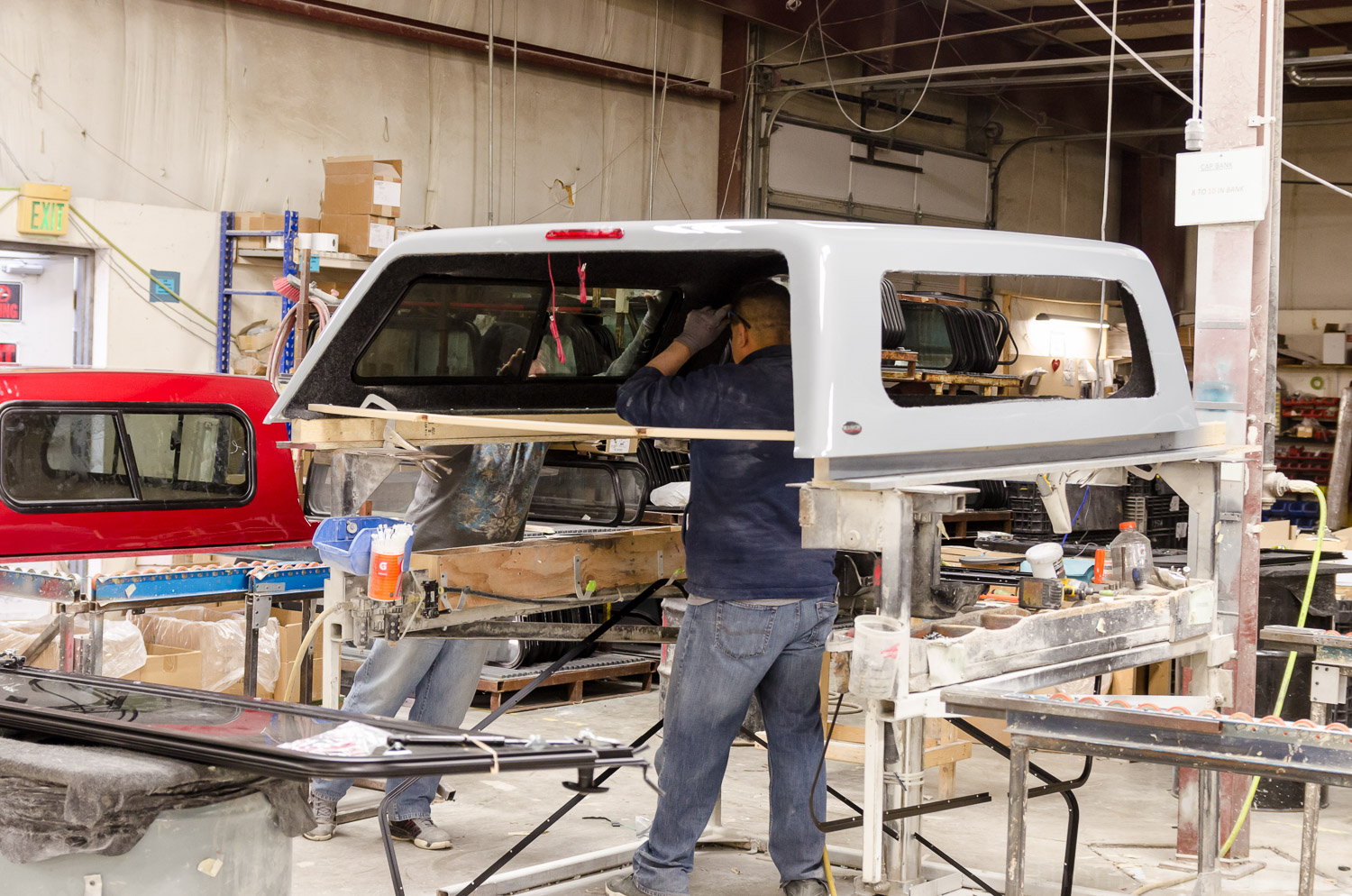 Your cap is complete and ready to add to your truck, adding a factory-built appearance with the assurance your gear is safe for many years.
Check out Ranch at: https://ranchfiberglass.com/