If you're a Chevrolet truck aficionado, buckle up because we're taking you on a ride through the Barrett-Jackson auction in New Orleans this weekend. Known as the "World's Greatest Collector Car Auctions," Barrett-Jackson is the ultimate playground for automotive enthusiasts. From classic beauties to modern marvels, this auction is where hundreds of the most sought-after, unique, and valuable trucks cross the block in front of a global audience.
And guess what? We've curated a list of the 10 coolest Chevrolet trucks that will be up for auction. Trust us; you won't want to miss this horsepower-packed event. Click on the Lot Number to check out the exact listing of each truck and maybe, just maybe, you'll find your next dream ride.
1990 CHEVROLET 454 SS PICKUP
Lot #351 – This 1990 Chevrolet 454 SS pickup is a big-block muscle truck from the factory. It is powered by the factory 7.4-liter V8 engine backed by an automatic transmission. This SS was factory-rated at 230hp and 385 ft/lbs of torque. It is finished in the original factory black paint over a Garnet Red interior that features bucket seats and a center console, which all 454 SS trucks came with. This pickup has the original floor mats, functional air conditioning and the factory radio. **TITLED AS 1990 CHEVROLET GMT-400 C1500**
1970 CHEVROLET K5 BLAZER CUSTOM CONVERTIBLE
Lot #360 – This custom 1970 Chevrolet K5 Blazer convertible is finished in blue and features a black Softopper custom soft-top with clear windows that goes well with the black factory-style interior. The Blazer was thoughtfully preserved and mechanically repaired over 9 months between 2020 and 2021. Maintenance and repairs include new intake manifold gaskets, drive belts, thermostat and gasket, transfer case and updated seals, transmission mount, front and rear driveshafts, axles and axle saver bearings, rear brake drums, steering gear and tie rods. Also, the interior has a new under-dash wiring harness and heater wiring harness, instrument cluster and heater illumination bulbs. The suspension was returned to factory ride height with new leaf springs and all-new hardware, including new shocks and brushings. It rides on new OE-style wheels mounted with BFGoodrich All-Terrain T/A KO2 radial tires.
1969 CHEVROLET C10 PICKUP
Lot #389 – This fully restored 1969 Chevrolet C10 long-bed pickup is powered by the original 350ci V8 engine mated to its original Turbo-Hydramatic automatic transmission. This truck is a two-owner vehicle that has been owned by the same family – father, then son – since it was factory-new. Finished in white and green, this truck features the CST option package with the original factory air conditioning, the original Western-style bucket seats and door panels, and original AM radio. New tires were recently added. The sale comes with the original sales invoice, original owner's manual, original Service Parts Identification sticker in the glove compartment and the original Protect-O-Plate. From the Jimmy Bankhead Collection.
1955 CHEVROLET 3100 CUSTOM PICKUP
Lot #405 – This frame-off-restored 1955 Chevrolet 3100 custom pickup is powered by a 355ci 8-cylinder engine that has been modified with an Edelbrock manifold, headers, valve covers, Flowmaster mufflers and a Holley Sniper 4-barrel kit, paired with an automatic transmission. The engine compartment features a smoothed firewall, a polished air conditioning compressor, an aluminum radiator with an electric fan, a polished alternator, a high-speed starter and a new battery. Finished in red, the exterior features polished stainless-steel bed trim, custom tailgate latches, custom wheel well bed tubs, custom brake lights, a chrome grille and chrome bumpers. It rides on a custom frame, with independent suspension, power disc brakes, a Corvette rear end and custom knock-off racing wheels wrapped in BFGoodrich radial T/A tires on the front and Mickey Thompson on the rear. Inside this truck, you will find a custom Bone White interior with a custom digital instrument cluster, a custom tilt steering wheel, power steering, power windows, Bluetooth stereo system with CD player, billet throttle and brake pedal, a Vintage Air system and custom door panels with handles.
1963 CHEVROLET C10 CUSTOM PANEL TRUCK
Lot #483 – This 1963 Chevrolet C10 custom panel truck is the recipient of a frame-off build and is powered by a GM crate 350ci V8 engine topped with GM aluminum intake, Holley carburetor, HEI distributor and headers. The engine is connected to a 700R4 automatic overdrive transmission with a Lokar shifter and a 9-inch Currie rear axle with 3.70 gear ratio. It is equipped with power steering and power disc brakes, AutoMeter gauges, air conditioning, AM/FM/AUX stereo, backup camera, black leather power bucket seats, electric wipers, all-new wiring throughout, all-new chrome and stainless, and all-new glass and weatherstripping. This truck is riding on 17-inch chrome wheels with a matching spare. It has over 2,000 miles since finished; photos of the restoration come with the purchase.
1959 CHEVROLET APACHE CUSTOM PICKUP "INDIAN OUTLAW"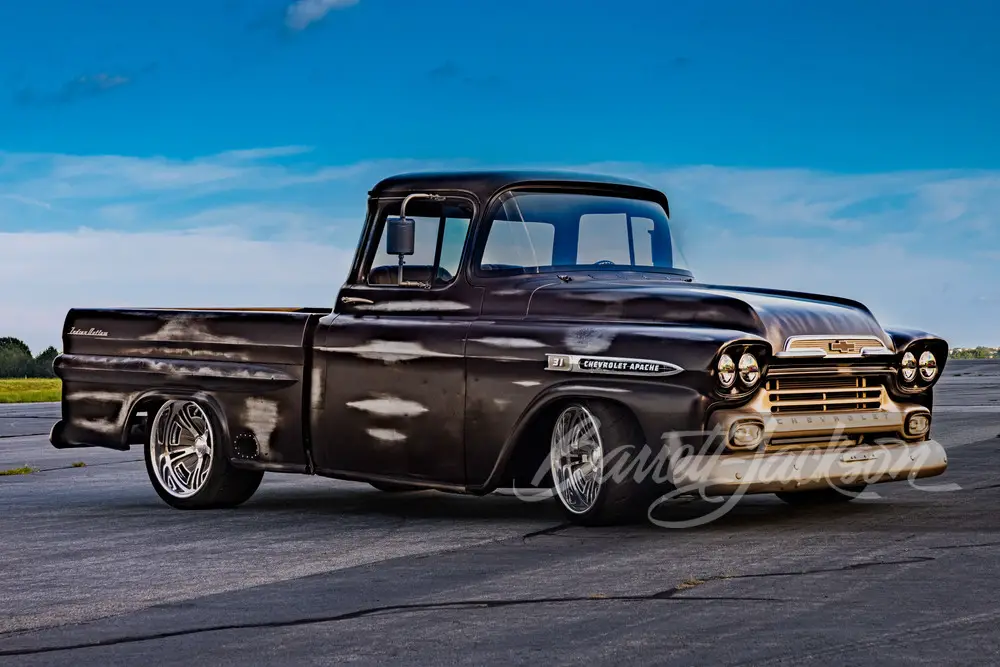 Lot #679 – This 1959 Chevy Apache custom pickup known as "Indian Outlaw" was professionally built by Creative Rods and Restoration in Greenville, SC. It is powered by a big-block Chevrolet 396ci V8 engine bored to 412ci and equipped with Holley Sniper EFI and Brodix heads, all mated to a push-button-operated 6L80E 6-speed automatic transmission delivering power to a Moser 9-inch rear end with 3.70 gears. The stock frame was upgraded with a custom Scott's Hotrods chassis painted to match the exterior. The chassis is equipped with modern performance components that include RideTech coilovers at all four corners, a 4-link rear end with Panhard bar, Wilwood disc brakes, power rack & pinion steering and front sway bar. The exterior is finished in custom BASF Glasurit patina paint complemented by Schott's Modsport custom 3-piece wheels. The cab features a big back window, and both the windshield and back window have been flush-mounted. The custom Moore & Giles leather interior was done by Cato Custom Upholstery (Cato from the "Iron Resurrection" TV show). It features bucket seats with a custom center console, German-weave carpet, Dakota Digital instrument cluster, Vintage Air system, push-button start and a Bluetooth stereo system. Other key customizations include a tilt-up bed and custom metal fabrication in the engine bay. It also features a custom Borla dual exhaust system, Be Cool aluminum radiator, LED lights, All American Billet front runner system and Eddie Motorsports billet hood hinges. The build was completed earlier this year and has roughly 100 test miles since completion.
1972 CHEVROLET K5 BLAZER CUSTOM SUV
Lot #692 – This no-expense-spared custom 1972 Chevrolet K5 Blazer is the product of over 1,500 hours invested in a complete frame-off build. It is powered by a new GM LS3 430hp engine paired with a 4L75E automatic overdrive transmission and the original NP205 transfer case. Upgrades include New Old Stock (NOS) front and rear axles with 4.11 gears, and a stainless-steel exhaust system. This Blazer is also equipped with polished headers, a Holley Sniper intake and a polished front-runner system by Vintage Air. The engine is cooled by a DeWitt aluminum radiator. The fuel tank is stainless steel from Rick's Hot Rods and includes a new, original GM fuel pump. This custom rides on a 4-inch lift kit, complete with Fox shocks and all-new leaf springs, with 11 leaves per spring for a softer ride. The 315/70R17 Goodyear tires mounted on Mickey Thompson wheels connect the power to the ground. Braking is handled by a Hydrovac brake booster system. Upgrades include a powder-coated custom steel rollbar with shoulder harness seat belts, and a removable hardtop for an all-season ride. The body was stripped top to bottom and all metalwork was completed and epoxy-primed, with U-Pol Raptor protective coating applied to the floor. The entire body is finished with AXALTA urethane paint. The frame, radiator support, inner fenders and axles are finished with a powder coat. For safety, LED headlights and taillights were installed. Power steps have also been installed to assist entry and exit. The interior features all-new upholstery, carpet and weatherstripping, Dynamat insulation and a Vintage Air system. The dashboard includes a Dakota Digital RTX instrument cluster and an upgraded Bluetooth flatscreen AM/FM stereo. The driver's seat was moved back 3 inches for legroom and includes an Ididit tilt steering column. It has approximately 300 miles since its completion in June 2023.
1967 CHEVROLET C10 CUSTOM PICKUP
Lot #781 – This professionally built Pro-Street 1967 Chevrolet C10 pickup is powered by a big-block 502ci V8 engine mated to a TH400 automatic transmission with TCI stall converter. The engine is upgraded with COMP Cams, Xtreme Energy camshaft kit, Stage 1 connecting rods and KB Performance pistons. It is equipped with a "birdcatcher" exposed air cleaner and a billet gas cap that leads to the relocated gas tank underneath. It rides on a front suspension with custom control arms, new shocks with a big sway bar, 4-link rear suspension with coilovers, 4-wheel disc brakes and 15-inch WELD wheels wrapped in Mickey Thompson tires. Finished in custom 3-stage Pearl White, the exterior features a chin spoiler, 502 badges on the front fenders, a tubbed rear end, a white-and-chrome grille and a racing-style bed spoiler in the rear. The Dynamat interior features Dakota Digital gauges, a Lokar shifter and new tan carpeting.
1961 CHEVROLET K10 CUSTOM PICKUP
Lot #821 – This custom 1961 Chevrolet K10 pickup has undergone extensive modifications and is powered by a 5.9-liter Cummins engine paired with an NP208 automatic transmission. The fuel tank was relocated. The exterior is equipped with a custom-painted grille, a new wood bed, and front and rear bumpers. This truck is riding on new 15-inch Rally wheels with center caps wrapped in 35-inch tires. The interior seat is finished in two-tone genuine leather with a diamond-stitched pattern, and the door panels also have been covered in genuine leather.
1972 CHEVROLET C10 PICKUP
Lot #822 – This frame-off restored 1972 Chevrolet C10 pickup is powered by a 350ci V8 engine and TH350 3-speed automatic transmission. This C10 comes equipped with power steering and power disc brakes, air conditioning, tilt column, stereo system and new Rally wheels. It is finished in the factory two-tone blue and white combo. This truck received new chrome and stainless trim, an oak bed, some new glass and weatherstripping, and a refurbished interior with new chrome hardware.
Barrett-Jackson New Orleans 2023 – Full Lot Docket Listing
For a full listing of all 849 vehicles up for sale in New Orleans – click this link, start drooling, and get out your checkbook. 
About Barrett-Jackson
Established in 1971 and headquartered in Scottsdale, Arizona, Barrett-Jackson is a titan in the collector car auction industry. They specialize in offering an array of products and services to classic and collector car owners and enthusiasts globally. With auctions in various locations like Scottsdale, Palm Beach, New Orleans, and Las Vegas, they present hundreds of unique and valuable automobiles to a global audience. Their expert staff, including Craig Jackson and Steve Davis, brings nearly a century of combined experience in the automotive field, ensuring a diverse and desirable inventory along with transparent customer service.