We're not that far away from the brand new 2021 Chevrolet Tahoe / Suburban and GMC Yukon rolling into dealerships. Since GMC recently activated the "Build and Price" tools for these new models on their website, we decided to give them a spin. We built the most expensive 2021 Yukon Denali you can buy and SHOCKER, it's crazy expensive.
We started out with the base 2021 Yukon Denali XL. Since it has the highest starting price at $71,100, we figured it was a great place to jump off from.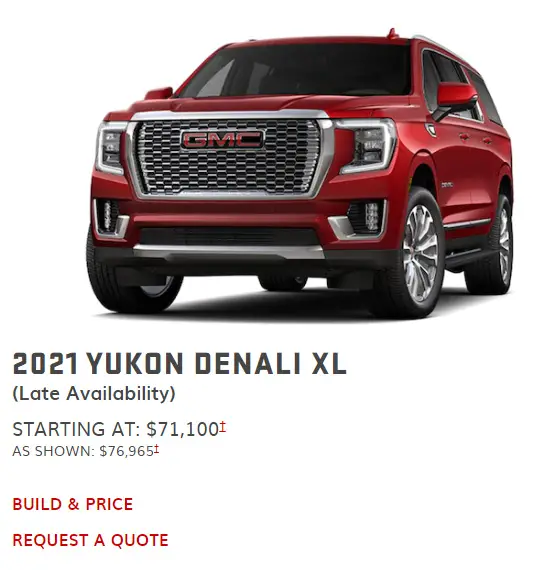 Our first choice is 2 wheel drive versus 4 wheel drive. Selecting 4×4 jumps the starting price to $75,395.
Next we're on to colors. Only "Summit White" is a no cost option. Onyx Black is $195 while Hunder Metallic, Dark Sky Metallic, Pearl Beige Metallic, Midnight Blue Metallic, Smokey Quartz Metallic and Satin Steel Metallic are all $495 upgrades.
Cayenne Red Tintcoat is a $645 upgrade, however at the top of the pile is White Frost Tintcoat, a $1,095 extra cost option. Since we're going for maximum MSRP, we chose White Frost Tintcoat.
Since interior colors are all no extra cost, we just selected good old Jet Black.
With only drivetrain and color selected, our 2021 Yukon Denali XL is already up to a eye watering $76,490. But just wait, we're not even close to done.
Next up is "Packages" our best opportunity yet to fill our Yukon Denali to the gills with technology. The Denali Premium Package adds $6,500, along with a panoramic sunroof, power assist steps and rear camera mirror among other things.
The Advanced Technology Package adds another $1,780 by itself but comes with the premium package. We also chose the Max Trailering Package for $465. It comes with a trailer brake controller and all the goodies you'd need to pull something around.
We really like our interior storage, so the Cargo Convenience Package for $440 is a must. It includes a rear cargo organizer, cargo shade, and cargo netting.
The Illumination package for $535 adds an Illuminated GMC Emblem for the front grill and  for the mirrors.
The last package box we checked was for the Premium Capability Package with Active Response 4WD. It adds an adaptive air ride suspension and an electronic limited-slip differential. It adds $1,796 to our bottom line bringing our current MSRP to $83,455.
Our next choice is to add some sick wheels. You have NINE choices. We chose a really nice set of 22″ Carbon Flash Metallic wheels for $2,995.
With a few more clicks of a few final remaining options, including A rear seat media system ($1,995), a power-sliding center console ($350), first second and third row floor liners ($295)
And at the end of it, our 2021 GMC Yukon Denali XL came out to:
2021 GMC Yukon Denali XL – Maximum MSRP: $90,385
After a package discount of $500, the sticker dropped to $89,885. Nothing to scoff at and perhaps the most expensive GMC ever sold. But make no doubt, with 60% of GMC sales going to the Denali sub-brand, the number of this exact spec'd Yukon will number in the tens of thousands. And GM's profit….. untold multiples more than that.
Have some fun and build out your own 2021 GMC Yukon Denali XL Here.