We're hot off first hand experience behind the wheel of the Encore GX Essence ST and discovered that this Buick is surprising in many ways buyers will appreciate.
What Is the Encore GX Essence ST?
The Encore GX is a two-row subcompact crossover. It slots in above the slightly smaller Encore (without the GX) and below the Envision in the Buick crossover lineup. The "Essence" is the trim level of the vehicle, and it denotes the topmost starting point. The ST is a sub-trim package that makes the vehicle a bit snazzier with special trim features.
What Does the Encore GX Cost?
The Encore GX Essence ST we tested had an MSRP plus destination charge of $35,140. This is important to how we viewed the vehicle. We will say that with just a few options deleted and the "Automatic cashback" GM advertises, a slightly less well-equipped Essence trim can cost buyers about $33K before added discounting.
Which Vehicles Does the Encore GX Compete With?
This price point is a tricky one for the Encore GX family and this is why. A more powerful, significantly larger Honda CR-V Hybrid or Limited with every option falls right on this price point. That is a very hard vehicle to look past if one is shopping for a family crossover.
Perhaps trickier for the Encore in terms of price point competitors are the Mazda CX-5 and CX-30 choices. Both have more advanced features, more or equal power options, and more space in the case of the CX-5. The Hyundai Kona is also an impressive vehicle and matches up with the Encore GX at around $31K. So, suffice it to say, the Encore GX is in a segment with a lot of great choices at this price point.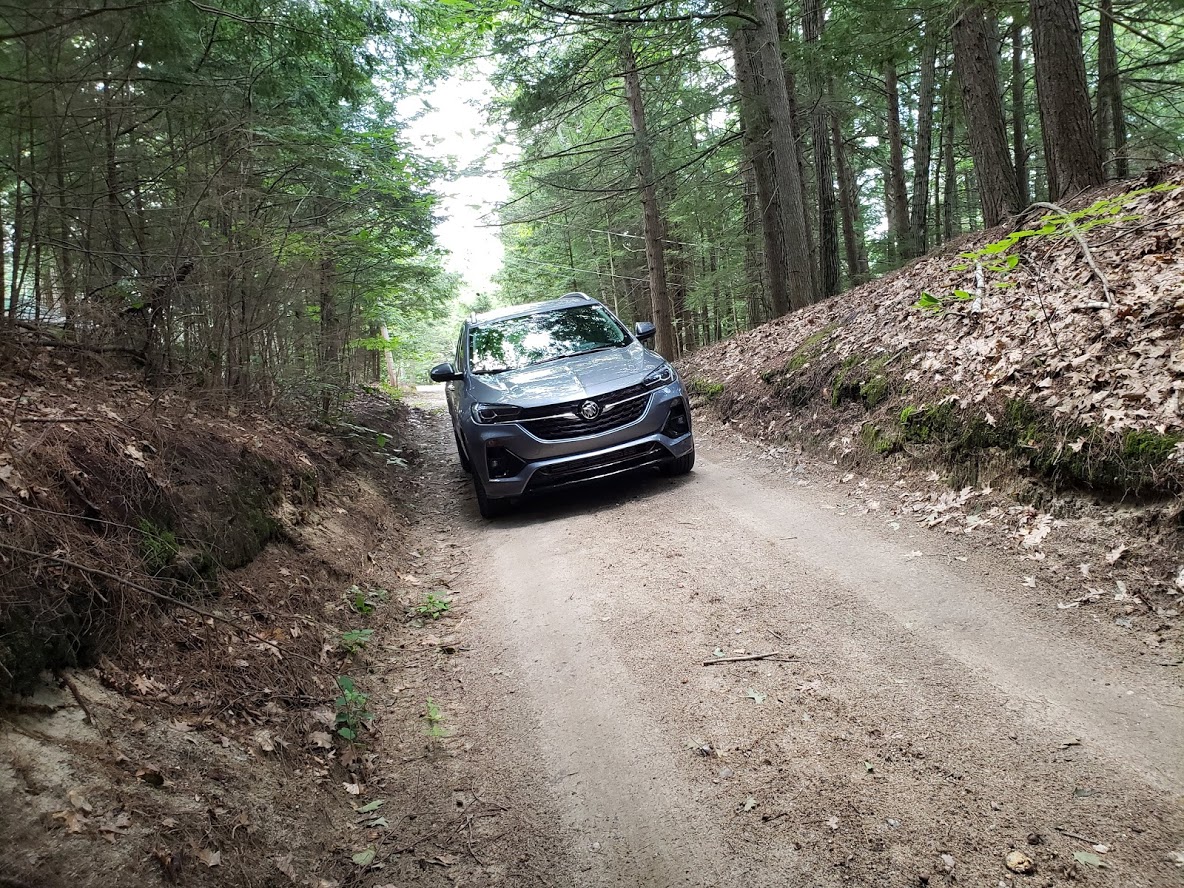 How Does the Encore GX Feel On the Road?
The Encore EX Essence ST drives wonderfully. It has a very refined road feel, particularly on the highway. This is a vehicle that feels more mature and more "grown-up" than 90% of the crossovers its size. Perhaps only the Mazda CX-30 and much more expensive BMW X2 can compare.
Over any sort of rough road, the Encore GX reveals its build quality and its outstanding design. The vehicle is more stable and more substantial feeling when stressed than most small crossovers by a very wide margin. Brake feel is also perfect.
The Encore GX Essence ST is not as sporty as a lower hatchback can be, but it's danger-close to that level of fun on twisty back roads.
What Drivetrain Does the Encore GX Have?
This is going to sound weird, but the tiny 1.3-liter turbocharged engine in the Encore GX Essence ST is a firecracker of a motor. It provides great starting off torque and it also loves to rev. The power and torque delivery are better than any engine we have driven in this class. That includes the Hyundai Kona and BMW X2. This vehicle loves to be flogged. From a start, at an intersection, the Encore GX Essence ST will spin its front inside tire and not stop delivering power unless you back off the throttle. Burnouts in a small crossover? Why not!?
During our time driving in downtown Boston, metro Boston suburbs, on the highway, and in rural New Hampshire, the Encore GX Essence ST never felt like it lacked power. Quite the contrary. It was hard to keep our speeds down and avoid tickets.
The nine-speed automatic transmission behaved itself in every situation and never (seriously-never) hunted for a gear. Although we have come to appreciate CVTs, we seem to be the only ones. If you like a great geared transmission, look no further.
We are fans of all-wheel drive at GM-Trucks.com. Almost all of the staff members own homes on dirt roads, and it can snow three feet in a decent storm here. The Encore GX Essence ST is all-wheel drive and it is selectable with a button. Intrigued, we drove a couple of hundred miles in 2WD and recorded an impressive 32.5 MPG (measured at the pump and also accurately displayed on the driver info screen). We then enabled AWD, and drove about 100 miles in the same situations and record 32.6 MPG. So don't be afraid to enable that AWD button on day one and forget it's there folks. For the record, the EPA estimated Combined rating for this vehicle is 28 MPG. So, even in 95-degree weather with AC on full blast we easily topped the fuel economy ratings. And we were not light on the throttle!
One last note on the Encore GX drivetrain. The auto Stop/Start system never bugged us once in a week of testing. It is not off very often and it starts back up so quickly we barely noticed it. By day-two, we had tuned it out entirely.
What's The Interior of Encore GX Like?
Inside, the Encore GX Essence ST is impressively outfitted. The perforated leather is of better than standard quality, and the dash and other trim are upscale. If you are single and want to impress a date, the Encore GX Essence ST works. This is a vehicle that feels premium inside.
Space is tight in this vehicle class. If you need more room, Buick has three larger crossover models to offer you and even builds a station wagon. We like this size segment, and it is growing in popularity with buyers. Be prepared for a roomy driver space, smallish seats up front, a rear seat that requires the front passengers to move up a bit to allow for legroom, and a cargo area that is good for a weekend family trip, but not a weeklong adventure.
One way the Encore GX Essence ST tops its segment is the center console. There is room for your phone in the charging tray, room for two cup holders, room for a conventional gear selector, room for a convenient storage cubby, and also room for an arm-rest console. How Buick did this is a miracle. By contrast, we just left a larger Honda CR-V tester and that center console was a mess of a design. So much so that members on the Facebook CR-V owners club are seeking aftermarket solutions.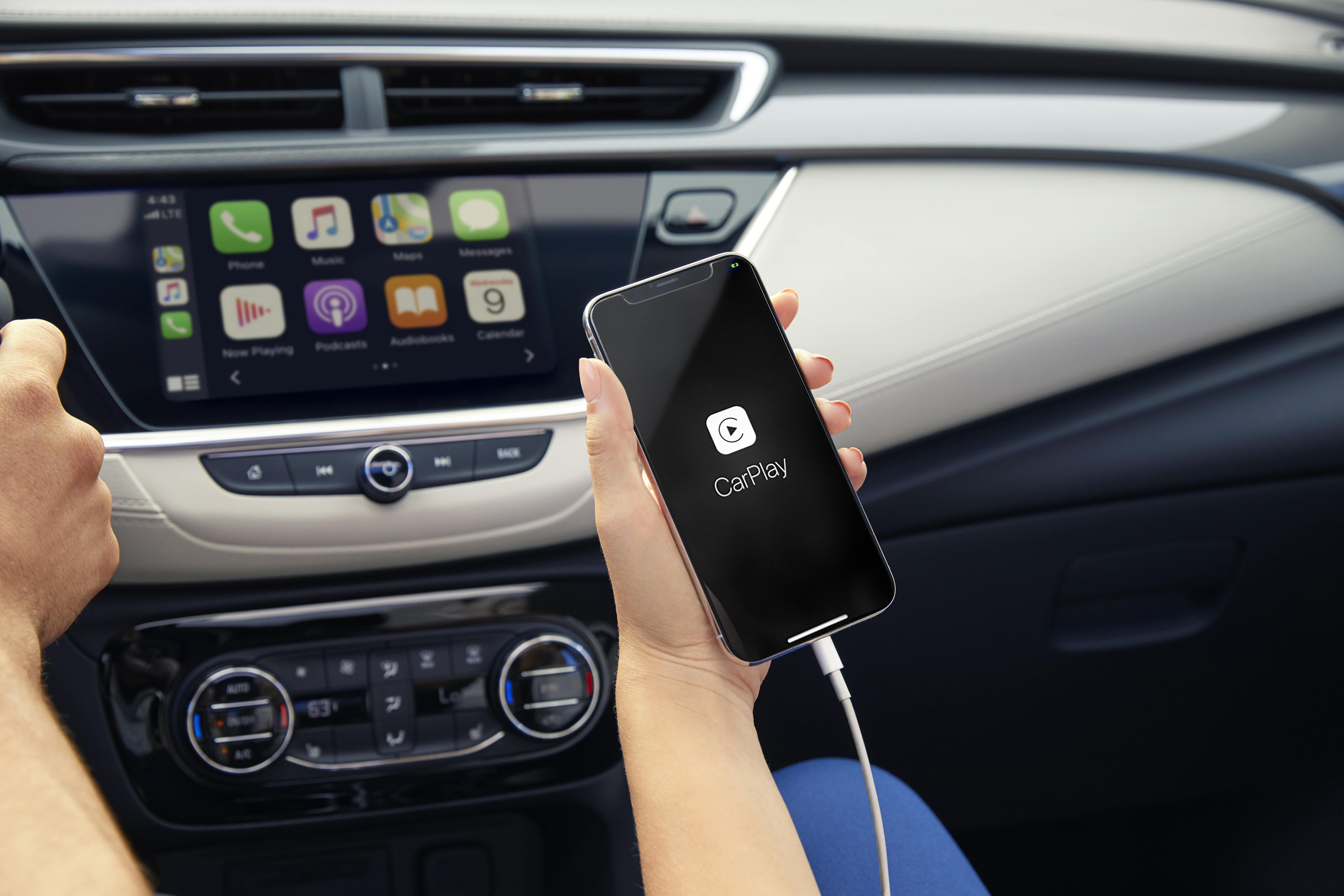 What Are The Notable Features of the Encore GX?
Our Encore GX Essence ST came with some things we feel are very important for a vehicle to be called "premium." For example, a head-up display, wireless phone charger, heated steering wheel and seats, and Android Auto and Apple CarPlay. The seats are power with lumbar and it all works. Our tester did not have a huge panoramic moonroof. Hooray! We don't like giant glass panels on top of crossovers. A better use of that space is a soft cargo bag placed on the metal roof. We loved that this vehicle skipped the huge delicate solar cooker.
The most notable feature of the Encore GX Essence ST in our minds is the optional rear-view camera. We find this a huge help. The view is brighter, clearer, better, and wider than any view with a conventional mirror can provide. And if you don't like it, the mirror toggles to a conventional mirror. There is no downside. Best of all, the camera washes itself, so you no longer need to clean your back window.
How's The Infotainment System in the Encore GX?
Infotainment is crucial today. The Encore GX Essence ST scores an 8/10 in our book. Yes, there is a head-up display and it works well. However, it is of the pop-up plastic panel type. Other automakers have moved up and on, particularly Mazda.
Yes, there is Apple CarPlay and Android Auto, but they require that you plug-in with your cable. Not so in some other GM vehicles, and Hyundai and BMW now also have wireless connections to this important technology.
Yes, there is lane-keep assist, but it doesn't keep you well-centered in the lane. It is more of a "push-you back when drifting" type of system.
Everything you want is there, which Buick deserves credit for. However, it feels like a few systems are about 18 months behind key competitors, and even some new GM models. Since the Encore GX is a new addition to the Buick line, we felt it was fair to point this out in a review.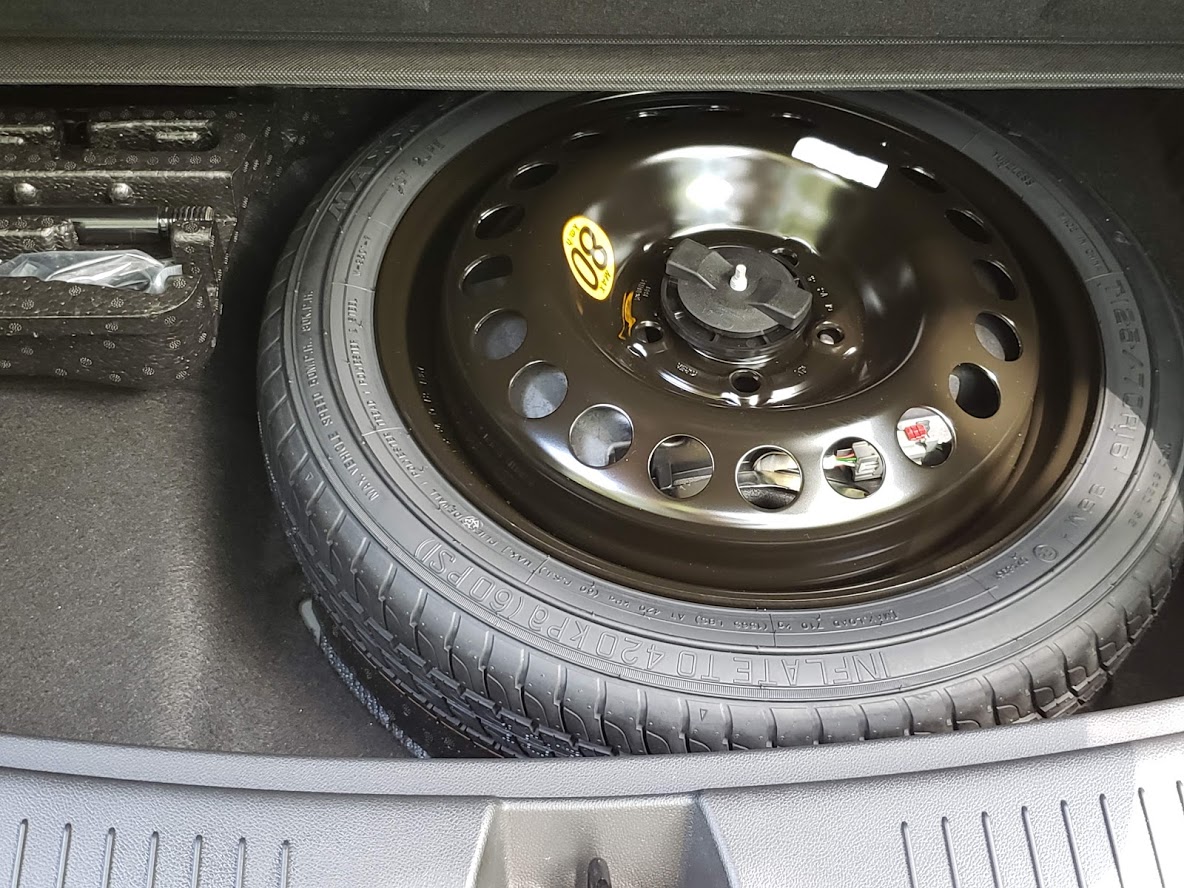 Yes, The Encore GX Has A Spare Tire
We also think it is fair in reviews of crossovers to state we are simply not going to buy, nor recommend any crossover without a spare tire. Good news! The Encore GX has one. Which vehicles don't? The Hyundai Kona Ultimate and the Honda CR-V Hybrid Touring we recently tested and otherwise loved both lacked a spare. Buick made a smart move here.
Safety Ratings and Safety Systems of the Encore GX
In the small family crossover segment safety is a key buyer concern, as well it should be. The Encore GX has been partially-tested by NHTSA and it did not earn five stars on all of its tests. Also, the GX version of the Encore has not been tested by IIHS. The similar Encore was tested and scores could have been better. By contrast, the one-segment-larger Buick Envision was an IIHS Top Safety Pick Plus when it debuted in 2017.
Overall Impressions of the Encore GX Essence ST
To say we loved the Encore GX Essence ST is an understatement. We will hate to see it go. This is a premium vehicle with a substantial ride feeling that you become addicted to. Highway cruising, in particular, reveals just how well designed and built the vehicle is.
Many of our crossover-owning passengers commented on the Encore GX Essence ST, and they found it a surprisingly high-quality vehicle in look and feel. There were a lot of "Buick, huh? I will have to give Buick a look," type of comments.
Our Final Word on the Encore GX Essence ST
Buick is a global brand that has access to world-class engineering and manufacturing. Buick has recently scored near the top of the JD Power Initial Quality Survey and is toping other charts of this type. We feel that Buick deserves its premium classification. The Encore GX Essence ST is proof that GM has some real gems that many families may not have at the top of their minds when shopping. We hope this review helps to change that.
Housekeeping:
The Encore GX comes with a 3-year, 36K Bumper to bumper warranty and a 5-year, 60K drivetrain warranty. Only the very first maintenance visit is included in the purchase price. The vehicle we tested was imported from Korea and included an engine and transmission built in Mexico. We received no compensation from GM or Buick for the production of this review.
Image Notes: Exterior images by John Goreham. Interior images by Buick Media Services. Chart of MPG by www.fuel economy.gov. Quality chart courtesy of J.D. Power.