The world is changing – and many would say "Not for the better". In this new and risky world you may feel an even greater need to secure your work tools, papers, electronics, hunting and fishing gear inside your pickup. Searching for solutions, we spoke to Tuffy Security Products, a company we've previously worked with, on how to keep what's in our truck (or SUV or car) where it belongs—to us.
Tuffy has three decades of experience in building security systems and aftermarket storage devices for vehicles like Silverado, Sierra, Canyon, Colorado and the smaller trucks, SUVs and cars. Their first secured storage products for GM vehicles were consoles, which, like a majority of their products are made of steel. From trucks, they expanded to law enforcement needs, truck bed storage and now SUVs like Tahoe, Yukon, Acadia and Terrain.
We began our security quest by asking Chip Olson, Tuffy, Marketing Manager, "What does Tuffy make that fits GM trucks?" Chip said Silverado, Sierra, Yukon, Yukon XL and Suburbans large SUVs were easy, "'Cause they all kind of share the same basic traits. So for the SUVs and the trucks, we focus first on security right by your side in the console itself."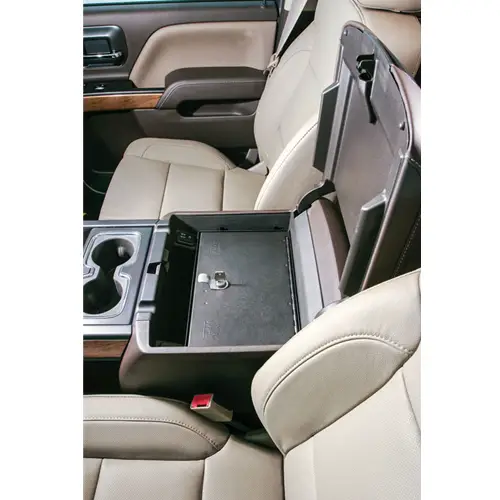 Whether business papers, phones, expensive devices like moisture meters, thermo-scan tools, or even self-protection, they will fit in an easily mounted steel box hidden within the factory console. A selling point—there's typically no drilling.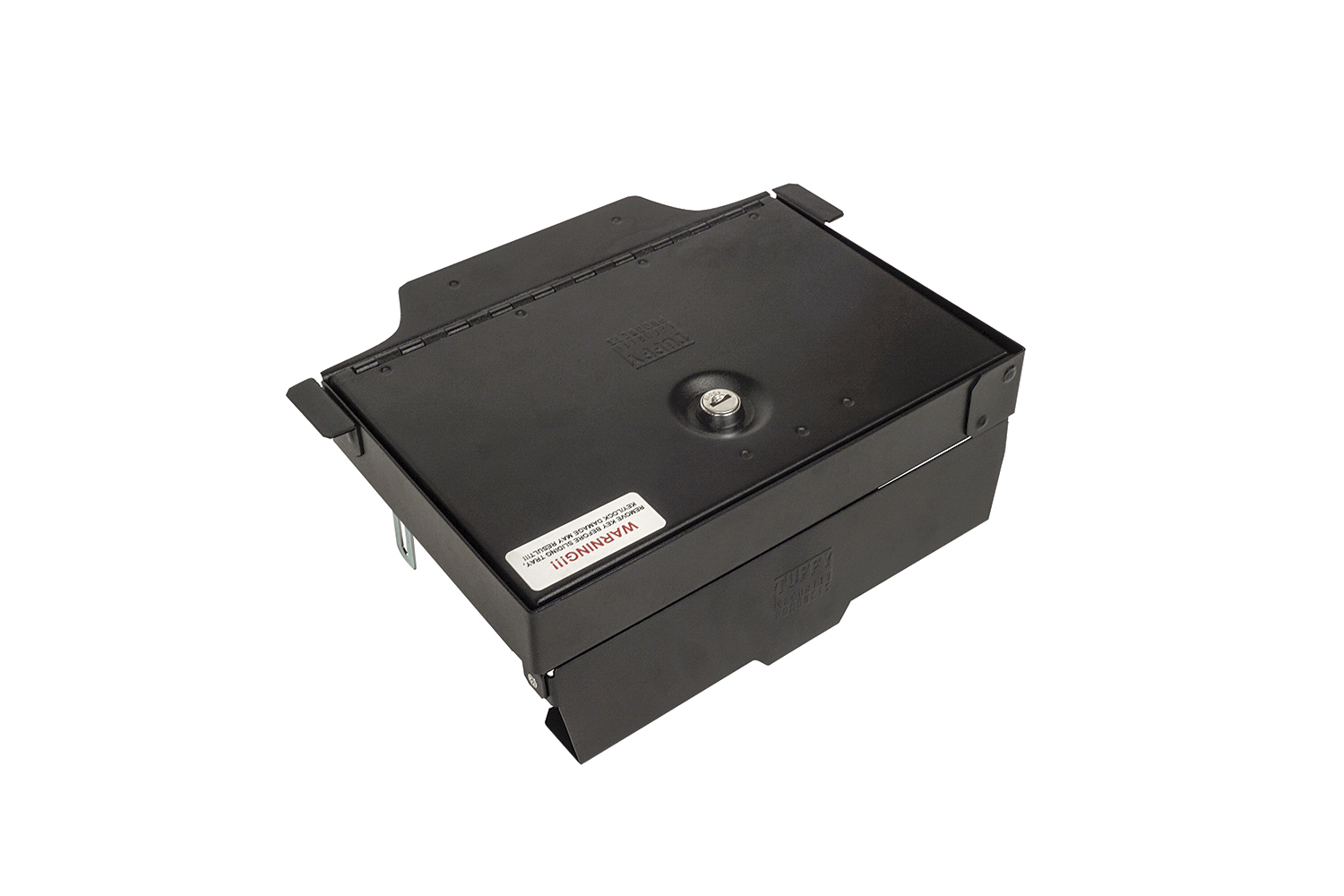 Once beyond hand-held devices, most truck owners opt for in-bed storage boxes and Tuffy makes six basic models. "We found most people, if they want to have truck bed storage, they want something fairly large. Like if you're a contractor, you get a lot of tools. You need to keep all those organized and be able to access them on a moment's notice or whenever you're out on the job site," Chip said. "There are two drawer heights and several lengths with a load capacity of 2,000 pounds on top so you can haul your ATV or a pallet of brick. And they're water resistant and offered with different locking systems to suit your needs."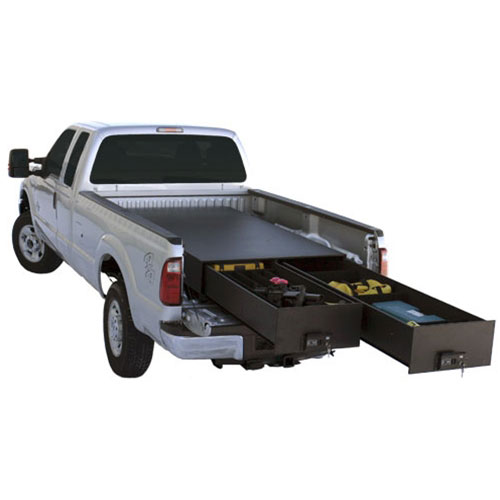 Some truck owners prefer a smaller box, which were originally designed for SUVs. With a depth of 24"—36" and full width, they're also secure, but use lighter gauge steel. "The enclosure around the drawer and reinforcement isn't as thick of steel, but the security itself is just as strong as what we have on the heavy duty truck bed drawer." Typically, Tuffy products are available for 2014-2020 GM (and other) vehicles, with older model availability in the works.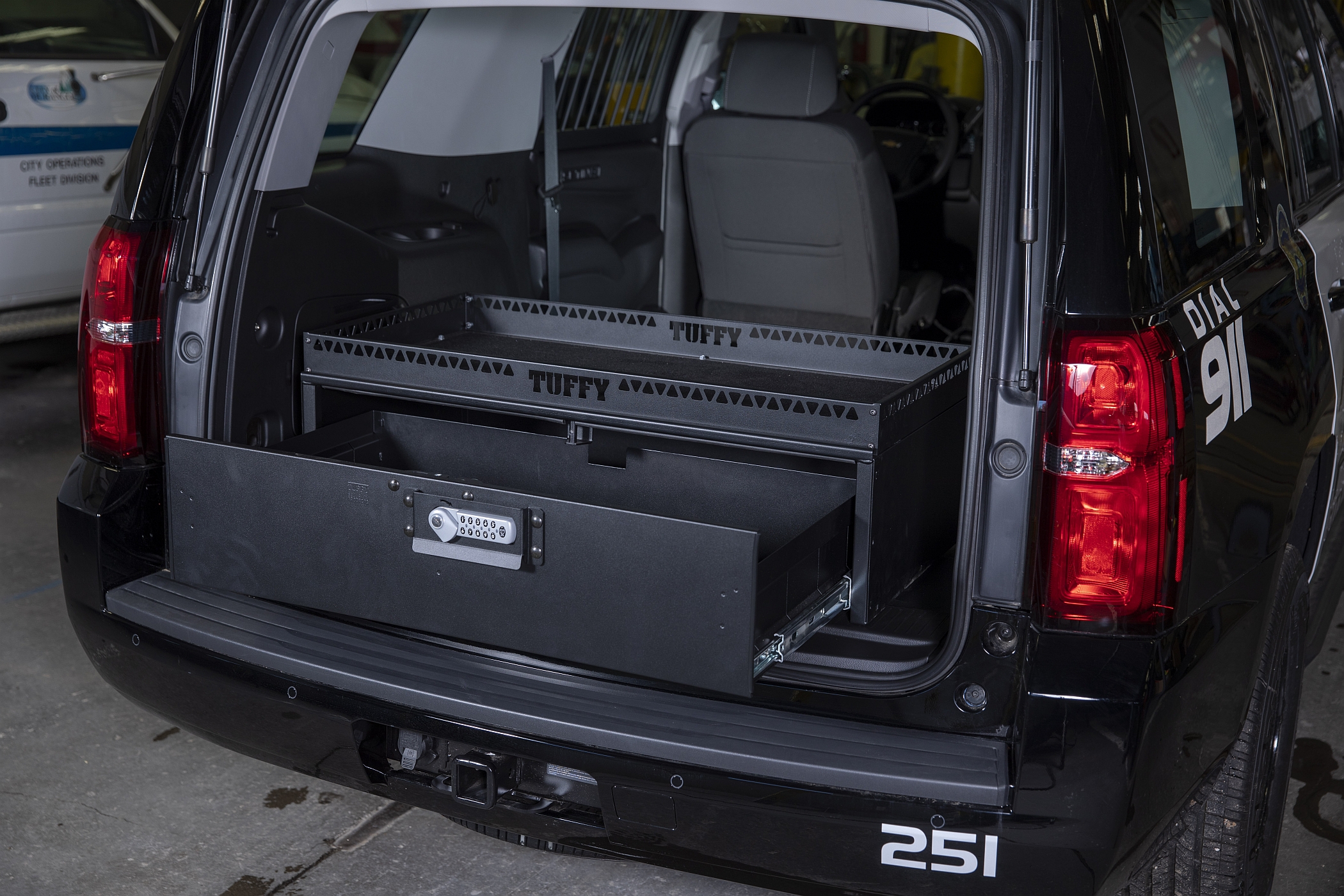 A critical reason we like these boxes is the locking systems. Chip says most locking systems are built with cabinet locks or provide few key codes, so not super secure. Tuffy's locking system is proprietary, with "…double-bitted keys in a large bandwidth of key codes. We have locksmiths call in when keys go missing as they cannot pick the locks." Tuffy requires identity verification to get replacement keys, as well as offering combo locks for those who don't want keys. "Our locking mechanism is extremely pick-and-opportunistic resistant," he amplified.
The company also offers locking boxes for laptops and large and small handguns they call Portable Safes that were developed for DHS (Department of Homeland Security). Their tactical lockboxes were first delivered to the border patrol. "When they got in skirmishes and their vehicles got attacked, which unfortunately happened quite a bit back in the day, they could actually remove their SWAT gear, additional ammunition, forensic kits, and anything else that was locked up." Similar units are what many people use their in SUVs and minivans.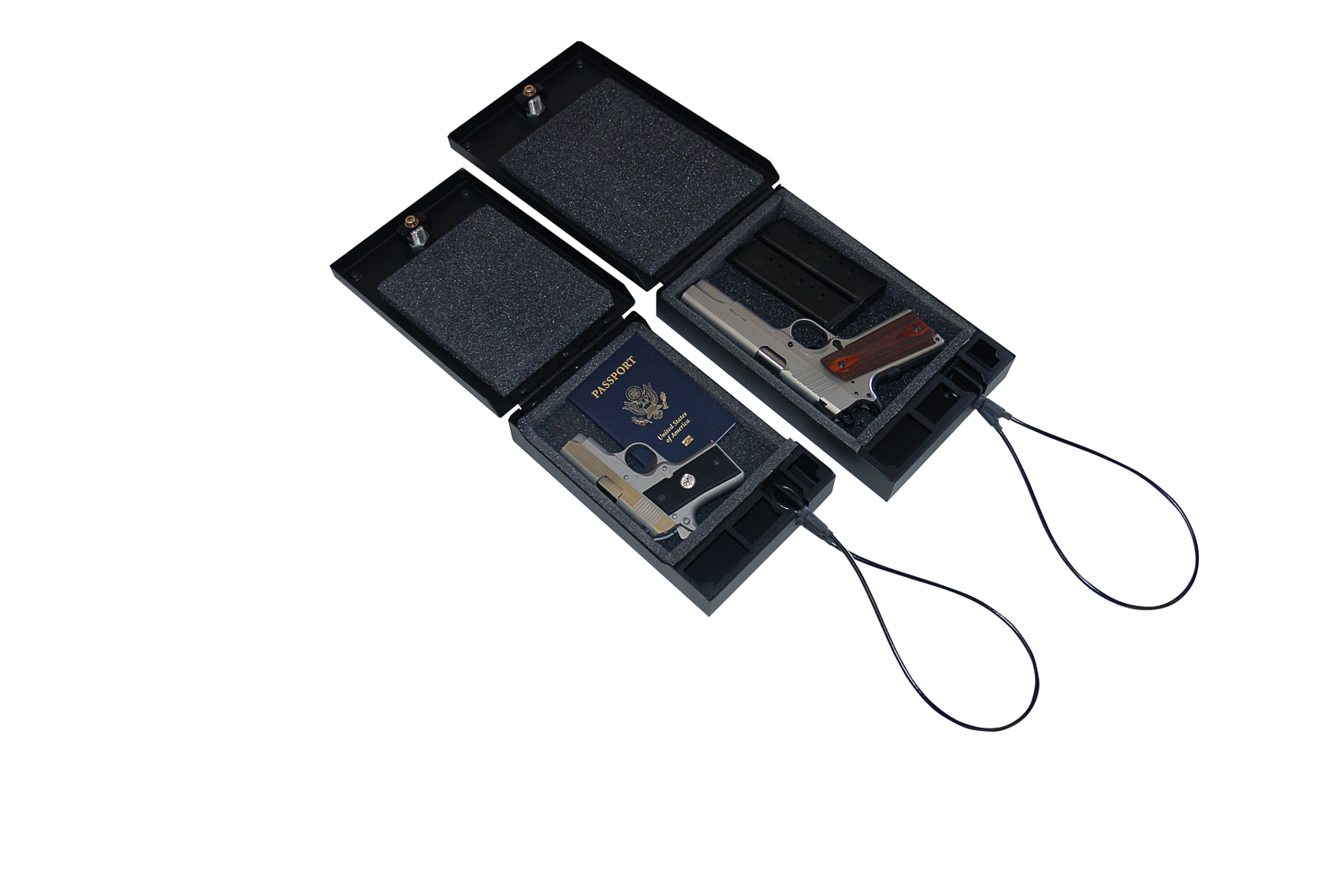 The last category of safe, lockable storage goes under the rear seat of your truck, where's there's often plenty of space. Besides long boxes, Tuffy offers sleeved boxes that can be easily removed and brought to the home or office.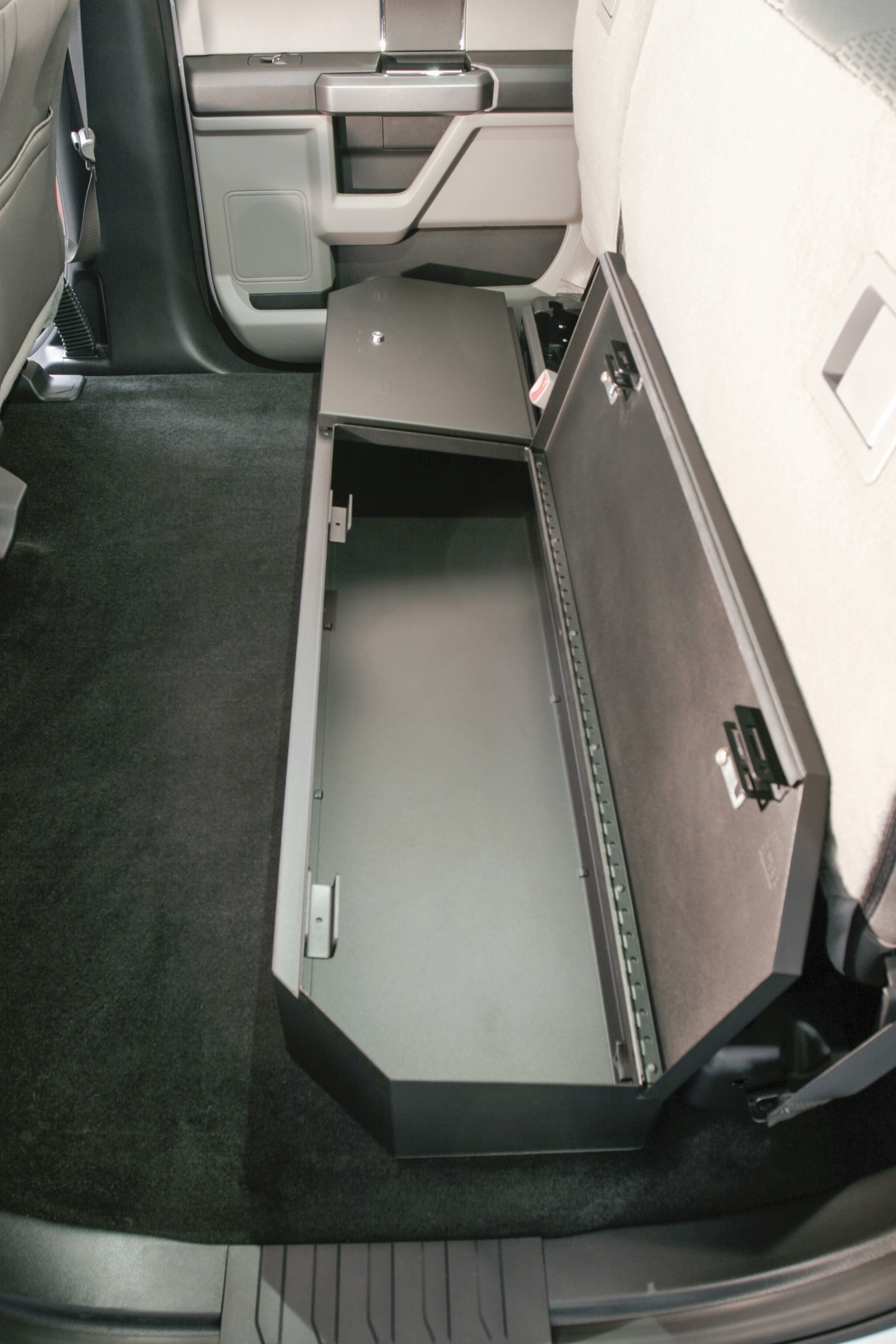 Our final question was about installation. Tuffy includes DIY instructions or access to a network of installers. Chip says installing, for instance a console, takes 5-30 minutes after reading the instructions, and no drilling is (typically) needed.
"Open the console lid and clear out your plastic bin and remove it. There usually are mounting bolts already in the bottom that we utilize as mounting points for the console safe. And then it's just a matter of dropping it in, bolting it down and you lock it up and you're good to go." The under seat lock boxes are equally easy, going straight to seat mounts under the backseat. However, truck bed solutions are a large, permanent installation and heavy. "Technically their installation is very simple, but you do usually have to drill through the bed and then bolt it down directly into the frame," Chip concluded.
A last bit of relevant information, Tuffy uses a seven-stage OEM quality powder coating system and carries a lifetime warranty on all products' workmanship and craftsmanship.
 Find out more at TuffyProducts.com