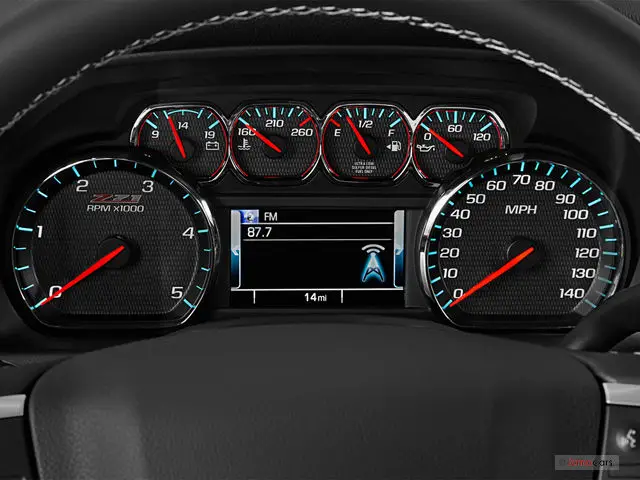 General Motors has released a technical service bulletin that address electrical issues that may be found in certain 2017 Chevrolet Silverado / Tahoe / Suburban, GMC Sierra / Yukon and Cadillac Escalade. These include gauges that may not work or fluctuate and a vehicle that will not crank, start or starts and then stalls.
Technical Document Number: #PIT5586G
Release Date:  Updated 11/27/2020
Technical Document #PIT5586G Applies To:
2017 Cadillac Escalade
2017 Chevrolet Silverado
2017 Chevrolet Suburban
2017 Chevrolet Tahoe
2017 GMC Sierra
2017 GMC Yukon
Reported Conditions
Condition Set #1
Instrument Panel Gauges are inoperative
PRNDL does not indicate gear position
Multiple "Service System" messages
Multiple malfunction lights on instrument panel
Radio will not show temperatures
Radio will not shut off when door is opened
No audible turn signal click but signals still function
Error code DTC U0155 in multiple vehicle control modules
Condition Set #2
Instrument Panel Gauges are inoperative or fluctuate
Vehicle engine will not crank
Vehicle engine will not start
Vehicle engine starts but then stalls
SIR / Service Air Bag System Light On
Service Suspension Message
Radio is blank
Steering wheel controls are not back-lit
No audible turn signal click but signals still function
HVAC Controls do not work
Any of the following error codes have been set: B1011, B1370, B3980, U0020, U0029,
U007D, U0073, U0078, U0100, U0101, U0102, U0104, U0121, U0140, U0146, U0151, U0155, U0164, U0184, U0186, U0198, U0237, U0255, U0422
Cause For These Conditions
Condition #1 may be caused by an error in the serial data gateway module (SDGM) microcontroller. The SDGM can retain power but stop communicating on all CAN channels.
Condition #1 or #2 could be caused by a SDGM harness with bent, backed out, or loose terminals on the X1 or X2 terminals.
Fix For These Conditions
If a customer is not extremely technically inclined, GM-Trucks.com recommends they take there vehicle to a dealership for repair.
 Remove the power feed fuse for the SDGM (F26DL for trucks / F28DL for SUVs). This is a temporary fix and the conditions may return. GM engineering is working for a software correction fix in December 2020.
If removing the power feed fuse does not correct the condition, check and repair damaged, loose, or backed out X1 or X2 terminal connectors.