Last month GMC announced that they had increased the estimated single charge range of the HUMMER EV 3X Pickup from 329 miles to 359 miles for off-road focused models. Are GMC's new range estimates accurate, truthful, or even possible? We wanted to find out…and by pushing the GM-Trucks.com GMC HUMMER EV Edition 1 Pickup to its limits,  we were shocked at the results.
HUMMER EV Range – A History
When GMC first announced the HUMMER EV Edition 1 Pickup, the brand only gave a vague "350-plus" miles of range estimate. That was enough for many, as reservations for the all-electric supertruck piled up quickly.  We happily plopped down a $100 deposit, giving little thought to the vehicle's eventual range. Afterall, if you're buying a HUMMER, you're not exactly concerned with practicality as a top consideration.
However, as electric vehicles started gaining steam and other automakers began bringing their own EV models to market (between when the HUMMER EV was announced and when the first deliveries would take place nearly two years later), the importance of single-charge range on an EV became far more imperative. It was clear the GMC HUMMER EV would need a decent single charge range to make it a viable option among the competition.  In late 2021 GMC announced the official range number would officially be 329-miles. That was a little less than first promised but still well within being respectable for a brick on wheels. But, it was still too early to know if it was "enough."
When we took delivery of our own GM-Trucks.com Edition 1 HUMMER EV Pickup in September of 2022, our "range-o-meter" read out almost exactly 329-miles during the first week. But things started to change as we put on miles and charged the battery a few cycles.
The more we drove and charged our HUMMER EV, the more our range meter climbed. A few months after delivery, we regularly saw 340 to 350 miles of range listed when we charged our HUMMER to 100%. In addition, the more we drove our HUMMER EV, the more we found that the estimated range readout on the dash was typically very accurate, if not slightly conservative. It was easy to bet that if the HUMMER EV said it would go 100 miles, it would definitely take you 100 miles, if not more. From an owner's perspective, GMC certainly seemed to have an ace in the hole.  Unlike the Ford F-150 Lightning, notorious for an inaccurate range estimate, GMC seemingly under-promised and over-delivered on the HUMMER EV.
GMC Announces A HUMMER EV Range "Boost"
In a surprise move, last month GMC announced the estimated range of 24-module Ultium battery equipped 3X models for 2024 would be increased. While the Edition 1, which is a 3X model fitted with every option, was rated at 329 miles of range initially, the ongoing 3X trim would get a boost to 359 miles of range for the off-road equipped model and 380 miles for the smooth treaded "on-road" trim level. These new numbers seemed to align with the figures our 2022 HUMMER EV Pickup had shown us during our last year of ownership.
Even after a full high-voltage battery replacement, our HUMMER EV didn't waiver… and even started to show another 10 miles of additional range. Over the past few weeks, our 100% state of charge reported range was nearly 370 miles. But the burning question to us was.. is that real? Could we get 359 miles on a full charge, let alone 370 miles? Was that range meter telling us the truth or shoveling a pile full of stink? I had to find out. And find out I did.
Our HUMMER EV Range Test
Driving our HUMMER EV to "empty" would be a multi-day adventure. Instead of plugging in each night when I came home from work, I'd just let it sit in the garage. Since I only drive around 30-60 miles a day, it took me around one week to bring the Ultium battery pack from 100% down to around 10%. My goal was not to drain the pack in an afternoon on the highway but to simply drive our vehicle as I normally would.  My daily route comprised of around 25% highway driving at about 70mph, 50% on urban roads at around 45-55mph, and the last 25% on slower residential streets with a 35-mph speed limit. Since the weather was fair and around 80 degrees Fahrenheit (26 degrees Celcius), that meant I'd be using the A/C and cooled seats, too. The unknown question I hoped to solve was – Would the HUMMER EV fall short, match, or exceed GMC's estimate? Could it achieve the range meter that sat at 368 miles at the start of my test? To be honest, I had serious doubts. But, it didn't take long to find out things were not going to end up as I expected.
 Real World Results
One week after i stopped charging, our HUMMER EV was depleted to only 9% of remaining charge. The range meter indicated a surprising 40 miles of range left. However, the most interesting part was, at 367.4 miles traveled, I had already exceeded GMCs official range estimate. Even better, in 0.6 miles, I would have achieved my HUMMER's total range estimate from when it sat at 100% – 368 miles.  My first thought was, "Should I just call this a victory and stop now?" No, that was too easy.  I still had "electrons in the tank," and I was determined to see the possible limits. I pushed on.
As I backed out of my driveway, my heart skipped a beat. Would I regret draining the battery down so far? Would it suddenly stop driving before it hit 0% charge? I double-checked that I had my AAA Membership card on me and slowly accelerated down the road.
At 5% battery remaining and 377 miles traveled, warning messages appeared on the gauge cluster. "Charge Vehicle Soon."  I set my destination to my house so I could keep an eye on my estimated state of charge upon arrival and started driving around in loops near my home. Since I went this far, getting down to 1% state of charge would be an acceptable risk. I pressed on with that as my new goal.
At 3% charge remaining, "Reduced Acceleration – Drive With Care" appeared in the gauge cluster. I had traveled almost 385 miles – beyond GMC's estimates for even the pavement-focused 3X models. Shortly after this point, my estimated range in miles disappeared, simply changing to "LOW", further reducing my confidence. When the navigation system hit 1% of expected charge upon arrival home, I headed back towards safety.
When I pulled into my driveway and into my garage, I sighed in relief. Our HUMMER EV Sat at 1% charge remaining, "LOW" range estimated, "Charge Vehicle Soon" on the dash, the battery charge meter flashing, and 396.9 miles on the odometer. I had not only crushed the vehicle's estimates but totally destroyed GMC's as well.
Interestingly enough, the gauge cluster updated when I turned off the HUMMER EV and got out to hook up my level 2 charger. It now showed 3% charge and 13 miles of range remaining. Could I have cracked 400 miles? I'm pretty confident I could have- but 396.9 would do us just fine for today.
What did we learn?
In short- our HUMMER EV's estimate range is extremely reliable. Even using the air-conditioning, cooling our seats, and listening to the radio- we absolutely destroyed the promised range numbers that GMC estimates for HUMMER EV owners.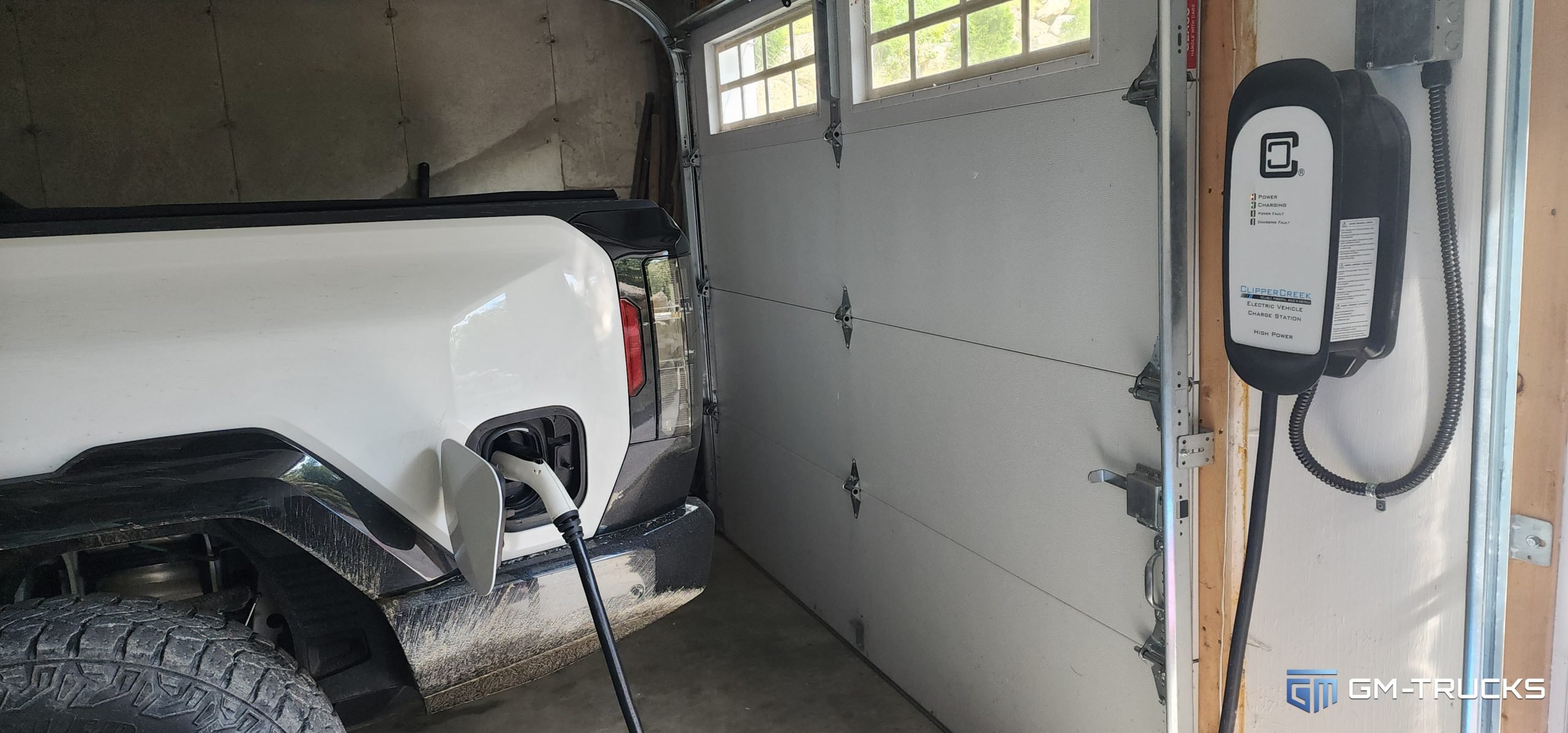 During our test, we averaged 1.9 miles per kWh. That's the EV equivalent of miles per gallon. Rough math means we used around 208kW to travel those 396 miles and our HUMMER EV has a theoretical battery capacity of 214kW if we take the 3% remaining readout as truth. That's slightly better than GMC's publically stated 212kW capacity- but you know how estimates go.
After this test we recharged the HUMMER EV to 100% again using our hardwired 220-volt 11kW Level 2 charger. Refilling our battery took approximately 19 hours – but that's not the most interesting part. By depleting the charge so low and restoring the battery to 100%, the HUMMER EV's computer was able to recalculate a new estimated range number for our vehicle. It now sits at 418 miles. If you're keeping track, that's 89 miles farther than GMC's first 329-mile range estimate.