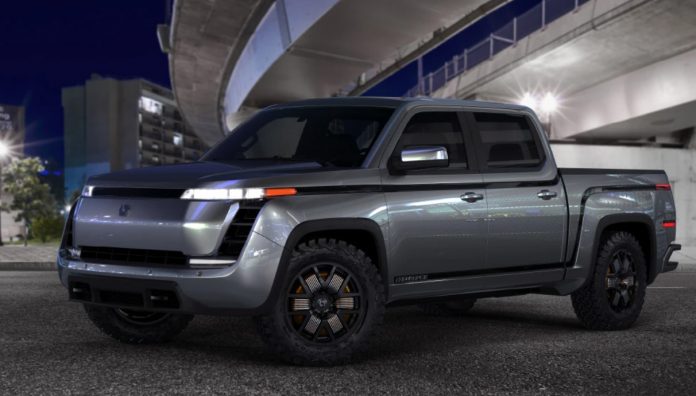 Hours before F-150 took the stage at Willow Run Airfield, down in Lordstown, Ohio, in a factory that once belonged to General Motors, EV startup Lordstown Motors unveiled a production version of its first model, the Endurance pickup.
Lordstown planned to launch Endurance in January 2021, but the pandemic pushed that back "a few months," according to the company. Note that Lordstown Motors also says its first-year volume of 20,000 pickups has been pre-sold.
Endurance looks like a standard pickup (well, not inside the wheels) and seats five in its two rows. Like most EVs, there's a grill-less front with a logo that could be bigger without bragging, tiered LEDs, and black accent stripes that wrap the luminaries, hood and continue to the C-pillar.
Lordstown uses four in-wheel motors to deliver 600 horsepower. This is unusual as it increases unsprung weight. The company claims slashing moving parts from thousands to just the wheel motors; motors will be produced in-house using a design from Slovenia-based Elaphe Propulsion Technologies.
Purchasers of trucks include Goodyear, ServPro and utility company FirstEnergy.
We'll have more on their specifications in our next multi-truck wrap-up.