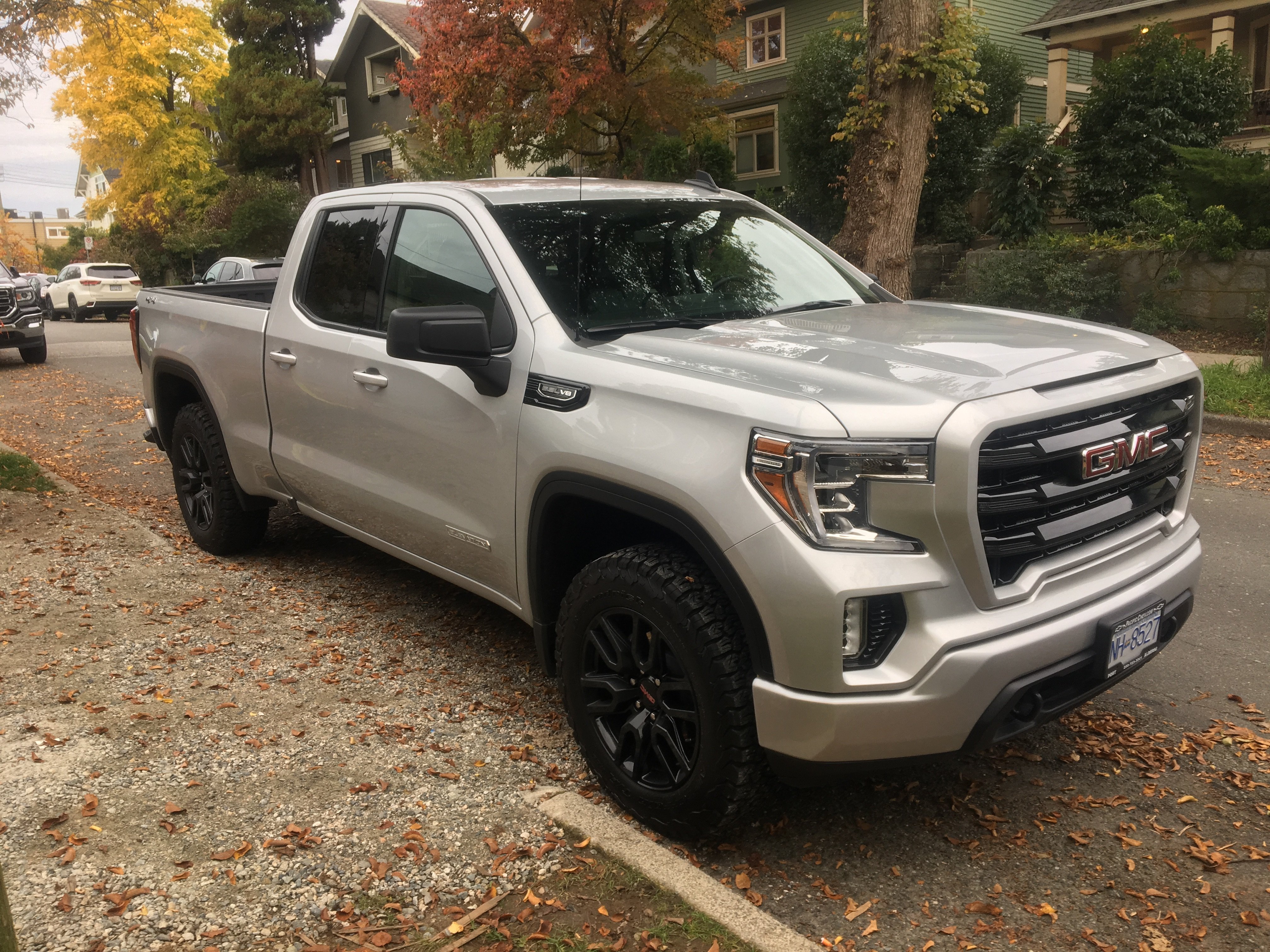 Content Count

67

Joined

Last visited
Community Reputation
13
Good
About madconcept
Rank

Enthusiast
Recent Profile Visitors
The recent visitors block is disabled and is not being shown to other users.
I have a late 2018 build date on my 2019 Sierra, 5.3 8 speed. Don't have any shutter issues but do get a clunk every now and then. Plus if there's reported issues with the old fluid I'd like to see it replaced. Has anyone done the fluid swap? Issues? Are dealers able to completely flush out the old fluid? Can't imagine mixing two different fluids would be good!

Has anyone recalibrated their speedometers after changing wheel/tire diameter? I have a 2019 Sierra Elevation. It was a manager's demo. Came with levelling kit and 275/65R20 BFG KO2's on factory Elevation black 20" Snowflake style wheels. Tires now have a 65 aspect ratio now vs factory 60. Obviously with the level and slight diameter change there's no rubbing or anything. Also thinking about getting a set of dedicated winter wheels and tires. Probably go 17" or 18" to save some cash but wondering if that'd screw up my speedo and other components on my truck?

I have a 2019 Sierra Elevation. Originally came with 275/60R20 tires. Truck was a manager's demo and they replaced the tires with 275/65R20's. Going from 60-65 aspect ratio is apparently a 1" difference, using a tire size calculator. Besides the slight speedometer change would anything be affected or damaged over time running a slightly larger tire? I can live with the speedo being slightly out but worry about it affecting other things such as ABS, axles and transfer case. Also looking at getting a second set of winter wheels and tires, perhaps going with a 17 or 18 wheel. Again this would probably end up being a reduced diameter overall. These trucks come with an assortment of wheel and tire sizes. I'm guessing they calibrate the speedo at the factory based on what the truck is ordered with?

Experiencing a bit of vancouver snow now and have to say my BFG KO2's are performing extremely well! A trip up the local ski hill yesterday went well too with plenty of snow on the roads. I dare say they're performing almost as good as the dedicated winters I had on my last truck! They have about 14,000 km on them so I'm sure as they get some wear on them maybe the performance will deteriorate?

Elevation is definitely above a custom. Custom is 1 trim up from a work truck. Nothing wrong with the customs at all and I think they look great! You just can't option out a Custom much. Unless you go Custom Trailboss maybe? Customs were more a basic trim level, again they look great with the painted bumpers, CHEVROLET written on the grill and 20" wheels. But no bucket seats, Max tow,DFM engine option, etc though. As others have said RST and Elevation are on pair except (at least for 2019) you couldn't get leather package in the Elevation, which was dumb. A few Elevation I saw advertised the dealers elected to install aftermarket leather.

I average anywhere from 15-16 l/100 km Which I believe is about 14-16 mpg? Mix of city and highway. Levelling kit, 275/65R20 BFG A/T KO2 tires on a 2019 Sierra Elevation, 5.3l, double cab. Never had these BFG tires before but they are an LT tire and definitely feel "heavy". Best I got was 10.7 l/100, flat Hwy taking it easy. My last truck, 07 Silverado best was 12 l/100km. Last truck hauling the 24' TT, and loaded with gear and the fam, I got 21 l/100km. Curious to see what I get in this new truck towing!

Getting a 2 speed transfer case was only available on z71 package I believe...at least in the trims I was looking at RST and Elevation. I wanted the Max Trailering option which only came with the single speed transfer case.

I'm in the same boat that I'd like to get a set of dedicated winter tires/rims for my truck even though my BFG are snowflake rated. Dedicated winter tires will perform a lot better than an all-weather rated tire plus I want my 20" rims to stay looking sharp! Not a lot of people selling used rims though for 2019 and up trucks in my area!

Guess it all depends on your needs and the look you want. My Sierra came with BFG KO2's and notice there's a definite road noise with them plus they feel "heavy" to me while driving. They're also an LT rated tire. I'm going to keep them even though I'm not planning any off-road adventures. They perform well in the rain and I'm quite happy with them despite being a bit more aggressive than what I need, plus they look great. Would I replace them with more of a highway tire? Not sure? Guess I'll see when it comes time to replace them. Always chuckle seeing guys running around with 24' rims and Mud tires on their pavement princesses!

My wife's 2016 Explorer has the fog lights on full time...or whenever the auto headlights are on when it's dark. No need to turn them on every time we jump in. Now on that note the Explorer has HID low beams and regular incandescent high beams which is stupid! At least my Sierra uses HID high beams!

New truck back in October! Lol That'll be my Christmas and Birthday gifts for the next little while. Lol

The KO2's come either labeled with the 3 mountain peak/snow flake symbol now, winter rated. Good winter performance usually means softer compound....less tread life. KO2's can also be ordered without the mountain symbol and are instead labeled "DT" meaning "different tread." for longer tread life, but then you sacrifice winter performance. I'd definitely opt for the "DT" tires if you don't live anywhere that gets snow or you chose to run dedicated winter tires. Discovered this while playing around on the Tirerack website. I personally have the winter rated tires and I'm quite happy with them. Seem to have good wear. I run them at 42psi.

Made a few comments in another thread about tires and figured I'd post them here too. Had the truck since mid October and so far my KO2's have performed flawlessly! Vancouver(BC) experienced a monsoon Thursday, literally pond size puddles on the freeway. My truck plowed through them with hardly any hydroplaning at all. About 13,000 km on them and I run them at 42 PSI. Carry a cross box with a couple 100 pounds of tools on a daily bases and frequently haul lumber so figured I'd get the pressure up a bit(maybe I'm at the right mark?) Haven't had any snow or ice yet so we'll see how they perform if we get any. The heavy winter rains we get in Vancouver haven't been a problem at all! Anyone have experience using the DT labeled KO2's? I've read a few times that the mountain peak labeled KO2's don't last long. Makes sense, as to get the snow rating I'm sure the rubber compound is softer. I'd prefer to get a set of dedicated winters in a year or so just for better snow and ice performance on a cheap set of 17 or 18" rims and keep my 20" wheels in good shape. Also see how much life I get out of these winter rated KO2's. So far if I had to buy new tires tomorrow I'd repeat with the KO2's but maybe try the DT rated ones instead?

I have a levelled 2019 Sierra Elevation with 275/65R20's absolutely no issues at all. I mean we're talking a very small increase in diameter going from 60 to 65 aspect ratio.

That's some good wear for sure. Guessing they're the KO2's? Some have been saying that the newer KO2's don't last. I'm confident that it's due to the fact they now have the mountain peak snow rating symbol, meaning softer rubber compound. There's also the KO2's that are labeled "DT" meaning different tread that are supposed to last longer, but don't carry the mountain symbol. Vancouver (BC) had a monsoon Thursday afternoon and there were literally ponds in the middle of the freeway. I plowed right through them without hydroplaning at all. LT 275/65R20 KO2's with the 3 peak mountain symbol. 13,000 km.
Forum Statistics

Member Statistics

Who's Online

181 Members, 0 Anonymous, 3,193 Guests

(See full list)