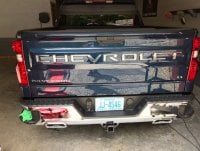 About This Club
A club for owners of the NorthSky Blue Metallic Silverado and Sierra models.
Location
Heaton, North Carolina, 28622
What's new in this club

Picked up Malcolm, as in "Malcolm in the middle", 12-2. It joins the 1500 and 3500. It's a '23 2500 AT4 with the premium package and gooseneck hitch.

Have since added a Rough Country 4inch lift, painted to match Rough Country fender flares, Fuel rims and 35" Nitto Ridge Graplers

My buddy has NBM Trail Boss with some extras to make it really aggressive-looking and sounding. I went the opposite direction and bought mine as a total dad-build. I wanted a comfortable truck for the highway and that's exactly what this is, column-shift, bench seat, chrome bumpers, highway tires and all. I think I kinda like it. IMG_8200.HEIC

I think the TB and AT4s are the sharpest looking trucks out there. I vinyl wrapped the "scoop" on the hood in gloss black. I also blacked out the emblems and the exhaust tips on the back with PlastiDip which I don't think the pic does it justice. Looks better in person.

Is Chevy's Northsky Blue TRUELY the same as GM's Pacific Blue Metallic? I had the call the dealer call their body shop and they said the RPO codes and the paint codes are the same. However may be that my doubt could be that this color (colour for those up north) varies how it appears so much by the amount of light on the paint. When I was trying to decide on GMC vs Chevy and the color, I really felt like these were different. I even asked the Chevy dealer if I could order in the GMC color. I body a separate body shop, independently, and was told that the codes could be the same but that different amount of air pressure or number of coats could be a factor. I rule this out because I do not feel that the factory (same for both brands) would apply different pressure settings or number of coats. (I was told by salesperson that my truck is scheduled to start production this week!!)

Had to stay with NorthSky Blue!! Just brought her home last night 2021 Custom she's a gasser!!

I put Jolene to work right away. She's about a month old to us and hauled 2 loads of 2 yards of mulch. The kids liked that one. Second picture is hauling a yard of gravel to top coat the parking area. It was a little over weight and you could feel it but the drive was short. I see airbags in our future and paying for gravel delivery. Sent from my iPhone using Tapatalk

I like these ones a lot. On my '17 Sierra All Terrain I have the 4" round black ones. They got kind of slippery in the rain and snow. These ones are wide and still classy looking on the LTZ. Wheel to wheel definitely helps in the front of the bed.

How do you like the side steps? I've been debating on which ones. The stock aren't bad, hoping to find a take off for cheap.

What wheels and tires are you running? Did you go bigger than stock? I'm trying to figure out what fits on a stock Z71.

2021 Chevrolet Silverado LTZ, 6.2L, 10-Speed, LTZ Premium Package, Technology Package, Max Trailering. Ordered the wheel-to-wheel steps, Chevytec spray-on bedliner, and Chevy Front and rear all-weather floor liners. Currently waiting on the hard folding tonneau from Rev (GM Accessories). Replaced antenna with a stubby, and the front turn signals, reverse lights and license plate lights with LED. Tinted front to match rear. I'm in love with this truck.

Dark essentials package and fuel coupler wheels with Falken Wildpeak at3s. First new vehicle ever and I love it. First diesel also.

2020 Trail Boss. 5.3L / 10-speed - Crew Cab - Standard Bed (6' 6") - Towing Mirrors - Hard Rolling Toneau - Wheel well liners - AVS AeroSkin II - Putco strip light under tail gate - clear bra on bumper, grille and front of fenders - GM off road side steps.

Just joined the club. Rear wheel liners added this weekend. Black center caps and bow tie this week. Thinking about getting the chrome in the bumpers and grill vinyl wrapped to match the dark grey in the argent metal pocket wheels. Thoughts?