Posted 07 March 2012 - 12:16 PM
2009 GMC Wht Diamond 5.3 crew/slt/6spd/4x4
Loaded but stock, and workin on it
---
Posted 07 March 2012 - 07:26 PM
I would be interested as well! I would just want my lows done with the best quality projectors possible and keep my highs stock. Ive been debating on even maybe mini projectors in the fogs, curious if that is even possible due to shape???

The projectors in the fogs would be an interesting mod. Definitely would not fit easily. You'd most likely have to cut off the back of the housing and allow the projector housing to sit a little further back. In addition I'm fairly certain even the smallest projectors TRS offers are larger than the opening for your fog light meaning they have to be installed from inside the bumper if even possible on those. Take some measurements of your fog light (height, width, depth) and let me know if theres room to install the fog lights from inside the bumper. I'll do some digging myself as well
Edited by Parsonsjb88, 07 March 2012 - 09:27 PM.
---
Posted 07 April 2012 - 02:58 AM
The kit you are buying for $120 only includes the projectors. No bulb, no ballasts, no wiring kit. The complete kit would cost $270 before any discounts or group buy codes. Are you just offering the projector and leaving it up to the end user to buy an HID kit to fill the projector?

---
Posted 09 April 2012 - 07:56 PM
Any updates on this happening??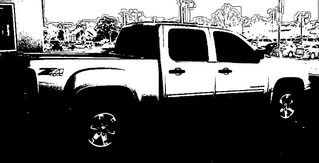 2011 GMC Sierra 1500 5.3 4x4 Z71 Crew Cab

3.42's, Molded Splash Guards, Wheel Well Liners, 8000k HID Lows, Advent OGM-1, Blackbear Tuned for E85
---
Posted 27 July 2012 - 11:03 AM
Hey guys, sorry for not responding for like... ever.
I was relocated for work for the last few months, had a very unexpected major expense come my way, and to top it off someone backed into my truck. Its mostly fixed up now but needless to say I haven't had the cash flow nor time to start this whole projector retrofitting idea. As it stand I most likely won't be starting it any time soon, if I do though I will repost. I apologize to everyone who was interested in getting their lights done and for the major delay in response.
---
---
Also tagged with one or more of these keywords: projector, hid, headlight, nnbs, retrofit, fs, morrimoto


Marketplace

→

For Sale/Wanted

→


Started by

the hammer

,

11 Aug 2014

fog lights

,

piaa

,

headlight

and 8 more...



Fullsize Truck & SUV - 2014+ K2XX Platform

→

2014/2015 Chevrolet Silverado & GMC Sierra 1500

→

2014/2015 Silverado & Sierra Accessories & Modifications

→


Started by

Jtanner129

,

29 Apr 2014

led

,

headlight



Fullsize Truck & SUV - 2014+ K2XX Platform

→

2014/2015 Chevrolet Silverado & GMC Sierra 1500

→


Started by

4x4offroad

,

23 Mar 2014

headlight

,

upgrade

,

led



Hobbies & Lifestyle

→

Vehicle Builds

→


Started by

yurevn

,

10 Mar 2014

2014

,

denali

,

6.2l

,

fabtech

,

lift

and 3 more...

Fullsize Truck & SUV - 2014+ K2XX Platform

→

2014/2015 Chevrolet Silverado & GMC Sierra 1500

→

2014/2015 Silverado & Sierra Accessories & Modifications

→


Started by

xoriceboiox

,

02 Feb 2014

issue

,

k2

,

hid
0 user(s) are reading this topic
0 members, 0 guests, 0 anonymous users